If the standard new Mazda MX-5 doesn't seem exciting enough for you, the Japanese company has announced it will be unveiling a special 'Club Edition' at next month's New York show.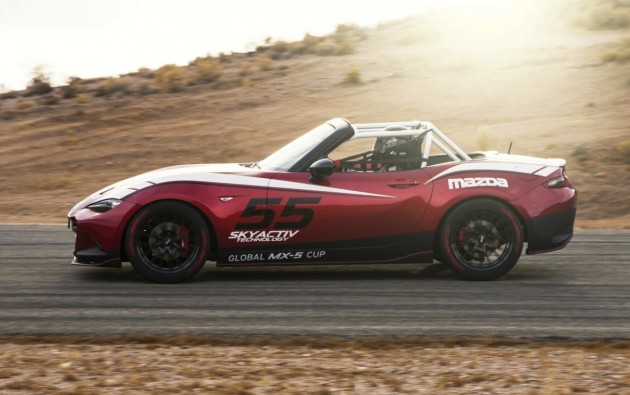 Not to be confused with the MX-5 Global Cup car (pictured), the Club Racer could be a similarly exciting yet road-legal model for Mazda fans. Unfortunately, Mazda hasn't released any specific details about it. The company says it will be the most aggressive road-going version of the new MX-5 yet.
So what can we expect? A bodykit of some description is likely, with special aero features to make it slightly more capable for the track. Maybe Mazda will go for the fashionable 'black' design theme and fit black spoilers and accents?
Unique lightweight alloy wheels are set to be part of the package, wrapped in track-suitable road-legal tyres. Behind which could sit an upgraded braking package and sportier suspension.
No changes are expected to be made under the bonnet. Instead, it's set to rely on the standard 2.0-litre naturally aspirated four-cylinder engine which develops 115kW and 200Nm. In a vehicle weighing just 1057kg with the manual transmission, the power-to-weight ratio is already quite good.
The MX-5 Club Edition might eventually make it to Australia, but again, official details are limited. All will be revealed next week though at the New York Auto Show, starting April 1.