A prototype of the upcoming Skoda Karoq has been spotted at the Nurburgring, and it looks like engineers forgot to apply camouflage as it pretty much reveals the body design in full for the first time.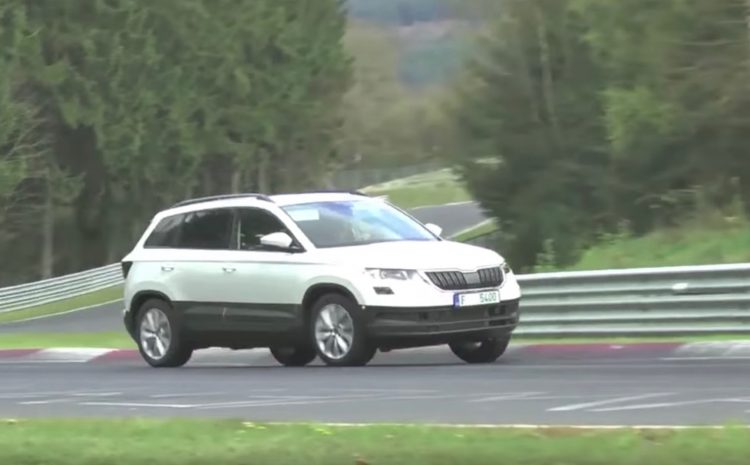 The Karoq is set to come in as a replacement for the Yeti as the Volkswagen-owned brand's new small SUV. So far only teasers have been released and even some official images of a camouflaged prototype.
This video, posted by autoevolution, shows the Karoq in all its glory. And as previously suspected from the teasers and so on, the Karoq will not follow in the design footsteps of the Yeti. Whereas the Yeti was a somewhat ugly, upright proposition, with excellent practicality, the new Karoq seems to be more of a crossover.
In fact, it almost looks like an MPV from the side profile. The lower portions of the body do feature some plastic cladding a rugged tones to retain some level of adventurous all-terrain ability, but fans of the Yeti might be a little disappointed.
The Karoq is set to be based on VW's latest MQB platform that underpins many small-to-medium models within the group umbrella, and Skoda has confirmed it has maximised the use of the platform by opening up 521L of cargo space, or up to 1630L with the rear seats folded. Compared with the outgoing Yeti, which offers 321L/1485L, the Karoq seems to redeem itself.
Engine options have been confirmed to come from five turbo four-cylinder engines (two petrol, three diesel), with displacements ranging from 1.0, 1.5, 1.6, and 2.0. Power outputs will span from 85kW to 140kW, according to Skoda. Both front- and all-wheel drive options are likely to be offered.
A full reveal will take place on May 18. Click play below for a preview.