Bentley will unveil a plug-in hybrid version of its Bentayga SUV at the Geneva motor show in March, a report has revealed. It will be the company's first plug-in hybrid vehicle to hit the market.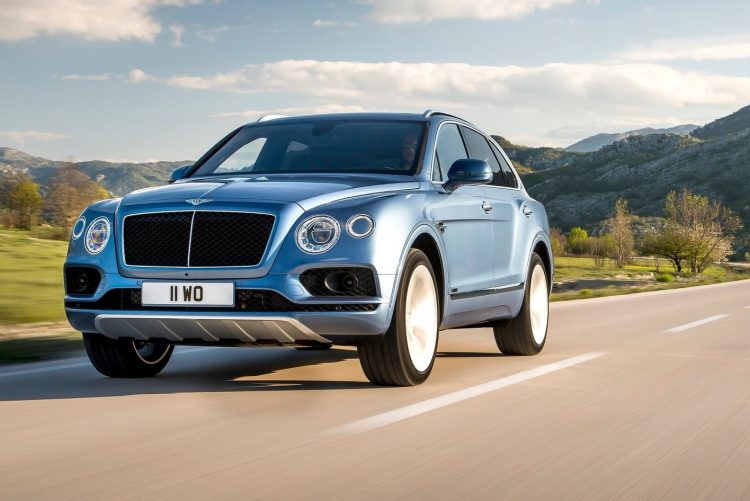 Buyers of the super-SUV currently have only two choices in terms of powertrains. There's the flagship 6.0-litre twin-turbo W12 which produces 447kW, and a 4.0-litre triple-turbo-diesel V8 developing 320kW. A 4.0-litre twin-turbo petrol V8 will also join the lineup this year, producing around 400kW.
The lineup will receive a fourth option this year, according to an Automotive News report, consisting of a petrol V6 paired with an electric motor system. It's expected Bentley parent Volkswagen Group will utilise its Porsche arm for the system.
Porsche currently offers a 2.9-litre V6 and electric motor assist system for its Panamera E-Hybrid, offering an electric-only range of 48km and an official combined cycle fuel consumption average of just 2.5L/100km.
This setup is likely to used for the Bentayga, although it might be revised somewhat to cater for the large SUV. At this stage it's unknown if the hybrid Bentayga will offer a similar electric-only range as the Panamera, given the Bentley would be a lot heavier.
The Bentayga might be the first hybrid Bentley to hit the market but it won't be the last. Company boss Wolfgang Duerheimer has said he wants all models to have a plug-in hybrid option in the next few years. This will help the brand bring down its overall showroom average fuel consumption and emissions.
Since the Bentayga launched back in 2015 it has since become the company's best-selling model. This essentially proves the importance of jumping on board the SUV bandwagon, with Lamborghini already on the way with the Urus, and Ferrari expected to follow suit soon.