The production-spec Bentley Bentayga has been officially revealed online ahead of its public debut at the Frankfurt Motor Show next week.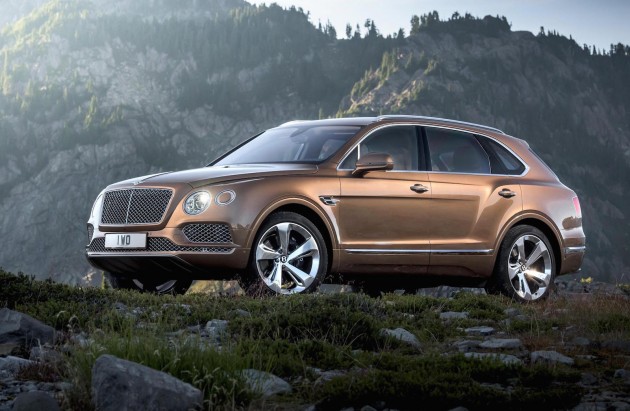 While we've seen plenty of prototypes, a concept, and even a scale model version of the anticipated SUV, this is the first look we've had of the production model.
It looks like Bentley is taking its off-road credibility pretty seriously, with most of these official marketing images showing the Bentayga in off-road conditions. Despite the off-road performance, Bentley says engineers have completed around 400 laps at the Nurburgring to ensure on-road handling and poise.
The Bentayga will be the most expensive and more luxurious production SUV to ever hit the market. It will also be the most powerful and fastest SUV in the world, having recently set the world record with a prototype hitting 301km/h.
Power comes from a 6.0-litre TSI W12 engine producing 447kW and 900Nm. It's able to cover 0-100km/h in just 4.1 seconds, making it a lot quicker than a number of serious sports cars.
As for the design, well, it seems to blend in well with Bentley's current showroom range. There's the traditional twin headlights at the front, a prominent grille, accented wheel arches, and a thick slab-like torso section.
Wheel sizes span from 20 inches up to 22 inches, while the roof gets a massive panoramic glass panel as standard. Most of the body panels are made from aluminium to keep weight down, however, the kerb weight stands at 2422kg.
Inside, Bentley is calling it the "world's finest automotive cabin", with unrivalled levels of precision. It says the detailing in metal, wood and leather is the epitome of modern British luxury. And you only need to take a quick look to see what the company is on about.
For the passengers and driver there is a suite of infotainment systems and driving functions to play with, including a Drive Dynamics Mode and optional Responsive Off-road Setting with up to eight modes.
In the dash is an 8.0-inch touch-screen interface with "class-leading navigation" technology, an in-built 60GB hard drive, and the choice of three different sound systems including a top option comprising of a 1950-Watt, 18-speaker system.
Rear seat passengers can be treated to a 10.2-inch removable tablet. It is an Android device with 4G, WiFi, and Bluetooth connectivity.
The Bentayga will go on sale in international markets later this year, with customer deliveries taking place early in 2016. An Australian introduction is yet to be confirmed. See below for the specifications;
Engine
Type
6-litre twin-turbocharged W12 TSI
Max Power
608 PS / 600 bhp / 447 kW @ 5250-6000 rpm
Max Torque
900 Nm / 664 lb.ft @1250-4500 rpm
Transmission
Driveline
ZF eight-speed automatic gearbox, permanent all-wheel drive, Torsen centre differential, open rear differential, 40:60 front:rear torque split
Ratios
1st: 4.71; 2nd: 3.14; 3rd: 2.1; 4th: 1.67; 5th: 1.29; 6th: 1.00; 7th: 0.839; 8th: 0.667
Final Drive
2.85
Brakes, Wheels and Tyres
Front Brakes
400mm ventilated iron discs
Rear Brakes
380mm ventilated iron discs
Wheels
Standard 20", optional 21" and 22"
Tyres
Pirelli 275/50R20, 285/45 R21, 285/45 ZR21, 285/40ZR22
Steering
Type
Electronic Power Assisted Steering, variable ratio
Turns lock-to-lock
2.3 turns
Turning circle
12.4 m / 40.6 ft
Suspension
Front
Four link double wishbones, optional 48V electric active anti-roll bar
Rear
Trapezoidal multi-link, optional 48V electric active anti-roll bar
Springs and dampers
Self-levelling air suspension, Continuous Damping Control
Dimensions
Wheelbase
2992 mm / 117.8"
Overall length
5141 mm / 202.4"
Width (across body)
1998 mm / 78.7"
Width (inc. mirrors)
2223 mm / 87.5"
Overall height
1742 mm / 68.6"
Fuel tank
85 litres / 18.7 UK gallons / 22.5 US gallons
Boot volume
430 litres / 15.2 cu ft (590 litres / 20.8 cu ft load cover retracted)
Kerb weight (EU)
2422 kg / 5340 lb
Gross vehicle weight
3250 kg / 7165 lb
Performance – provisional and subject to Type Approval
Top speed
187 mph / 301 km/h
0-60 mph
4.0 secs
0-100 km/h
4.1 secs
Fuel Consumption (EU cycle) – provisional and subject to Type Approval
Urban
14.7 mpg / 19.2 litres/100 km
Extra Urban
31.0 mpg / 9.1 litres/100 km
Combined
22.1 mpg / 12.8 litres/100 km
CO2 emissions
292 g/km
Fuel Consumption (EPA cycle) – provisional and subject to Type Approval
City (US mpg)
14
Highway (US mpg)
20
Combined (US mpg)
16
Emissions Controls
EU 6 and US LEV III