Kohler Tuning in Germany has released a tuning package for the already awesome Audi TT RS. Power for the screaming five-cylinder engine is taken out to 321kW (430hp).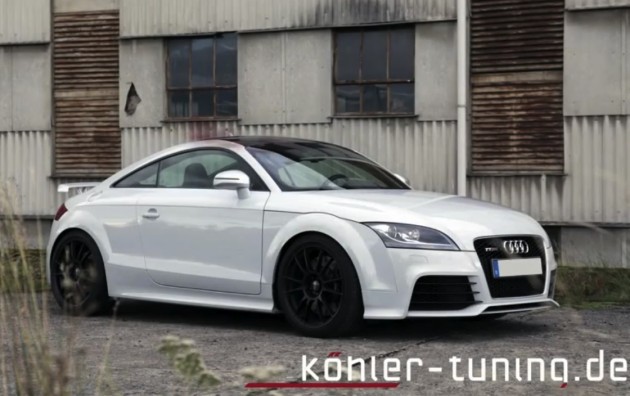 In standard form, the Audi TT RS is the most powerful and high performance Audi TT ever made. It comes with various handling-focused options, such as sports suspension, wheels and brakes, and also comes with a glorious-sounding 2.5-litre five-cylinder turbocharged engine.
Straight out of the box it develops 250kW of power and 450Nm of torque, and is able to do 0-100km/h in 5.0 seconds and a quarter mile in 13.1 seconds. With help from Kohler Tuning, output can be taken out to 321kW, giving it a power-to-weight ratio better than some of the more serious sports cars around (4.5kg/kW vs 5.4kg/kW for the Porsche Cayman R).
The Kohler Tuning Audi TT RS package consists of a Capristo exhaust system and an engine computer reprogramming. The new exhaust also comes with a remote shutter control to switch between quieter and more ferocious modes while on the go.
The Audi TT RS is currently on sale in Australia with prices starting at $136,900. Click play on the video below for a bit of a taste of its tuning potential, and a snippet of the awesome sounds it creates.