The 2019 Audi SQ3 and 2019 Audi RS Q3 performance SUVs have been spotted in prototype form undergoing testing at the Nurburgring, giving off a distinctly sporty exhaust note.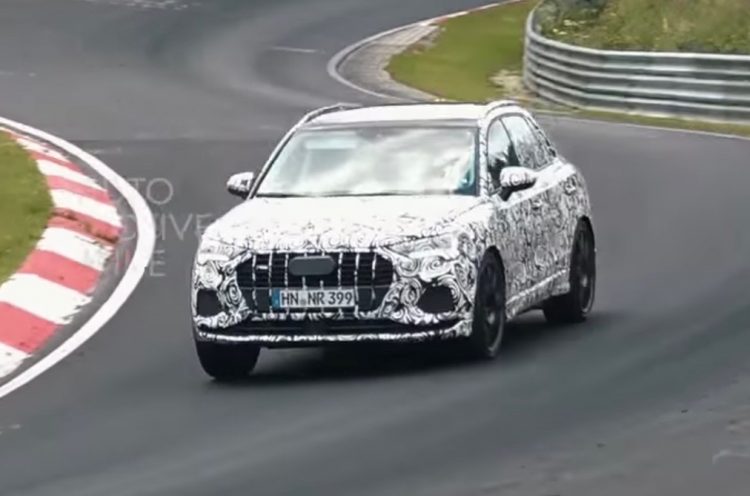 The current-gen Audi Q3 has been around now for just over six years, with a few minor facelifts in between. In fact, it still rides on Volkswagen Group's old PQ25 platform. The next-gen model is set to adopt the newer (albeit from 2014) MQB platform that debuted with the A3 of the time, and the VW Golf.
What we're looking at here though is what appears (and sounds) like the RS Q3 performance model in the first bit of the video, and then the SQ3 in the second half of the video. Speculations suggest Audi will use the 2.0 TFSI engine from the S3, producing around 224kW for the SQ3, while the RS Q3 is set to receive the 2.5-litre turbo five-cylinder from the RS 3, producing around 298kW.
As you can see, the new SQ3 looks like it will come with some large alloy wheels and low-profile performance tyres, while the front could sport a fashionable black grille section to help separate it from the regular lineup. Meanwhile, the hypo RS Q3 looks like it'll get a chunkier vertical grille setup, with more muscular aero parts for the body.
Other highlights are expected to include sports lowered suspension for both, performance brakes, and silver side mirrors and quad-outlet exhausts carrying on Audi's S and RS tradition. A bespoke interior is also a must, with chunky seats and S- and RS-specific steering wheel and pedals.
It's understood Audi will unveil the all-new Q3 in the next few months, with the SQ3 and RS Q3 expected to appear in the next 12 months. We'll keep you updated in any case. Check out the spy video below in the meantime for an early taste test.