Audi Australia has launched the new 2015 RS 6 Avant and RS 7 high-performance large sedan-based models, with new in-car technology and improved fuel efficiency.
Both vehicles feature the same 4.0-litre twin-turbo V8 producing 412kW of power and 700Nm of torque. However, thanks to relocated turbochargers now placed inside the 'V', thermal efficiency has improved and so has fuel economy.
The RS 6 Avant comes with an official combined cycle consumption rating of just 9.6L/100km (down from 9.8L/100km in last year's model), while the RS 7 offers an even better 9.5L/100km rating (also down from 9.8L/100km).
Despite the credible fuel consumption, performance is through the roof. Both vehicles can accelerate from 0-100km/h in just 3.9 seconds and both can hit a top speed of 305km/h when optioned with the Dynamic Package Plus, which removes the speed limiter.
Aside from the engine revisions, the new models incorporate various styling tweaks in keeping with the A6 and A7 design facelift. There's new front grilles, new headlights, side sills, and an updated rear end.
Inside, drivers are treated to a high-resolution Driver Information System (DIS) which sits between the instrument dials. This can display various facts and details, including info from the sat-nav. Speaking of which, the main dash now gets a MIB2 infotainment setup driven by a Nvidia Tegra 30 quad-core processor.
The vehicles come with a comprehensive list of standard features too, including digital TV and radio reception, 21-inch alloy wheels, head-up display, a glass sunroof, special RS seats, a sports differential for the quattro all-wheel drive system, and adaptive air suspension.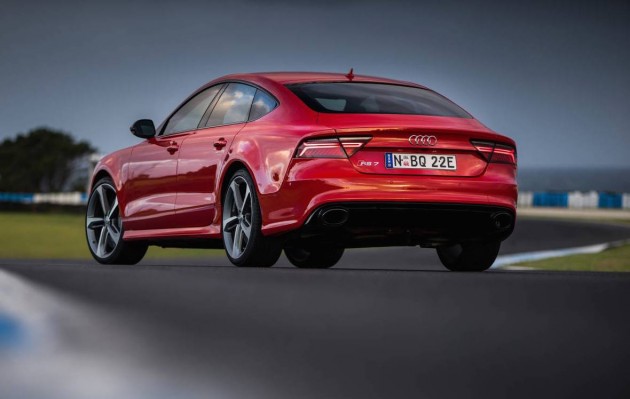 These new models are on sale now with prices starting from the following (excluding on-road costs). Prices have jumped slightly from the previous versions.
2015 Audi RS 6 Avant – $229,500 (up from $225,000)
2015 Audi RS 7 – $242,000 (up from $238,500)