If you like your Audi R8s dark and menacing, then boy do we have a treat for you. Enter the RECON MC8.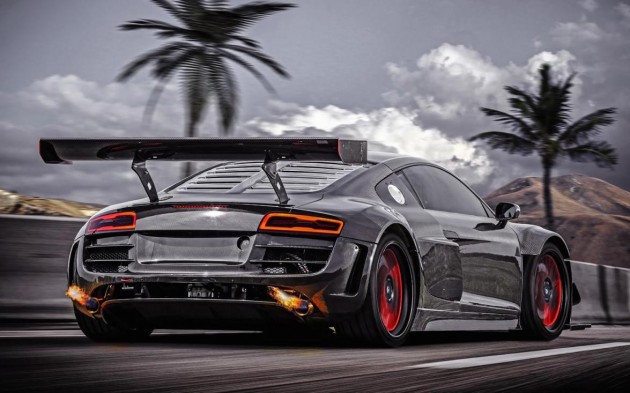 Starting with the just-superseded version of the Audi R8 V10 Plus, Potter and Rich of London have extensively worked the German supercar into a brooding, deranged lunatic on wheels.
The 5.2-litre V10 was treated to a bottom end upgrade, and a supercharger, the net result of which is a colossal 699kW and 900Nm of torque. To make things more interesting, the quattro all-wheel-drive system has been eschewed for a rear-only layout, channeling that twist through a Drexler lockable differential via an uprated version of the car's seven-speed dual-clutch cogbox.
Body-wise, carbon-fibre panels feature all round, with a large wing and contrasting red 305 aspect wheels measuring 21 inches at the rear, and 18 at the front. Interior upgrades include Alcantara seats and a 430km/h speedo.
Although this is based on the previous R8, which has been replaced by a new version that comes with carbon-fibre panels as standard, we're sure many existing R8 owners with cash to burn will notice the flame-burping titanium pipes of the RECON MC8 and RECONsider updating to the new version.