Hyundai will launch its first-ever proper hot hatch in a couple of weeks, called the i30 N, and already there are plans to introduce some track-ready accessories and more variants.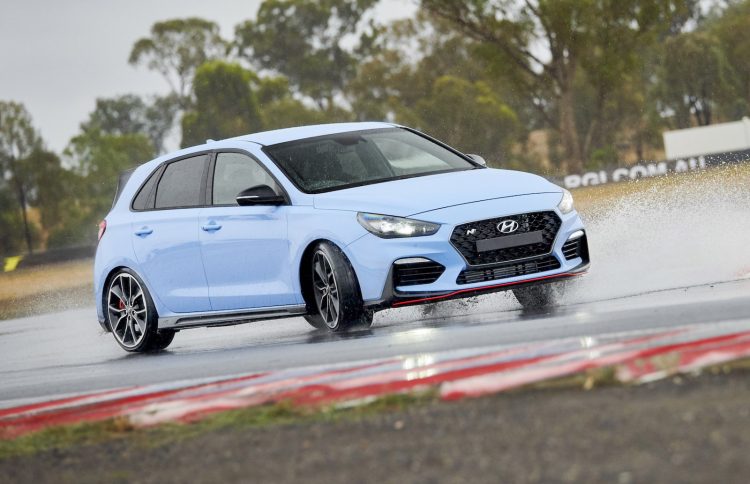 Initially, the i30 N will launch as a single variant in Australia, using a 202kW 2.0-litre turbo with a six-speed manual transmission only. However, overseas the car is offered in a 184kW tune. Hyundai Australia is considering launching the lower spec variant in the future, especially if there is a strong response for it overseas.
Being a manual-only model will obviously restrict the full market reach and local sales potential, but Hyundai is working on a fix. The fix being a wet dual-clutch eight-speed automatic, which is still under development. The unit is set to launch here in the next year or so, which could be a good time to introduce the lower-output version. The first step though is to analyse the local market's response to the about-to-launch version.
Sales are expected to kick off to a decent start as it is. During an early and quietly-announced promotional campaign, around 40 interested buyers already put their name down for one.
Earlier this week Hyundai Australia confirmed its standard five-year warranty package would cover track use (excludes competition or timed events). As far as we know there are no other mainstream manufacturers that offer any warranty coverage during track use. This will give track-day fans peace of mind. It does go to some length to show you how serious Hyundai is about backing its cars too, and backing the track potential of the i30 N.
At the Australian media launch of the new model, Hyundai Australia confirmed there are some sporty accessories and options on the way for the i30 N. Full details on such options will be announced in the near future, but one such accessory confirmed is a set of lightweight 19-inch alloy wheels – O.Z Racing Hyper GT, to be precise.
During the track driving sessions at Winton Raceway this week the Hyundai team had the soon-to-be-optional wheels on display. As far as we understand the wheels help to shed around 5kg per corner, topped off with special carbon fibre 'N' centre caps.
On the test vehicle these wheels were wrapped in sticky, semi-slick Pirelli Trofeo R tyres, measuring 235/35. The tyres apparently won't be part of the wheel option, in terms of factory-fitted anyway. We'll have to wait and see what other cool accessories will be on offer.
The i30 N officially goes on sale early in April with prices starting from $39,990. PerformanceDrive will be putting together a full review, along with a 0-100km/h and track test video by next week. A national embargo has been put in place for reviews until March 29.