If Audi's new 2017 RS 3 sedan isn't brutal enough, you should see what a monster the race version is. Audi Sport has just unveiled this beast at the 2016 Paris Motor Show.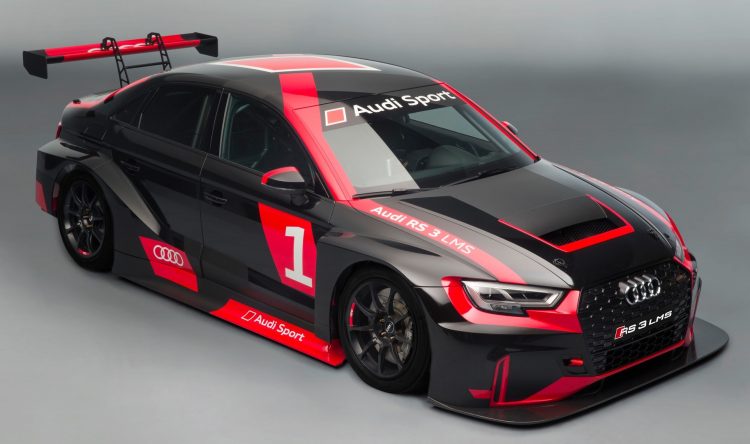 Sporting a far heavier duty aero package, with a huge rear wing, rear flanks pumped out to within an inch of their life, a chunky hood scoop and front diffuser, the RS 3 LMS is ready to take on all comers of the Tour Car Racing international series.
In order to conform to series regulations, it goes without the mental 298kW 2.5-litre five-cylinder of the production car and uses a 2.0-litre, 246kW turbo instead. Straight line performance is actually inferior at 4.5 seconds for 0-100km/h, with a 250km/h top speed, but that is nothing to sneeze for a more focused car that has to work in a tightly regulated environment.
To that end, the interior is stripped out except for one seat, one central vent, a racecar shifter for the sequential mode of the DSG, a roll cage, plain instrument display and carbon fibre steering wheel.
The red and black paint job is evocative of a redback spider that is waiting for you to sit on the dunny before biting you on the clacker. It looks frighteningly fast, just standing still. This is Audi's latest in a series of racing vehicles, including the DTM A4 and R8 LMS.