"Cascada. What the hell is that?" This was the reaction from a passerby as we drove out from a shopping centre in western Sydney. It was interesting to see he jumped into an overcooked 2000-something Holden Commodore and yet seemed confused by the Holden badge on this. (You can replace the word 'hell' with something more fitting to the stereotype.)
This is the Holden Cascada. Many Australians haven't heard of it and fewer have seen it on the road; it only went on sale in April and so far 176 examples have been sold. It is GM's attempt at the small premium four-seat convertible market, potentially giving Holden the prestige edge that it needs. On the face of it, it seems like a very interesting proposition. Let's dive in a bit deeper and see what it's all about.
The Cascada is based on the new Astra. It's basically a revival of the old Astra convertible. Underneath lies the underpinnings of the German-developed Astra (from Delta II platform), and in Australia – with a Holden badge on it – buyers are given one engine option; a 125kW/260Nm 1.6-litre turbocharged petrol matched to a six-speed auto with front-wheel drive.
At the right price, this has the potential to be one of the better-selling 'mainstream' convertibles around. Luckily for punters, the price is right, kicking off from just $42,990. Here we're testing the 'Launch Edition', a 1-of-50 special that comes with big wheels and a flashier interior, starting from $44,990.
2015 Holden Cascada – THE SPECS
Engine: 1.6-litre turbo four-cylinder
Output: 125kW@6000rpm / 260Nm@1650-4500rpm
Transmission: Six-speed auto
Drive type: Front-wheel drive
Wheels: F: 20×8.5, 245/40  R: 20×8.5, 245/40
ANCAP: Not tested
Tare weight: 1711kg
Power-to-weight: 13.6:1 (kg:kW)
Official fuel economy: 7.5L/100km
Economy during test: 9.8L/100km
Fuel capacity/Type: 56L/95 RON
Power efficiency: 16.6kW:L/100km
0-100km/h as tested: 9.9 seconds
Priced from: $44,990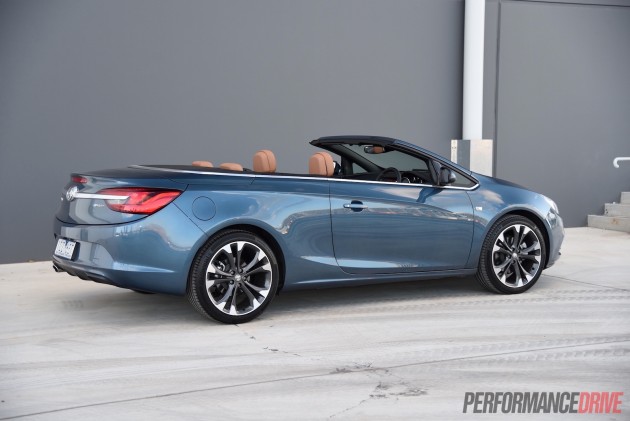 2015 Holden Cascada – THE PACKAGE
Those who know their international GM cars will recognise the Astra body. On first impressions this is actually a very elegant car to behold, in the metal. Especially in this colour scheme and with the dark 20-inch slightly dished alloy wheels.
The body is curvacious and well proportioned, and it's implanted with modern trimmings such as bi-xenon headlights with LED daytime running lights, chrome details, a neat rear lip spoiler and some low skirting for the front. You can forget any negative connotations you might have about the convertible Astra, this thing looks hot and certainly attracts plenty of attention out on the road.
A convertible can only look good when the roof is down, and in which case, it must show off an attractive interior to be consistent with the exterior. With the plush Nappa leather featured on the Launch Edition, the Cascada cabin is a pretty special place to be. Well, at least it feels and looks that way.
Unfortunately, Holden, or should we say GM's international developers decided to sneeze over the dash fascia with all of the buttons and knobs up their noses. It's a mess. There's so many buttons, it almost looks like a keyboard. On the up side it does mean there are endless gadgets to keep you entertained, and plenty of functions and conveniences to keep you warm/cool and comfortable. Of course, one of the buttons controls the electric-folding roof which can be operated at up to 50km/h, and takes around 17 seconds to unfold or close.
The Cascada comes with everything you could need and expect from a vehicle of this caliber. Heated front seats are standard, as is dual-zone climate control, heated side mirrors and even a heated steering wheel, auto wipers and headlights, and a reversing camera. Atop the dash is GM's MyLink interface which includes various apps, sat-nav, typical connectivity with voice recognition, and digital radio.
When the MyLink system was launched a couple of years ago it seemed quite advanced. After a number of rival systems have been popping up and showing how it's done, coming back to the MyLink setup can seem like going back to dial-up internet. It has a fiddly main control knob and requires multiple selections to do something as simple as view or browse radio stations. Although it offers digital radio reception, which we can't get enough of at the moment, it does cut out the moment you leave the city unlike other in-car digital systems we've tested.
As for on-board accommodation, the cabin is a good size. There's plenty of room to move about, and being based on the Astra, it is made to be a practical runaround and not a focused and sophisticated sports car. Rear seat space isn't bad, as long as the front seats aren't too far back. Headroom is also respectable for what it is. Boot space, on the other hand, is minute and the boot lid is very heavy.
2015 Holden Cascada – THE DRIVE
Out on the road there is a big mix of reinvigorating and frustrating experiences that you'll encounter, a bit like the interior. We love the sporty exhaust note of the turbo engine. It also gives off a cool turbo whistle and wastegate flutter, which, no matter how childish you think you're not, does make you giggle and grin like a school boy.
Unfortunately from here the characteristics are not as alluring. This car tips the scales at a whopping 1786kg (1711kg tare weight), which is unacceptably heavy for this size vehicle. This has a profoundly negative impact on the performance, and not just fast-driving performance but also everyday traffic performance.
We think the engine itself kicks out reasonable power and torque. But the transmission has a very hard time trying to extract the best out of it while lugging around all that weight. The six-speed auto has its flaws too, delaying and jerking, behaving indecisively like a 40-year-old virgin trying to ask a girl out on a first date. Sometimes it changes up really early, causing the engine to go into labour, while on other occasions it'll hold off. The brains behind the gearbox might be clever but it seems as though they haven't been calibrated well with the engine and the car's weight.
Out on the open highway the Cascada is a pleasant cruiser. The gearing is low so it is happy to purr along at low revs to save fuel. Getting up to highway speed does take a while though. We timed 0-100km/h in a yawningly slow 9.9 seconds. For a car that shows off the word 'turbo' on the back, one would expect it to be quicker than an automatic Toyota Corolla. But it's actually about half a second slower according to our stopwatch (Racelogic VBOX Sport).
Okay, so let's get this right. It sounds good and cruises well, but it doesn't get up to speed in any hurry and the gearbox is overwhelmed. How does it handle then? Fortunately, GM has done a great job, we think, on the handling of the latest Astra range. Most of the positive characteristics are carried across to the Cascada.
It tips into corners with confidence and holds on solidly all the way around, in a German kind of way. Under power there is a tendency to understeer. If you roll around or feather the throttle, it performs with impressive dedication and provides enjoyable feedback while it's at it. Bumps do little to upset the car's balance, thanks to good suspension travel and a taut sporty damper/spring setting. The weight does work the brakes hard if you're attacking a mountain route downhill, but they will suffice for average to semi-enthusiastic driver types.
Lastly, the fuel economy. We can't really think of anything positive to say about the fuel economy other than the fact the official average of 7.5L/100km is decent. In the real world, we didn't see it drop much below 10L/100km. Again, we put this down to the weight. It is just too heavy for the little engine, so you end up working it. And if you don't work it at the accelerator pedal, the transmission will give up and go into overdrive.
Overall it is a pleasant car to drive. And with the roof down, you can enjoy all the sunshine that you like. Around the city and along the beach is where this car is at home in our opinion, and out on the open highway. It's also a cool cruiser at night with the roof down. Bring on the summertime.
2015 Holden Cascada – THE VIDEO
2015 Holden Cascada – THE VERDICT
This has turned out to be quite a confusing model for us. On one hand it has some quality and rather premium traits that could lure you into the dealership. On the other hand it seems like it is already too old and lacks the modern, lighter weight technologies of its nearest rivals.
If you want a four-seat convertible that can accommodate four people, and you want it to look good inside and out, and sound good, and you want plenty of gadgets regardless if they need a software/layout update, then you need to look further into the Cascada. We guess the major saving grace here is the fact that it is reasonably priced and comes with Holden's lifetime capped-price servicing plan.
PROS:
– Modern looks attract plenty of attention
– Luxury interior for the price, standard features
– Sporty handling and exhaust note
– One of few affordable four-seat convertibles on sale
– Wide torque spread

CONS:
– Overweight
– Unrefined six-speed auto
– Slow yet thirsty
– Boot space