VFACTS has released the national vehicle sales figures for Australia for October 2015, and what a surprise, the new Toyota HiLux has hit the ground sprinting.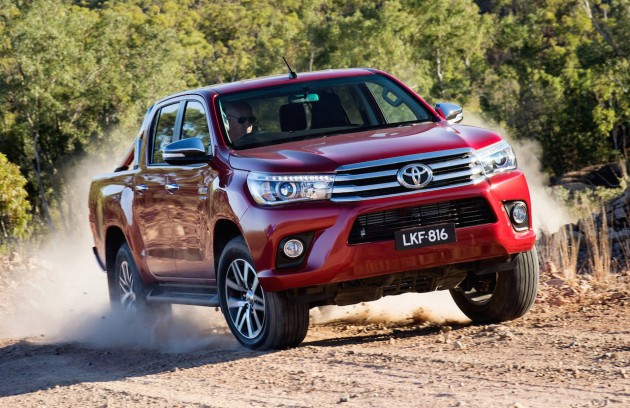 In recent months the popular HiLux has been overtaken in sales by newer utes. But now that the new model is out, it has reclaimed not only top spot in the commercial vehicle segment, it has also trumped every other vehicle model for the month.
This obviously had a good impact on Toyota's overall sales, keeping it at the top of the overall leader board. It was one of only a few carmakers to post higher sales compared with September figures. In other areas, Hyundai overtook Mazda for second place, while Ford moved up to fifth. The top 10 brands for October 2015 and their respective sales figures were as follows:
Toyota – 16,964 (up from 16,594 of September 2015)
Hyundai – 9003 (down from 9311)
Mazda – 8532 (down from 10,864)
Holden – 8088 (down from 9326)
Ford – 6098 (up from 5823)
Nissan – 5961 (up from 5242)
Mitsubishi – 5508 (down from 6937)
Volkswagen – 4480 (down from 5124)
Subaru – 4112 (down from 3621)
Honda – 3261 (down from 3595)
As for the best-selling vehicle model, it was the HiLux as mentioned. It easily topped the second-best Corolla, while Ford moved into third spot with the Ranger ute. Hyundai couldn't hold onto top spot of September with the i30, but it did top Mazda3 sales. The top five models in terms of outright sales for October 2015 were as follows:
Toyota HiLux – 3339 (up from 2004)
Toyota Corolla – 3271 (down from 3530)
Hyundai i30 – 2669 (down from 4490)
Ford Ranger – 2597 (up from 2471)
Mazda3 – 2582 (down from 3588)
In terms of segments, starting with the Medium Cars under $60,000 class, the Toyota Camry couldn't remain in the top five overall list, but it easily outsold all of its competitors once again. Toyota sold 2141 Camrys, while Subaru sold 372 examples of the Liberty, followed by 334 Mazda6 sales.
Over in the Medium Cars over $60,000 class, the Mercedes-Benz C-Class is the clear favourite. The top three consisted of the three main German offerings, with the Lexus IS getting ever so close but not close enough. The top five in the segment were as follows:
Mercedes-Benz C-Class – 727 (down from 861)
BMW 3 Series – 391 (up from 342)
Audi A4 – 347 (up from 101)
Mercedes-Benz CLA-Class – 333 (down from 344)
Lexus IS – 198 (up from 172)
In the home-grown Large Cars under $70,000 class, Holden is still posting very respectable figures with the Commodore (2243 sales). This is probably helped by the updated 'VF II', which includes the new SS, aka, the most powerful Commodore ever made. Ford couldn't keep up, posting 435 sales of the Falcon, while the poor old Toyota Aurion sits down at 268 sales.
If you have a bit more to spend, the Large Cars over $70,000 segment is where you'll want to head. In October the segment was led by the BMW 5 Series, however, almost all models took a dive compared with the previous month. The Audi A6, in particular, dropped from 67 in September to just 16 in October. The top five in this segment were as follows:
BMW 5 Series – 89 (equal to September)
Mercedes-Benz E-Class – 85 (down from 142)
Mercedes-Benz CLS-Class – 24 (down from 46)
Maserati Ghibli – 22 (down from 38)
Audi A6 – 16 (down from 67)
Over in the more exciting entry-level Sports Car under $80,000 segment, the Toyota 86 remains as the favourite. Hyundai returned with decent sales of the Veloster after completely missing out on the top five in September. The Mazda MX-5 is maintaining a strong hold on the segment, while the Subaru WRX, which isn't officially in the segment, outsold all of the main rivals (in terms of price and driving enjoyment). The top five models in the category were as follows:
Toyota 86 – 231 (down from 282)
Hyundai Veloster – 155 (up from 42)
BMW 2 Series Coupe/Convertible – 109 (down from 245)
Mazda MX-5 – 90 (up from 97)
Audi A3 Convertible – 76 (equal)
(Subaru WRX – 359 [up from 296] – not officially in this segment)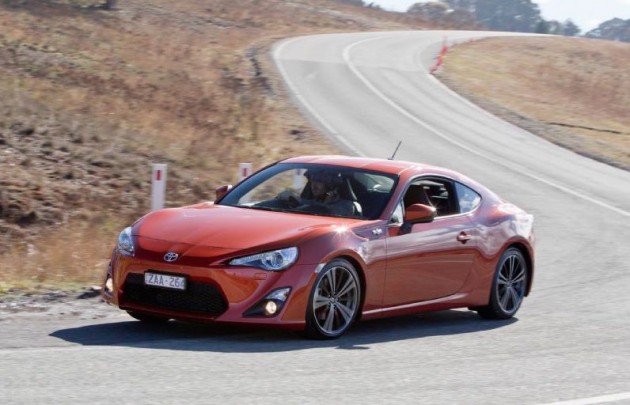 In the more serious Sport Cars over $80,000 category, the BMW 4 Series continues to be the most popular. It almost doubled the sales effort of the second-place-getting Mercedes-Benz E-Class two-door, while the Audi TT took the place of the outdated C-Class Coupe which will soon be replaced by the new model. The top five in this category were as follows:
BMW 4 Series Coupe/Convertible – 124 (down from 202)
Mercedes-Benz E-Class coupe/convertible – 65 (down from 84)
Audi TT – 61 (up from 48)
Lexus RC – 46 (down from 49)
Audi A5 – 36 (down from 38)
In the pinup poster Sport Cars over $200,000 segment, the Porsche 911 king was no longer the king. Sales for the iconic sportscar dropped from 55 in September to just 16 in October. This left the door open for the BMW 6 Series to take top spot. The BMW i8 made it into the top five, matching Ferrari sales, while Aston Martin sold an impressive 15 vehicles. The top five for the category were as follows:
BMW 6 Series – 21 (equal)
Porsche 911 – 16 (down from 55)
Aston Martin (models not specified) – 15 (up from 7)
Maserati coupe/convertible – 10 (down from 12)
Ferrari (models not specified) – 9 (14)/BMW i8 – 9 (up from 1)
A change of pace, but only in terms of speed. The ute segment is perhaps one of the most exciting vehicle segments in Australia at the moment, with a number of new models shaking up the figures.
In the 4×4 ute class, the Toyota HiLux bounced back from slowing sales in recent months to reclaim top spot. It reported 2601 sales, followed by the 2083 sales of the Ford Ranger 4×4, and then the Mitsubishi Triton with 1197 sales.
As for Combined 4×2 and 4×4 ute figures, again, Toyota is back on top and in charge of the segment thanks to the introduction of the new model. Most of the top ten stayed in the same positions as the previous month though, except the Nissan Navara moved up a few places to take fourth spot. The top ten 4×2 and 4×4 combined figures for October 2015 were as follows:
Toyota HiLux – 3339 (up from 2004)
Ford Ranger – 2597 (up from 2471)
Mitsubishi Triton – 1552 (down from 2020)
Nissan Navara – 1447 (up from 1082)
Holden Colorado – 1410 (down from 1552)
Isuzu D-Max – 1264 (down from 1461)
Mazda BT-50 – 904 (down from 1129)
Volkswagen Amarok – 647 (down from 678)
Foton Tunland – 96 (up from 70)
Ssangyong Actyon Sports – 15 (up from 11)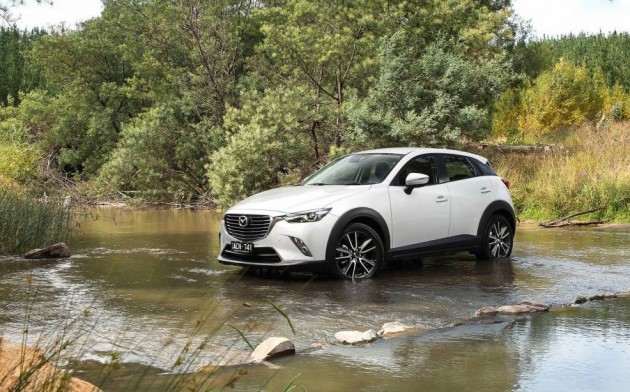 If you're thinking about buying a new car, chances are, you're considering an SUV. You can get a small one, medium-size one, or large, or even extra large. The demand is there and the sales are certainly reflecting that.
Kicking off the vehicle layout, the small SUV class was dominated by the Mazda CX-3 in October, easily outselling its rivals. For premium car buyers, most swarmed to the excellent Lexus NX for a small SUV. It posted impressive figures for the month.
In the larger medium-size class, it was once again led by the Mazda CX-5. Mazda just needs to come in with a strong update for the CX-9 to completely dominate non-premium SUV sales in Australia. Unfortunately the current CX-9 only went out to 240 buyers, placing it well down the top ten in the large SUV class.
Up in the luxury classes, Land Rover showed promise, with the Land Discovery Sport, Range Rover Sport, and Land Rover Discovery all posting respectable figures in their segments. In all SUV segments the top three most popular models during October 2015 were as follows:
SUV Small under $40,000:
Mazda CX-3 – 1440 (down from 1482)
Hyundai ix35 – 1179 (down from 1282)
Mitsubishi ASX – 1088 (up from 1402)
SUV Medium under $60,000:
Mazda CX-5 – 2037 (down from 2321)
Toyota RAV4 – 1685 (up from 1663)
Nissan X-Trail – 1612 (up from 1334)
SUV Medium above $60,000:
Audi Q5 – 407 (down from 466)
Land Rover Discovery Sport – 271 (down from 378)
Porsche Macan – 214 (down from 222)/BMW X3 – 214 (down from 275)
SUV Large above $70,000:
BMW X5 – 320 (down from 330)
Range Rover Sport – 283 (up from 188)
Land Rover Discovery – 255 (up from 189)
SUV Upper Large under $100,000:
Toyota LandCruiser – 715 (up from 641)
Nissan Patrol – 152 (down from 206)
Total new vehicle sales in Australia in October were down on September figures. During October, Australian consumers bought 94,321 vehicles, compared with 101,392 in September. Sales were up 3.4 per cent compared with October 2014, and year-to-date figures are up 3.6 per cent.
In terms of what fuel type buyers went for during October, petrol remains the favourite option, however, hybrids are creeping up. The figures for private buyers in terms of vehicle fuel type were as follows (passenger, SUV, and light commercial combined):
Petrol – 33,177 (down from 39,729 of September)
Diesel – 10,650 (down from 12,404)
Hybrid – 340 (up from 288)
Electric – 24 (down from 30)
LPG – 15 (down from 28)