Volvo has revealed the next stage in its latest Drive-E engine family development with a new three-cylinder turbo. The engine will, in various specification, eventually make its way into vehicles sized up to the S60 platform.
Specifications on the new engines are yet to be announced, however, they have been engineered to surpass Euro 7 emissions standards. Euro 7 won't be in place until 2020, which means the new units will be used for Volvo models well into the future.
The Swedish company says power outputs will span up to 132kW. This is an impressive figure for a three-cylinder, and depending on the capacity it could be one of the most power-specific engines on the market.
For comparison, Ford's 1.0-litre turbo three-cylinder produces up to 92kW, while BMW's 1.5-litre turbo three-cylinder produces up to 170kW in the case of the i8 sports car. The BMW produces 85kW/litre of engine capacity while the Ford produces 92kW/litre.
Volvo has been on a downsizing diet since it announced it would replace all six-cylinder engines with similarly powerful four-cylinder units back in 2013. The aim, of course, is to reduce emissions and, perhaps more importantly, reduce fuel consumption. Michael Fleiss, vice president for powertrain development at Volvo Car Group, said,
"We have learned a lot from the development of our four-cylinder Drive-E engines and translated this into a highly responsive, compact and powerful premium-quality three-cylinder engine.  The engine is being developed primarily with our new CMA architecture in mind but will also provide power for our 60 Series cars thanks to Volvo's advanced turbo technologies, while also meeting Euro 7 emission targets."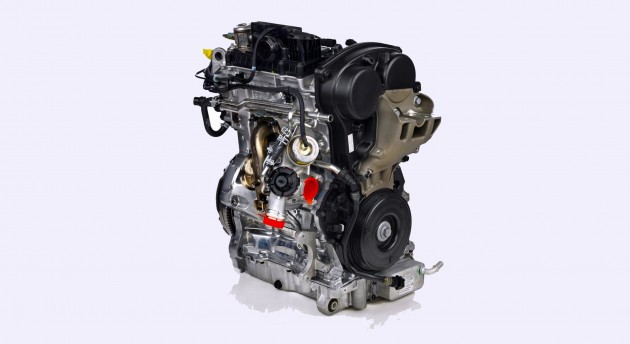 Volvo has a history of creating unique multi-cylinder engines, including its more famous and quite raspy-sounding five-cylinder which recently went out of production. Dr. Peter Mertens, senior vice president of research and development at Volvo Car Group, said,
"The beauty of the new three-cylinder engine we are developing is that it can be built on the same production lines as our four-cylinder engine, offering flexible production potential which can be adapted to suit business needs as we grow. This marks an important step forward for Volvo Cars. In terms of our power and efficiency, Volvo's engineering excellence will shine through with the Drive-E three-cylinder engine."