Official images of the new Mercedes-Benz CLA 45 AMG have been leaked online before the performance four-door coupe's unveiling at the New York Auto Show later this month. This is the first time the new model has been seen in complete detail.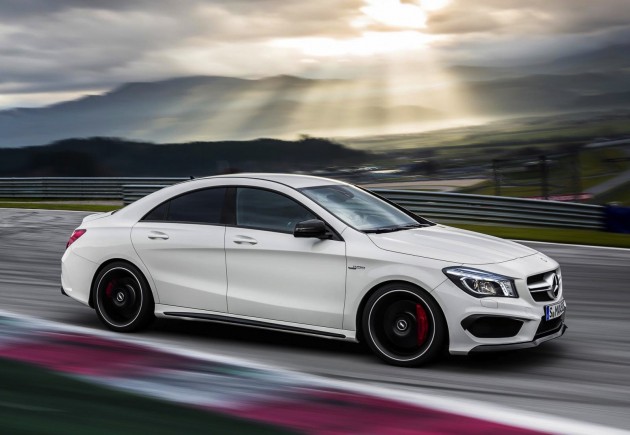 The CLA 45 is the performance iteration of the CLA-Class, which has just launched overseas. The entire powertrain package is borrowed from the cracking new A 45 AMG A-Class, including its 2.0-litre turbocharged four-cylinder engine.
In the A 45, the engine produces a class-leading 265kW of power and 450Nm of torque. This is expected to enable the CLA to do the 0-100km/h dash in 4.6 seconds.
The sleek sedan/coupe will come with the same all-wheel drive system as the A 45, as well as the seven-speed dual-clutch automatic transmission.
Inside and out, the AMG CLA features various performance-oriented highlights. There's a full bodykit with front and rear spoilers, as you would expect, as well as a chunky rear diffuser with the traditional quad-outlet exhaust layout.
There's also large alloy wheels, a serious brake package, sports adaptive suspension, and a similarly dedicated interior with bucket seats and lots of carbon fibre.
The new model is expected to arrive in Australia soon after the A 45 AMG launches in October. Prices are yet to be announced, but as a guide, the A 45 AMG is priced from $74,900.