An almost completely undisguised Audi Q8 has been spotted driving along in Italy, showing the rear end in full view for the first time.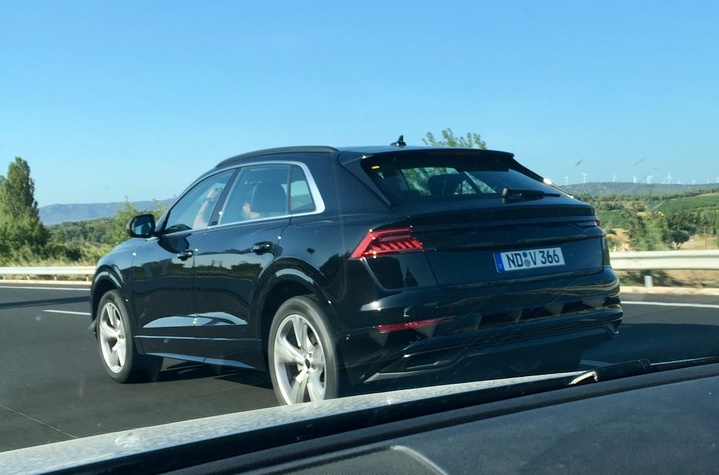 Audi has confirmed on numerous occasions that it is indeed planning to launch a Q8 model, sitting above the Q7. It's set to come in as Audi's coupe-like SUV to take on the likes of the BMW X6 and Mercedes GLE Coupe.
As you can see by this image, first appearing on Italian forum AutoPereri, the Q8 will offer similar proportions to the current Q7. However, at the back it's all new. The tailgate swoops down more gently for a coupe-like silhouette.
It looks like the taillights are slightly concealed, with the possibility of a centre strip connecting the two lenses on either side. Meanwhile, lower down there's a sporty diffuser section, neat reflectors in the corners, and a spoiler up top to extend the roofline.
No details are confirmed in terms of the engine options, but the Q7 is probably a good indication for the initial units that will be offered. There's probably going to be an 'SQ8' sports model too, featuring the SQ7's 320kW/900Nm 4.0L twin-turbo V8 diesel. A hybrid is likely further down the track, and possibly a fully electric e-tron model.
Audi has confirmed the Q8 will arrive by 2019, which means it might hit some markets as early as next year. Given this prototype was seen in full in complete daylight, we suspect the public unveiling will take place at the Frankfurt motor show next month.