Epic supercar maker Hennessey Performance is working on a new model called the Venom F5, named after the most powerful tornado on the Fujita scale. The F5 could have a mind-blowing top speed of 467km/h.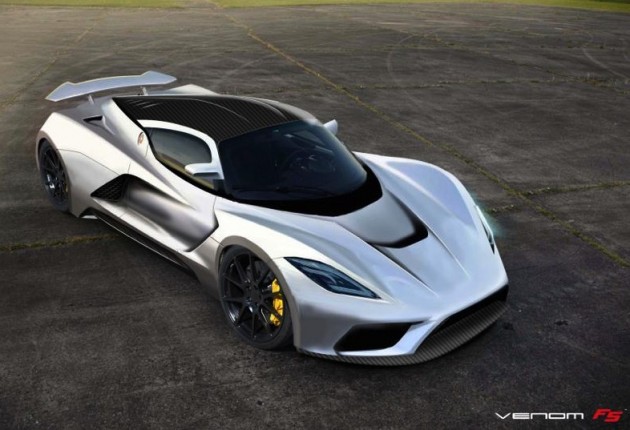 The Hennessey Venom GT (above) already holds the unofficial production car top speed record after hitting 435.31km/h earlier this year. The company's founder, John Hennessey, has confirmed plans of a more serious version.
He admitted that somewhere in the 290mph (467km/h) range is possible, which would make it quite easily the new fastest car in the world.
So, what kind of powerplant will this monster need to achieve such a speed? A heavily revised version of the current 7.0-litre twin-turbo V8 of course. Power is expected to top 1044kW (1400hp).
As well as producing an unearthly output, the F5 will apparently be a lot more aerodynamic than the regular Lotus Exige-based Venom GT. Lightweight carbon fibre will also be used for most of its construction, which means it will be very light.
Other highlights in the pipeline include an advanced traction control system that will use GPS to configure the best setting according to the circuit, as well as a dual-clutch automated manual transmission with rear-wheel drive.
Interested? Don't hold your breath, the new model isn't likely to appear until around 2016.
UPDATE: Hennessey has officially confirmed plans and released renderings.