Engine swaps are, more often than not, to enhance a car's power and speed. Note the Ferrari-powered Toyota 86, or GTR-engined Nissan Patrol we've featured, as well as the myriad small cars at Summernats 30 stuffed choc-full of V8. Sometimes, though, the motives behind a conversion are different.
It could be a desire to make a car more economical, or reliable, or just a desire to keep it going with what you have available, like the 1950s American classics still going in Cuba. Better yet, it could just be to mess with people's heads. Here, in no particular order, are ten sports cars with unusual and generally inferior engine swaps.
Lamborghini Gallardo with Audi four-cylinder
It's well-known the Gallardo and subsequent Huracan share a platform with the Audi R8 and share many parts and even engines. As featured on EngineSwapDepot, this racer's glorious V10 has been swapped out for one of parent company VW's Brazillian motors; the AP with a 20V head and turbo. The rationale here is reduced competition costs due to the ubiquity of the AP motor, compared with the Lambo V10. Mottin Racing team competes in the Brazilian GT1 category.
Ferrari 308 with Pontiac Fiero V6
Ferrari is notoriously precious about how its cars are treated, whether it is discouraging press from using its cars for comparisons, or what owners do to their cars, such as Deadmau5's 'Purrari' which resulted in a cease and desist letter.
Needless to say, the company probably wouldn't approve of a Ferrari 308 with a Pontiac Fiero engine, which is the alternate universe counterpoint to the countless Fiero-based Ferrari replicas in the states (Datsun Z cars are more common here). Switching from an injected, exotic Italian V8 to a pig-iron 83kW carburetted V6 is enough to make Enzo Ferrari's coffin spin at high rpm.
Mazda RX-8 with Renault 1.4-litre
This Lithuanian example is a real head-scratcher. The RENESIS rotary engine the car came with spun out 177kW and 211Nm and was generally reliable, but still a rotary after all. We can only assume this owner was unable to source a replacement engine and a 70hp (52kW) carburetted 1.4-litre Renault donk was the only one available. It's unknown if any other driveline components are changed but the six-speed manual was geared for a low-torque motor, so would probably suit the new engine somewhat. A conversion like this would not be possible in Australia.
According to the ad, the car now has a top speed of 160km/h (100mph) and the world's saddest tacho needle.
Lexus LFA with NASCAR engine
This is a dubious inclusion, since the car has gained power and is arguably more fit for drifting purpose than the original Yamaha V10, but much has been lost. The original engine is a high-tech precision tuned instrument that screams to 9500rpm and sounds like God getting attacked by bees. In its place goes a TRD NASCAR 5.8-litre pushrod V8, with a turbo bolted on, making 514kW. We're okay with this one, though, since the original car was flood-damaged and it now has a new lease on life in the Japanese D1GP series.
Porsche 911 with Toyota Yaris 1.5-litre
Everyone knows the 911 can trace its roots back to the Volkswagen Beetle but that hasn't stopped it becoming one of the most celebrated sports cars of all time. The last time we featured a 911 with a 1.5-litre engine transplant it was a 630kW TAG Formula 1 V6 from the '80s and it melted our servers with popularity.
This 1975 slant-nose that was on eBay recently and picked up by Jalopnik doesn't really hit the same note, as it uses a 1NZ-FE from a Toyota Yaris, with all of 79kW. So wrong, but something to troll the purists.
Audi R8 with 2.0 TFSI
Sometimes racing dictates that the best course of action is to downsize and add lightness. Like the Gallardo above, this car optimised for Hillclimbs swaps its exotic powerplant for a 2.0-litre VW turbo. This one sports a modern TFSI seen in other Audis and is eminently tuneable. You can hear the massive amounts of boost it dumps in the video, indicating it is a very highly strung little engine, but probably cheaper to maintain than what it replaced.
Tesla Model S with LS V8

The Tesla Model S isn't exactly a sports car, with its two-tonne plus kerb weight and luxury sedan emphasis, but its hypercar-humiliating acceleration and low-centre of gravity gives it a guernsey here.
The GM LS small block is arguably the world's most popular engine for transplants, with #Lstheworld routinely appearing on social media. One of the most outrageous swaps has got to be East Bay Muscle Cars' Tesla Model S LS3. A best-selling symbol of environmentalism brandishing an LS3 is the definition of irony.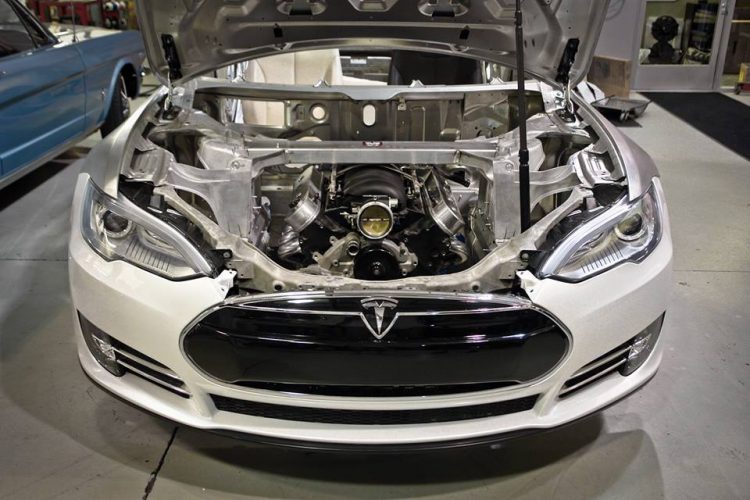 Mazda MX-5 with Suzuki Geo G10 engine

The MX-5 is the answer to every internet car-based question, with engine modifications ranging from big V8s to motorcycle motors. This is an example of 'Eco-modding,' whereby a smaller and more efficient engine is transplanted to achieve superior economy. A 41KW and 79Nm Geo (Suzuki) G10 substitutes for the Mazda B-series four-banger which, according to the owner, is now good for 4.2L/100km. More info can be found at forum.miata.
Chevrolet Corvette with four-cylinder
Think Corvette, and think fibreglass body sports car with muscular V8 (except the first gen 'Blue Flame straight-six), but looks like this guy didn't get the memo. Swedish tuners MaxxTuning have pulled out the de-LS'd C6 Corvette, putting in its place a 2.3-litre Opel engine with a Garret GTX28 turbo. This means 350kW and 570Nm – way more than the standard 6.2-litre V8. Still, there's something downright peverse about a four-cylinder Corvette, which is why it's here, we suppose.
Lotus Elise with TDI diesel
Diesel and sports cars are generally two things at odds with one-another, but this 2013 Lotus Elise with a VW TDI engine is actually novel in many ways. For starters, a 700kg extruded aluminium roadster is a sound basis for an economical engine swap. This 1.9 turbo-diesel is said to be good for 164kW thanks to 30psi of boost. Real world economy would be absolutely phenomenal, even on the racetrack where this video is shot, refuelling after many laps of wide open throttle would be minimal.