Following the initial unveiling of the 2020 Hyundai Sonata earlier this month, Hyundai just revealed the sporty Sonata Turbo at the Seoul Motor Show.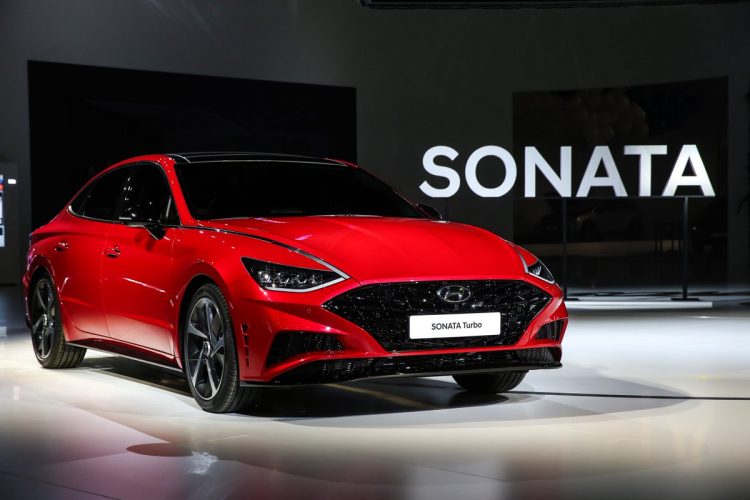 As we all already knew, the turbo version comes equipped with a Smartstream 'G1.6' 1.6-litre turbo-petrol four-cylinder engine that produces 134kW. Hyundai says it "can be specified with an eight-speed" auto, which suggests another transmission might also be on offer such as a manual.
Sonata fans might be a little disappointed by this powertrain though as the outgoing Sonata is/was available with a 2.0-litre turbo that produces 180kW.
Distinguishing the Turbo variant from the regular version though is a rather striking aero kit, setting it further apart from the regular version compared with the previous model. You get some big air ducts in the front end and Hyundai's first application of a new "Parametric Jewel" front grille treatment. This is an extremely wide interpretation of the usual 'cascading grille' layout, extending to well beneath the headlights.
Around at the back there's a bespoke spoiler that "aids stability at higher speeds," Hyundai says, as well as a special rear bumper bar with sporty highlights, and a twin-tip exhaust system poking out from below. A discreet diffuser element is also used.
By the looks of the car on display at the motor show, the Sonata Turbo will also showcase some contrasting darkened highlights, such as the side mirrors, pinstripes across the bonnet, black window surrounds, and black lower skirting around the front, sides and rear. Unique five-spoke alloy wheels also feature black inner-spokes.
As previously reported, the 2020 Hyundai Sonata is due to go on sale in Australia during the second half of this year. With this turbo variant, the Sonata could be quite a popular model in the shrinking mid-size sedan segment.
In related news, it looks like Hyundai is also planning a hybrid version of the Sonata. An example on display at the show clearly wears 'Sonata Hybrid' plates, however, this is the first time we've heard there will be such a variant. We couldn't find any specifications at this stage. In the most recent detailed press release Hyundai only talks about the 'G1.6' and the 'G2.5' engine.