BMW has been spotted test driving a prototype version of the upcoming BMW M2 coupe on the Nurburgring. This is anticipated to be a cracking little coupe, ready to sit beneath the M4.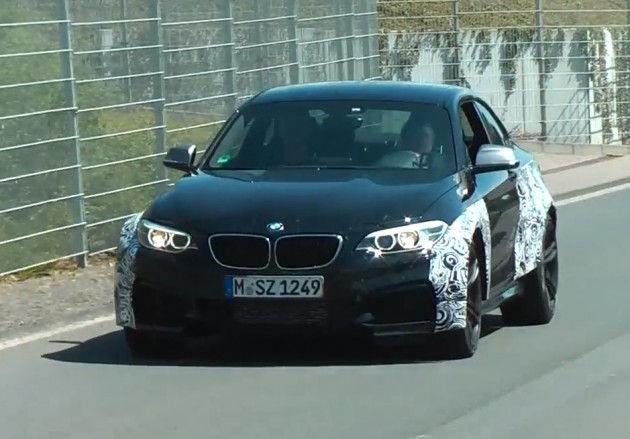 Seen as though the BMW M235i is a well-received sports car, with motoring experts around the world praising its potent inline six and pure rear-wheel drive handling, the M2 is set to be a great successor to the awesome BMW 1 Series M Coupe from a few years ago.
Specifications are yet to be confirmed but it'll likely come with 3.0-litre twin-turbo inline six, producing around 280kW and 500Nm. With these kind of figures in the small 2 Series platform, BMW will have to be careful not to step on the toes of the M4.
Like all M vehicles, the M2 will come with various high-performance features and specially-developed, motorsport-derived components, such as sports suspension, brakes, and a aero bodykit.
It's believed BMW M will give the M2 the same transmissions as offered with the M3 and M4. This means we could see a six-speed manual and seven-speed dual-clutch auto on the table, despite growing trends for auto-only setups.
As you can see in the video, the prototype looks noticeably pumped out compared with the regular 2 Series. There are fatter guards at the front with big race-like vertical slits, and muscly rear haunches accommodating fat rear wheels and tyres.
A full debut is expected to take place later this year. Click play below for a preview, provided by BimmerPost YouTube channel.