Following its initial unveiling just last week, Hyundai has today confirmed the 2020 Sonata will be underpinned by a brand new platform which will eventually be applied to other models in the future. Other models potentially include the next-gen Santa Fe.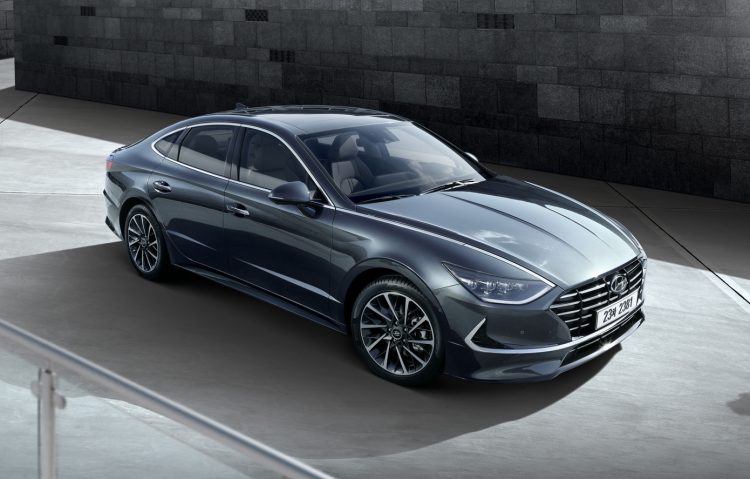 As we saw, the 2020 Hyundai Sonata showcases a brand new styling language for the company, evolving the 'cascading grille' to a new 'digital pulse cascading grille' layout. There's also a completely redesigned rear end with a full-width-style taillight and integrated spoiler.
However, the other big change is a shift to a sophisticated third-generation platform. The platform not only helps the new model provide increased interior space, but also improve efficiency, safety, and driving performance.
Helping with safety is something the company calls a multi-load path structure, constructed by 'hot stamping' methods and using high-tensile steel. The structure is able to absorb more energy during a collision, helping especially to conserve the passenger cell.
In terms of the driving characteristics, the company says the new platform is expected to improve power and driving performance. More specifically, the platform is designed to house a next-gen "Smartstream Powertrain" family.
On top of this, the structure has been crafted to help airflow under the bonnet, assisting with heat control, while optimising performance. The aerodynamics involved also enhance vehicle stability thanks to improved airflow, while maximising efficiency.
How does the platform improve stability? Well, it supports lower mounting points for the powertrain and heavy components to lower the centre of gravity. Speaking about the new platform and the next Sonata, Fayez Abdul Rahman, vice president of architecture at Hyundai, said:
"Through implementation of the third-generation platform, the new generation Sonata is expected to provide world-class value in overall vehicle performance. Starting with the new Sonata model, Hyundai will gradually expand the use of new platform in order to provide joy of driving and comfort to the customers."
As mentioned, the 2020 Sonata will debut the platform in the second half of this year before it is applied to other models within the Hyundai group further down the track. As a guide, the Hyundai-Kia 'Y7' platform used to underpin the current Sonata is also shared with the Kia Optima, while the current Santa Fe uses the 'Y6' platform which was used on the previous-gen Sonata.