The 2017 Ford Focus RS is a lot like the cool kid in high school. A bad boy image goes a long way towards boosting popularity and the RS's recent notoriety surrounding its 'Drift Mode' function does not seem to have hurt it at all. Like the kid who smokes behind the classroom, its devil may care attitude just adds to the attraction.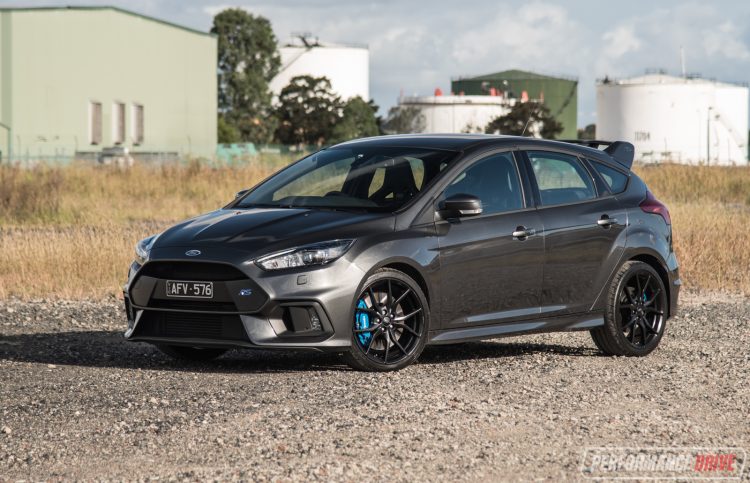 Putting all that aside, the Focus RS is a huge deal to performance car fans and Ford faithful alike. With 257kW and 440Nm (470Nm on overboost) from its 2.3-litre turbo four, Ford calls its creation a hyper hatch. A claimed 0-100km/h time of 4.7 seconds definitely backs this up. This puts it right up against V8 Falcons and even HSVs.
The EcoBoost engine that makes that power is shared with the entry-level Mustang, albeit in a lower state of tune. What makes the Focus RS truly special however is its 'Ford Performance' drive system. A six-speed manual gearbox sends power through an advanced AWD system with torque vectoring, thanks to GKN's 'Twinster' clutch-pack rear differential.
Ford has always been good at delivering fun-to-drive cars, especially with ST and RS badges, but what is Ford's latest hero like to live with on a daily basis and should you buy one?
2017 Ford Focus RS – THE SPECS
Engine: 2.3-litre turbo four-cylinder
Output: 257kW@6000rpm / 440Nm@1600-5000rpm (470Nm overboost)
Transmission: Six-speed manual
Drive type: All-wheel drive, torque vectoring
Wheels: F & R: 19×8.0, 235/35
ANCAP: Not tested (regular Focus 5 stars)
Tare weight: 1543kg
Power-to-weight: 6.00:1 (kg:kW)
Official fuel economy: 8.1L/100km
Economy during test: 10L/100km
Fuel capacity/Type: 52L/95 RON
Power efficiency: 31.72kW:L/100km
0-60km/h: 2.26 seconds*
0-100km/h: 5.14 seconds*
1/8 mile: 8.65 seconds at 138.2km/h*
1/4 mile: 13.34 seconds at 171.3km/h*
100-0km/h braking: 3.14 seconds at 39.28 metres*
Decibel at idle: 45*
Peak decibel at 60-100km/h: 85*
Priced from: $50,990
* Figures as tested by PerformanceDrive on the day. Factory claims may be different

2017 Ford Focus RS – THE PACKAGE
Unlike its three-door predecessors, the LZ Focus RS comes exclusively in a five-door body style. Despite this, Ford has managed to give it a very aggro yet cohesive appearance, with its beefed up bodykit, big rear wing, diffuser and gaping front grille all presenting supercar presence.
Our test car came with the $2500 'Performance Wheel Pack' option that includes a gloss black finish and Michelin Pilot Sport Cup 2 shoes. Peering through those is a set of 350mm front and 302mm rear brakes clasped by blue, four-piston Brembo calipers (front).
Being based on a volume-selling small car gives the RS generous dimensions. It is 4390mm long, 1823mm wide and 1480mm tall. Although the all-wheel drive RS loses boot space compared with front-drive versions (260L down from 316L), the seats still fold down handily for surprisingly large objects – we managed to fit a treadmill inside.
As for humans, the front occupants are treated to aggressively bolstered Recaro buckets trimmed in suede and leather, with sliding and backrest adjustment only. They do a superb job of holding you in place, which is just as well considering the g-force the RS can dish up. One must be careful entering and exiting, though, as it can be a bit of a hassle. Rear occupants also get generous head and legroom, giving it genuine family car potential in terms of size.
A stitched leather flat-bottom steering wheel falls comfortably to hand and feels reassuring. The gear lever is also positioned at arm's reach. Dials are clear, with the colour screen between tachometer and speedometer providing digital speed readouts.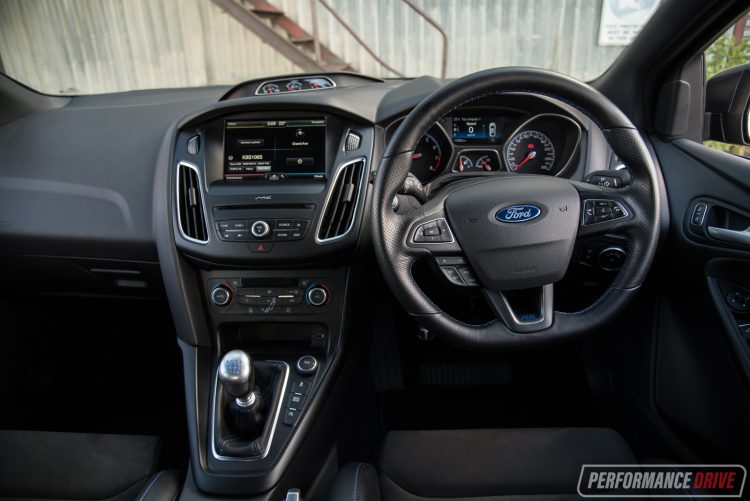 The Focus RS is equipped with Ford's proprietary infotainment system: Sync 2. It divides navigation, HVAC, entertainment and vehicle information into four quadrants, which is handy to read at a glance. We found the voice control system very useful for inputting navigation co-ordinates on the run and changing radio stations. Doing this via hand proved fiddly and distracting. We're confident the car will receive the superior Sync 3 system that is being rolled out across the rest of the range soon. Sound quality from the speakers is good, without being exceptional. But let's face it, the speaker sound is not the prime reason why you would buy the RS.
Navigation itself is easy to understand, with traffic alerts, smart diversion planning and speed camera alerts. One-touch power windows, climate control and reverse camera makes the RS a user-friendly beast. Capped-price servicing and a three-year/100,000km warranty also add to the liveability equation.

2017 Ford Focus RS – THE DRIVE
Now to the best part. We'll start off by saying the RS is absolutely outstanding in the way it accelerates, corners and feels with little-to-no impost to driveability or practicality.
There are four driving modes: Normal, Sport, Track and Drift. These alter steering, throttle mapping, stability control threshold, adaptive dampers and torque vectoring settings. There is also a separate control for the two-setting adaptive dampers.
The level of grip offered in all modes is astounding, with neutral handling characteristics that embolden you to carve corners at higher speeds than you thought. Steering is deliciously weighted, with great feedback from the electric-based system. This lends the car agility and helps you quickly develop a rapport with the chassis. Sport mode allows more (artificial) engine noise, a smidgen more tail-out ability and a more responsive throttle. Race builds on this again, while Drift mode adds a whole new dimension to this class of vehicle.
We obviously don't recommend being bullish with it and nor does Ford, stating that Drift mode is strictly for racetrack use. The right way to become familiar with the Drift mode-enabled chassis is to treat the car with respect. When a suitable corner is found, the key is to feed the throttle gently to discover the point at which the car kicks out. The electronics manage this superbly well, giving it a progressive learning-curve. If you drive around thinking you're Ken Block and don't treat it with respect, you will find yourself in a bad situation very quickly. Interestingly, torque-steer becomes apparent in Drift mode but not in the other modes, mainly due to the torque-vectoring control working overtime.
Acceleration is brutal enough to justify the inclusion of the Recaro seats. The 2.3-litre turbo engine has meaty power delivery, with no major hint of turbo-lag, allowing you to load up the revs and slingshot away from traffic lights. We achieved a best 0-100km/h time of 5.14 seconds using the standard launch control, and a fraction slower without launch control. The quarter mile stopped the clock in just 13.34 seconds.
The spitting and crackling on the overun, plus the beefy engine note give it some aural drama and character, meaning someone accustomed to a bellowing muscle car could still potentially enjoy its sound. If that's not rumbly enough, there's always the Mustang GT.
Another thing that would make large performance car owners feel at home is the effortless nature of the engine in traffic and cruising. Peak torque comes in at just 1600rpm, making it feel strong and tractable enough to pull away in a higher gear than you'd expect, despite the relatively long ratios. The gearshift itself is precise and a tactile delight, as is the light clutch that is easy to manage. For those who don't mind a bit of left-leg action, the lack of automatic availability isn't a problem as there are some dual-clutch rivals that are jerkier in traffic.
When you want to get home in comfort without feeling like you've run a marathon, the RS is more than up to the task. Even the ride, while firm, soaks up bumps and irregularities with more compliance than you'd expect from a serious hot hatch. Of course, if you've just stepped out of a conventional hatch the ride will seem harsh.
Economy is quoted at 8.1L/100km on the combined cycle, though, we struggled to keep it under 10. It must be said, we weren't hanging around and that is still several litres better than you can expect to manage with a comparatively fast V8.

2017 Ford Focus RS – THE VIDEO
2017 Ford Focus RS – THE VERDICT
The Focus RS is better than we hoped it would be, with astounding performance that lives up to its villanous looks, a chassis with hidden talents that take time to learn and a user-friendly nature when it's being driven like a normal car.
It is the best of both worlds; a practical five-door hatch with decent fuel economy, decent comfort, effortless torque and good connectivity, then a wild beast that throws you back and sideways into the Recaros when pushed. Priced from $50,990, it is an absolute bargain considering the talent and the much more expensive cars it can humble with its performance. We hope Ford continues to give us machines like this for years to come.
PROS:
– Practical, user-friendly interior
– Super villain styling
– Acceleration
– Handling and grip
– Compliant chassis
– Rally car soundtrack
– Value for money

CONS:
– Lack of spare tyre
– Lack of auto or dual-clutch option
– Recaro seats not suitable for very overweight people
– Interior not up to VW Golf R presentation
As always, if you're thinking about buying a new car don't forget to click here to speak with our car buying specialists.