BMW is getting ready to unveil the all-new, 2020 BMW 1 Series, and has just released a handful of teasers to build anticipation. The new model will switch from a rear-wheel drive platform to a front-wheel drive layout.
This is big news for the small car, and for premium small car fans, as it means the 1 Series will no longer be the only mainstream rear-wheel drive hatch on the market (and hot hatch in the case of the M140i). It's set to switch to the BMW-MINI UKL2 platform which currently underpins vehicles such as the latest range of MINIs and the BMW X2 and 2 Series Active Tourer.
It's not complete bad news for driving fans, though, BMW has previously confirmed there is an M135i xDrive in the works that will come with the most potent 2.0-litre turbo four-cylinder petrol production car engine BMW has ever made. The engine is currently offered in the X2 M35i, where it produces 225kW and 450Nm. Hooked up with all-wheel drive, acceleration from 0-100km/h should take around 4.9 seconds.
Lower down int the range BMW is set to offer a string of turbocharged petrol and diesel options as well. We suspect the camouflaged prototype previewed here is one of those. These images were posted up onto BMW's Facebook page, giving us the first close-up look of what is believed to be the production body.
At the front it's clear to see the new-look headlights featuring semi-circle LED daytime running lights, with a new grille in between that extends upward and wraps into the bonnet line. We also get a glimpse of the fresh taillights which go for the elongated theme like other later-model BMWs.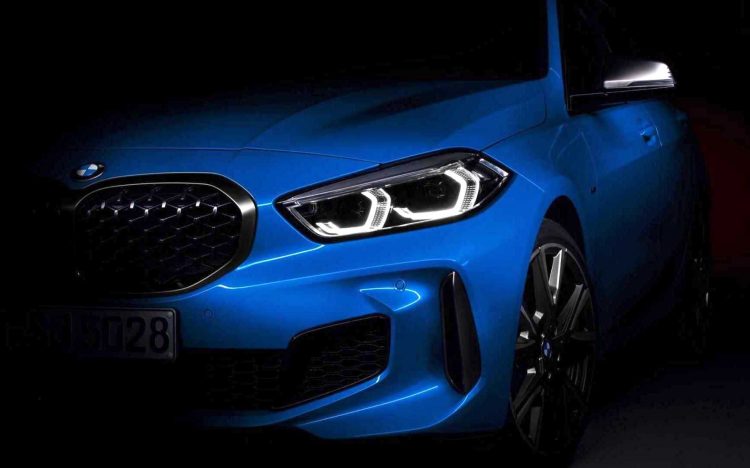 Interestingly, BMW France has also sent out a more colourful teaser showing the front corner of what looks to be the M Performance M135i variant (above). Telltale signs include the black grilles at the front with dark grey surrounds, along with matching side mirrors, and a set of mesh-style large alloy wheels.
The 2020 BMW 1 Series hatch is set to be unveiled just a little bit later this year, with sales kicking off in Europe by the end of the year.