Jaguar has been spotted testing the new E-Pace small SUV again. This time out on the Nurburgring, where it appears to be out of its element somewhat.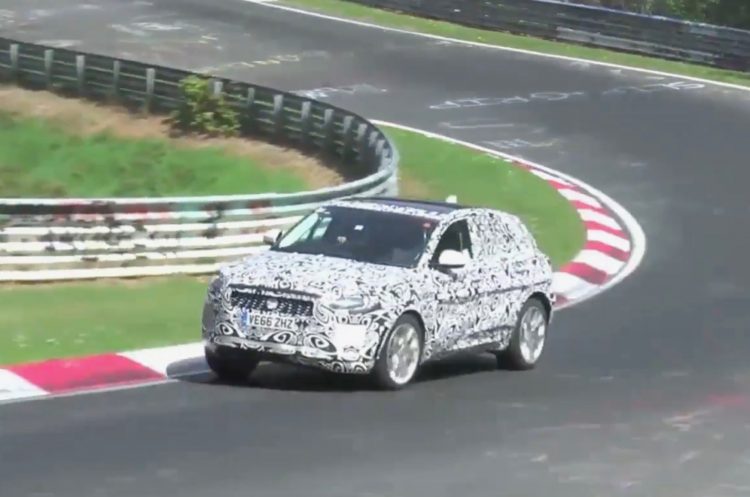 This is the second time a prototype has been spotted in the wild, previewing Jaguar's upcoming entry into the premium small SUV segment. It will be looking to compete against the likes of the Audi Q2/Q3, BMW X1, and Mercedes GLA.
Being Jaguar's first entry into this class, we're expecting plenty of testing and development work before it hits the market. And this prototype looks like it is out on the punishing circuit for one of its first times, torturing the front tyres.
Underneath it all is set to be the underpinnings from other Jaguar Land Rover models such as the Land Rover Discovery Sport and Range Rover Evoque. Although, the platform, known as the LR-MS, is likely to be shortened. Even on this prototype you can tell the rear doors are slightly shorter than those on the Evoque and Disco Sport.
Like the other two, the new E-Pace will come with a range of four-cylinder petrol and diesel engines taken from the new Ingenium family. Where the range tops out is anyone's guess at this stage, but we doubt there will be any room for a V6 option. The new twin-turbo-diesel 2.0-litre with 500Nm is set to find its way under the bonnet in upper models.
There's been plenty of talk about the possibility of a hybrid coming in for this model. Jaguar doesn't currently offer a hybrid vehicle, although a powertrain potentially with 'mild hybrid' specifications is believed to be in the works for the Evoque and Disco Sport. If this is the case it could easily be swapped over into the E-Pace.
For Jaguar as a business, the E-Pace is expected to become one of its best-selling vehicles. The F-Pace SUV has already enjoyed the market trends, with effectively a more affordable model likely to ride a similar sized wave.
We anticipate a full reveal later in the year. Jaguar is yet to officially confirm any details. Check out the video below by autoevolution to see how things are going so far.