Mercedes-AMG has sent out a video to spread some Christmas cheer, previewing the all-new A 45 AMG super hatch for the first time. The video is titled 'Not another Christmas video', which we're guessing is some kind of German humour.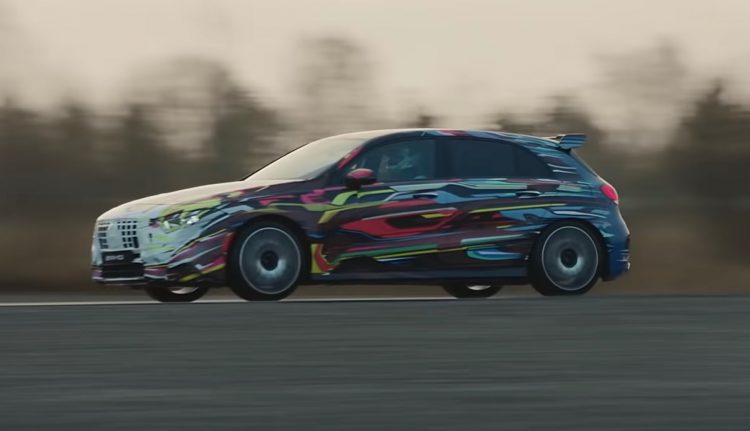 The new A-Class has been out for a little while, and the Stuttgart-based company has even announced a new intermediate hot hatch called the A 35 AMG. But for serious petrol heads we are all still waiting for the new A 45. This is the first official teaser that we've seen.
It shows an A 45 prototype being thrashed around while wearing what appears to be some kind of Christmas wrap camouflage. Who cares about that, though. The driver seems to be really celebrating the joy of the Christmas period, throwing the hatchback around like a kid playing with a freshly unwrapped remote control car on the slippery kitchen floor.
The new A 45 AMG will come with some adjustable driving modes, including 'sport plus' as briefly shown in the video. This mode could even alter the 4MATIC all-wheel drive system. In the video it almost looks like the car can flick to a very rear-biased drive mode, especially towards the end of the video as the driver pulls a tight U-turn drift in the garage from a standstill. This kind of manoeuvre would not be possible in a front-biased system.
Power for the new model is set to come from a 2.0-litre turbo, like the outgoing model, but output will reportedly top around 300kW. This would make it the most powerful hatch in its class. Avid fans of the A 45 will be quick to point out the original model also held that title when it was launched.
What else is seen in the video? Well, aside from a whole lot of drifting and sliding about, and even an AWD donut towards the end, you also get a nice look at the latest fully digital dash and horizontal rev bar/tacho. You can also make out some of the crazy aero parts applied to the exterior, such as the big rear wing.
No details are confirmed in regards to timing for the full debut for the 2019 Mercedes-AMG A 45. However, given the prototype looks pretty much complete albeit with some body wrap, it might be revealed in the next few months. Maybe the Geneva show in March? Take a look below and see what you think.