Honda is one of the last car manufacturers to jump onto the turbo bandwagon, having stuck with its sophisticated and highly-strung naturally aspirated engines for decades; you know times are changing when Honda brings out a turbo. Enter the 2016 Honda Civic RS turbo.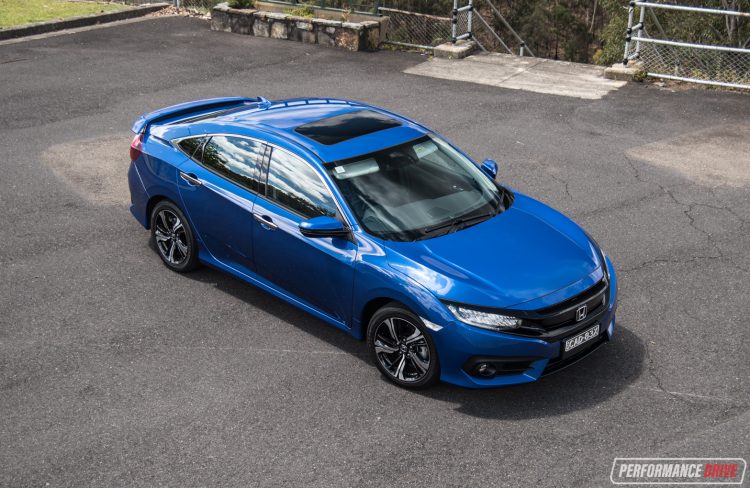 It's one of very few turbocharged petrol Hondas, but it won't be the last. Following in the footsteps set by the new NSX supercar and it's twin-turbo V6 hybrid, along with the recent Civic Type R turbo that was launched overseas in 2015, the new Civic RS features a brand new turbo-petrol engine. It's a 1.5-litre four-cylinder generating 127kW and 220Nm.
The more hardcore Honda fans needn't worry though. VTEC is still here, well, variable valve/cam timing anyway, and a high (for a turbo engine) compression ratio of 10.6:1 means it does remain a Honda engine at heart. You may have noticed the outputs aren't all that impressive, considering the RS is going up against the likes of other 'warm hatches' such as the new Holden Astra RS-V (147kW), the Mazda3 SP25 (138kW), and the Nissan Pulsar SSS (140kW). But where the Civic stands out is with efficiency. We'll get into the details on that later.
Prices for the RS start from $31,790. You can opt for the luxury-oriented VTi-L with the same 1.5T engine priced from $27,790. The flagship model is the VTi-LX, also adopting the 1.5T, priced from $33,590. All sedan models in Australia come with a CVT automatic with front-wheel drive with no option for a manual.
2016 Honda Civic RS – THE SPECS
Engine: 1.5-litre turbo four-cylinder
Output: 127kW@5500rpm / 220Nm@1700-5500rpm
Transmission: CVT automatic
Drive type: Front-wheel drive
Wheels: F & R: 17in, 215/50
ANCAP: Five stars (scored 36.03 out of 37 [hatch])
Tare weight: 1331kg
Power-to-weight: 10.48:1 (kg:kW)
Official fuel economy: 6.0L/100km
Economy during test: 6.8L/100km
Fuel capacity/Type: 47L/91 RON
Power efficiency: 21.16kW:L/100km
0-60km/h: 3.72 seconds*
0-100km/h: 7.54 seconds*
1/8 mile: 10.24 seconds at 117.9km/h*
1/4 mile: 15.65 seconds at 148.4km/h*
100-0km/h braking: 3.06 seconds at 39.13 metres*
Decibel at idle: 39*
Peak decibel at 60-100km/h: 81*
Priced from: $31,790
* Figures as tested by PerformanceDrive on the day. Factory claims may be different

2016 Honda Civic RS – THE PACKAGE
If you're looking for a small car, in this segment in other words, and you would like maximum cabin space the new Civic sedan is definitely one you should be looking into. The cabin is very large for this class, offering a practical and useable environment with plenty of storage options and cubby holes, and ample legroom and headroom.
It's particularly capacious in the back, with a wide rear bench presenting excellent comfort. The centre transmission/exhaust tunnel on the floor isn't very intrusive at all in the back and there's a relaxing flip-down centre armrest with cup holders if there is no middle passenger. Unfortunately there are no main climate vents in the back. Rear passengers benefit from specially-shaped front seats and front headrests that allow for a open and airy view down the front.
Like its TV adverts, the new Civic sedan shows off plenty of innovate and clever ideas. At the front is a typical landing pad for you phone, for example. Underneath though is your power socket options, including USB, 12V and even HDMI. Honda has placed a neat hole, or "wire management pass-through" as Honda calls it, where you place your phone so you can hide the cords down the back through to the sockets, like you might do with your home TV unit or office desk.
Another insightful design feature is the centre console in the front. It houses a deep cup holder. No big deal, right? But if you look closely you'll see it is moveable and removeable, making the console box go even deeper for more storage space (up to 7.2 litres). It can be a great hiding place if you need to leave valuables in the car.  There's also additional storage platforms on the side of the centre console.
Going for the RS gets you a leather trim with mildly bolstered heated sports seats in the front, with electric adjustability for the driver. They offer reasonable lateral support, although long-distance comfort was probably the main focus for designers as they are very cushy and accommodating even for larger/wider individuals. Honda usually gets the driving position spot-on and it's no different here. You can lower the seat right down for that sporting stance or raise it up for a more commanding feel. Visibility is excellent in either case, with thin A-pillars and a low bonnet.
The RS also comes with typical luxury-oriented features such as a sunroof, dual-zone climate control, and a premium 452W sound system with 10 speakers and a sub-woofer – it's great. All Civic sedans come with a 7.0-inch touch-screen interface supporting Android Auto and Apple CarPlay, with a three-view reversing camera system including top view. Honda's brilliant LaneWatch side-view system is standard on all variants as well aside from the base VTi. Some upper-end features including radar cruise control, forward collision mitigation, lane departure warning and road departure mitigation are reserved for the top VTi-LX.
In the back the new Civic sedan offers a decent-size boot, capable of swallowing 517 litres worth of things. There is a space-saver spare wheel underneath, yet the minimum lift-over height is just 681mm from the ground making it very easy to load objects in and out. It's an almost completely flat floor, measuring 1390mm in width, but there are no tie-down points or hooks to hold bags and such from having a jolly old time bouncing around. Even so, this is one of the largest boot sizes in the class.

2016 Honda Civic RS – THE DRIVE
One of the Civic's most attractive traits is its driving appeal. Almost all generations have offered superb dynamics, capability, and overall enjoyment, particularly for this otherwise relatively boring and conservative segment. Does the new model excite? And is this worthy of the enthusiast-minded Rally Sport insignia?
Firstly, the handling. The new model uses a MacPherson strut at the front which is a more compact design but perhaps not as hardcore as the old double wishbone setup used on previous generation Civics. While at the back it adopts a more advanced multi-link system compared with the old-fashion torsion beam setup that was used on last year's Civic hatch. Honda has also introduced hydraulic bushings front and rear for the first time on the Civic, helping to minimise road noise and vibrations.
This new setup lives up to the Civic's renowned reputation, with no complaints here. Around corners the body remains flat and poised, soaking up bumps in its stride, while the new layout at the back means it's more stable than before. Trailling around long sweepers is where you'll experience utter composure and confidence, more so than any other vehicle in this class. High-speed stability is also improved with the new underpinning configuration, especially if sudden movements such as braking are required.
Using the sporty three-spoke steering wheel to wind down your favourite road is a delight. It's accurate and immediate, partly thanks to a "motion-adaptive electric steering", which requires just 2.2 turns lock-to-lock compared with 3.1 of the previous model. Honda says the motion-adaptive steering "works with Honda's Vehicle Stability Assist (VSA) and electric Power Steering to detect instability in slippery road conditions both during cornering and under braking and automatically initiates steering inputs aimed at prompting the driver to steer in the correct direction."
You don't need to worry about this resulting in an artificial feel though. It's fluid and consistent, although perhaps not providing as much feedback as previous generation models – you'll only notice if you're an avid Civic enthusiast. Understeer is only ever a problem if you're being really silly around corners, and oversteer isn't really possible. This is of course with the stability control switched off. With it on the Civic comes with something it calls Agile Handling Assist, which is essentially a form of brake-vectoring in the corners that sees the car's computer to apply individual braking to inside wheels to help pivot the car.
We tried driving in an enthusiastic manner with the driving aids off and found the weakest link to be the tallish Bridgestone Turanza tyres, which measure 215/50 mounted on 17-inch alloy wheels on the RS. For comparison, the Mazda3 SP25 GT uses sportier Dunlop SP Sport Maxx 225/45 tyres mounted on 18-inch wheels, while the new Holden Astra RS-V uses Turanza 225/40 on 18s. We suspect Honda has purposely gone for a more comfortable and quieter setup for the RS, but, in our opinion, the RS probably deserves something with a little more edge.
Out of these three the Civic RS is the heaviest too which negates any reasoning for the narrowest tyres (1331kg, versus 1325kg for auto Astra RS-V, and 1280kg for auto Mazda3 SP GT sedan [tare]). Overall though the Civic RS is a very competent and reassuring machine around corners and very enjoyable, making it one of our favourite steers in this class.
Leaving the most interesting aspect to last, that new turbo engine. As mentioned, it uses variable valve timing (dual) and a high compression ratio. It also uses a mono-scroll turbocharger with an electronic wastegate running at around 16.5 psi, direct injection, sodium-filled exhaust valves, ion-plated rings, and heat-forged steel conrods. The block is die-cast aluminium with iron sleeves and a forged steel crank, while the head is aluminium alloy with integrated exhaust ports and no exhaust manifold for lightness and simplicity.
This is all impressive tech for a mainstream engine, and it seems to perform well. Performance and efficiency are two separate things but here, we think Honda has gone down its traditional route by making the engine as efficient as possible, which also happens to result in decent performance. The crank is micro polished, for example, so it can cut through oil in the pan with as minimal resistance as possible. Those sodium-filled exhaust valves have been implemented to ensure they remain cool, allowing for a leaner fuel mixture which not only helps with economy but, as we know, maximises power output. Interestingly, Honda recommends a minimum petrol RON of 91, which we're assuming has something to do with the engine being able to cope running hotter/leaner.
As we said at the start, the output figures aren't all that impressive compared with the main rivals. However, when you take into account this is a 1.5-litre engine, roughly 75 per cent of the engine combustion size of the others, you begin to realise how efficient the unit is as a power generator. Running relatively low boost albeit with a high compression means turbo-lag isn't an issue or even evident. Peak torque of 220Nm is available from just 1700rpm and held up to 5500rpm, with peak power achieved perfectly at 5500rpm. These stats, on paper at least, make it an extremely well-engineered engine that should, in our opinion, pass it for some kind of 'engine of the year' award.
On the road it certainly doesn't feel like a typical turbo motor. Turbo-lag is, as mentioned, not existent, and the engine noise is very Honda-like. Revs build progressively like a non-turbo engine, and it doesn't mind revving high at all.  It's what's bolted up to the engine that lets things down a little in terms of performance. Make no mistake this is a great CVT automatic, providing a very smooth and relaxing drive. But it's not what you would call sporty or engaging. Straight line acceleration is linear and fairly unexciting, mostly due to the CVT, but 0-100km/h stopped our Vbox clock in 7.54 seconds. This makes it quicker than the Mazda3 SP25 GT auto that we tested earlier this year (7.74 seconds) – another validation to the precise engineering work of Honda.
Of course, being a Honda it must be economical, as in, merely sip fuel. On the official combined cycle the RS uses 6.0L/100km. In the real world it's actually not far off, consuming 6.8L/100km during our week. We have full confidence in saying a user could expect low 6s with extended, everyday use. No doubt, the Civic RS is an attractively economical proposition in this segment.

2016 Honda Civic RS – THE VIDEO
2016 Honda Civic RS – THE VERDICT
Aside from being a mechanical marvel and one that Honda geeks should really appreciate and be proud of as we step into the next generation of cars and car technology, the RS is also an exceptionally accomplished overall package. The large cabin and innovative touches make it a star performer in this segment, and the engine really does deserve international accolades for its efficiency, technology, and real-world performance. About the only letdown to this car in our opinion is the CVT. We think the Rally Sport badge, specifically, has set an expectation in the wrong direction. If you can see passed this, you should be looking very seriously at signing the dotted line. If you can't, perhaps check out the 1.5T VTi-L or VTi-LX.
PROS:
– Real-world fuel economy
– Class benchmark cabin space
– Traditional excellent handling
– Standard features
– Well thought-out interior and innovation
– 1.5T engine, respectable 'warm hatch' performance

CONS:
– CVT auto not worthy of 'RS' badge
As always, if you're thinking about buying a new car don't forget to click here to speak with our car buying specialists.