It's been regarded as one of the best BMW M cars of all time. It's also one of the few remaining small cars on the market equipped with rear-wheel drive and an inline six engine. So, just how good is the BMW M2 after a mid-cycle update?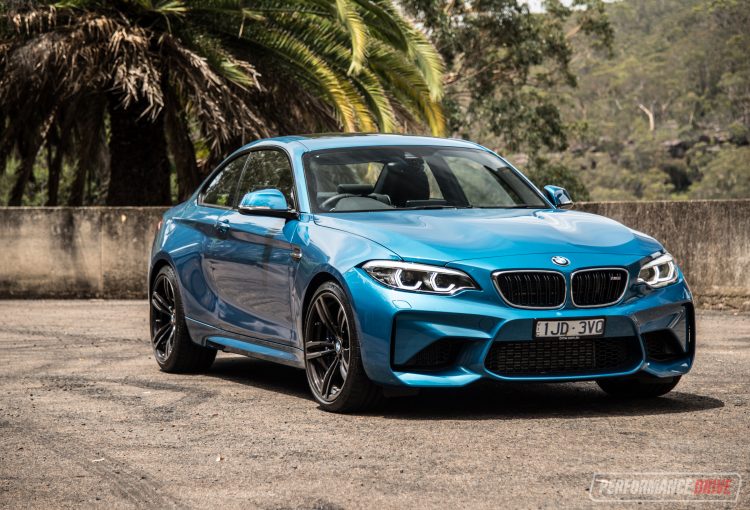 BMW Australia recently introduced the 2018 mid-cycle update for the M2 and indeed the entire 1 and 2 Series range (BMW calls it the LCI update). It brings in some new tech for the cabin, minor styling tweaks, and new LED headlights that feature a connected interpretation of the traditional 'halo' rings, evident by the lines that lead to the centre grilles.
No changes are made to the important hardware though, which is probably a good thing for outright balance anyway. Under the bonnet sits a 3.0-litre intercooled turbo inline six engine. Buyers can opt for a seven-speed dual-clutch auto (as tested) or a six-speed manual. Both use a locking rear differential to provide proper BMW M car shenanigan potential.
It doesn't matter if you love or loath BMWs, you just have to respect the way the Bavarian marque is sticking with a traditional inline six and rear-drive formula. And in such a compact and subsequently agile car. In fact, we can't think of any other car on the market that adopts this profile.
Thanks to the update BMW Australia has managed to bring down the entry price point. Local buyers have the choice of the M2 Pure, which is a slightly less luxurious version available with a manual only from $93,300, or the regular M2 available in both auto and manual from $99,900 (all excluding on-roads).
2018 BMW M2 LCI – THE SPECS
Engine: 3.0-litre turbo inline six-cylinder
Output: 272kW@6500rpm / 465Nm@1400-5560rpm (500Nm during overboost)
Transmission: Seven-speed dual-clutch auto
Drive type: Rear-wheel drive, locking differential
Wheels: F: 19×9.0, 245/35  R: 19×10, 265/35
ANCAP: Not tested
Tare weight: 1488kg
Power-to-weight: 5.47:1 (kg:kW)
Official fuel economy: 7.9L/100km
Economy during test: 11.1L/100km
Fuel capacity/Type: 52L/98 RON
Power efficiency: 34.43kW:L/100km
0-60km/h: 2.64 seconds*
0-100km/h: 4.54 seconds*
60-110km/h: 2.73 seconds*
1/8 mile: 8.53 seconds at 147.4km/h*
1/4 mile: 13.04 seconds at 178.7km/h*
Max acceleration: 1.077g
100-0km/h braking: 2.78 seconds at 37.37 metres*
Max deceleration: -1.424g
Decibel at idle: 51*
Peak decibel at 60-100km/h: 93*
Priced from: $99,900
* Figures as tested by PerformanceDrive on the day. Factory claims may be different

2018 BMW M2 LCI – THE PACKAGE
If you like clean, drama-free interior settings then you'll love the cabin of the M2. Most of the controls are exactly where you'd expect them to be, and the colour combination and tones are easy on the eye. Of course, a downside to this is that it can come across as a little bit boring.
Most of the cabin is shared with the regular 2 Series. However, BMW M has added some carbon fibre for the centre console, dash and door trims to give it that racy feel, and the instrument cluster, now fully digital, features the M logo. Traditional BMW drivers will instantly warm to the digital cluster as the gauges are laid out in the traditional way, with trip information down below and two main dials in the centre (speed and revs).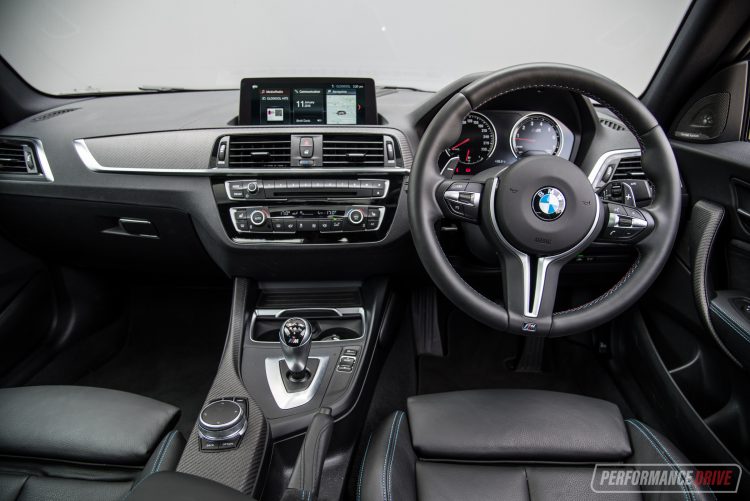 Speaking of digital, the LCI update sees the introduction of BMW's latest iDrive 6 infotainment system. We've always liked the iDrive system. It's quite intuitive compared with rival setups, and we love the way it doesn't automatically switch back to a main menu every time you select something. For example, if you're browsing through the digital radio stations and you select one to listen to, the list remains there so you can keep browsing. Most systems we've come across switch to a channel screen or flick back to a main screen, making you go back into the list again, which we find very annoying.
Similarly, the BMW's rear-view camera system always prompts at the right time, and you can display in split-screen mode so you don't lose whatever it is you were looking at prior to selecting reverse. It all sounds like we're just nitpicking against the rivals, but what we mean is that it all comes together to work nicely in the BMW. Everything just works and makes sense. You hardly ever find yourself getting frustrated with any of the functions. The same goes for the Bluetooth connection. Sure, it doesn't come with Apple CarPlay and Android Auto as standard, but why would you want to use those systems when you have iDrive? It'll display your phone messages, stream music and bring up song titles, and provide sat-nav right there anyway.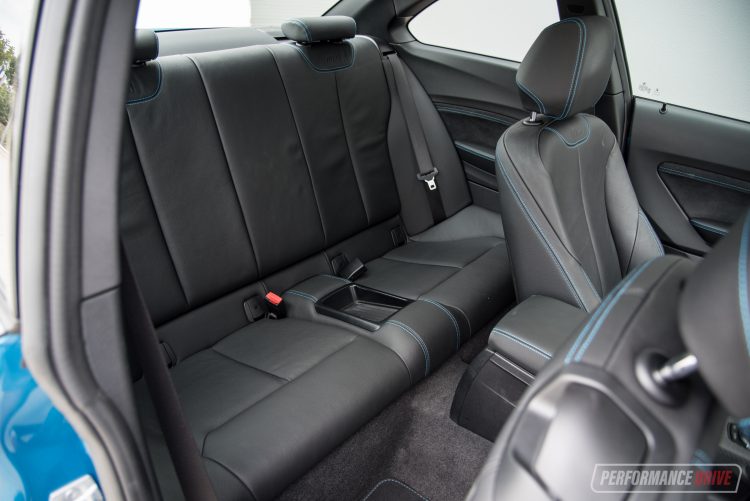 In terms of space and practicality, the M2's rear seats are useable. There's no middle seat. Instead, it's replaced with a shallow storage tray. But headroom is acceptable (for a coupe) and legroom isn't too bad if the front passengers are willing to be a bit lenient. Some climate vents in the back of the centre console add comfort, and they even include separate temp control. Buyers can opt for an electric sunroof ($2600 – as tested) which does provide some light and airiness to the decor, as well boosting the perception of space.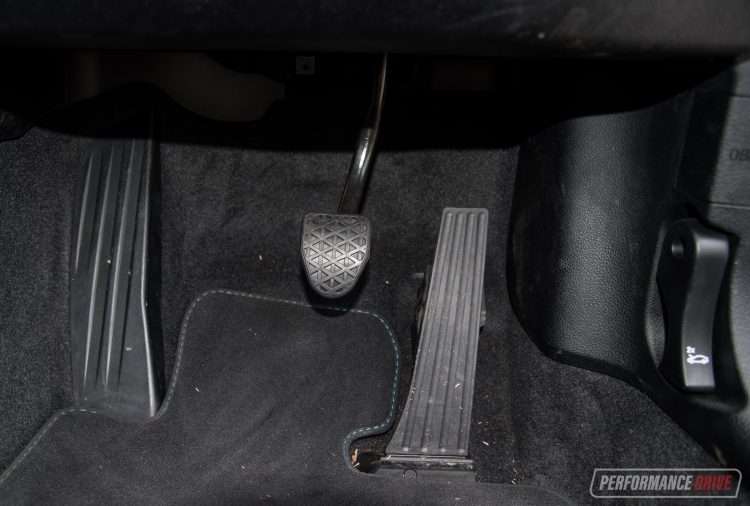 Up front is the place to be. Especially in the driver's seat. You get a perfect, natural driving position, fully adjustable of course, with loads of different seat positions including side bolster adjustment to suit your frame. Pedal placement is also great, but strangely the brake pedal is very small making it fidgety for those who enjoy left-foot braking – it's as if the brake pedal is taken from the manual transmission version.
As for storage, the M2 offers a 390-litre boot with fold-down rear seats adding poke-through capability. In typical BMW fashion, the door pockets are humongous, with partitioned sections to stow those odd bits and pieces, and a bottle holder section in the middle. There's also two cup holders at the front of the centre console, and a rather shallow centre storage box. Overall, this is definitely a car you could rely on for everyday use.

2018 BMW M2 LCI – THE DRIVE
Now to the best part. Crank over that N55 3.0-litre turbocharged inline six and you'll very quickly get in the mood for driving. It burbles and barks subtly, and then purrs like a kitten at idle. Those in the know will appreciate the slightly agitated yet controlled tone of the engine. Those none-the-wiser will appreciate the reserved and relatively quiet tone that won't wake the neighbours every morning. BMW does offer a proper M Performance bi-modal sports exhaust option for those who want more (as featured on the M2 at the media launch last year). But for us, we like that it is a little modest and unassuming.
So, what is it you're listening to exactly? The BMW N55 engine has now been superseded by the B58, as featured in the M140i. But it replaces the N54 which many of you may know as the old '35i' badged unit, such as in the original 335i. This used a twin-turbo setup while the N55 uses a single turbo albeit with 'TwinPower' technology. TwinPower is essentially BMW speak for twin-vein, with a small pipe for the turbo housing to optimise low-end response and minimise turbo-lag, and a larger vein to support high-rev, top-end power and speed. Both veins feeding from the same turbine fan. For reference, the newer B58 also uses a single TwinPower turbo, but the boost pressure in turned up and the compression ratio is lifted from 10.2:1 in this N55 to 11.0:1.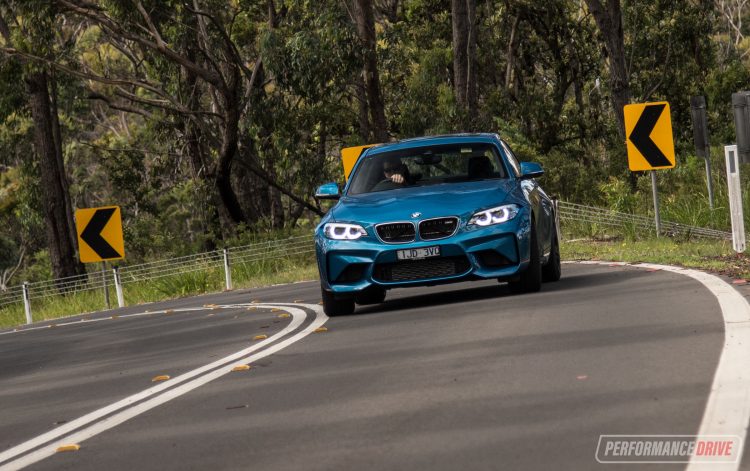 Peak power in the strength of 272kW in the M2 arrives at 6500rpm, but you can rev it to 7000rpm if you want some of that traditional singing-six excitement. Peak torque, of 465Nm, is available from just 1400rpm and held until 5560rpm. For short periods there is an overboost function that serves up 500Nm between 1450-4750rpm. This latter figure especially gives you some idea of the breadth and versatility of the engine, and the awesome low-down response.
Low-down response comes in handy when you're exiting corners. You can lean on the gas and it'll pull away from the apex with excellent pickup and acceleration. Thanks to a standard locking differential – and it's a real locking differential and not one of those stupid electro types that tries to send power to the opposite-side wheel – the M2 has enormous amounts of grip in reserve. If you follow a 'racing line' and be smooth and gentle with the throttle and steering, you'll experience big g-force in the bends.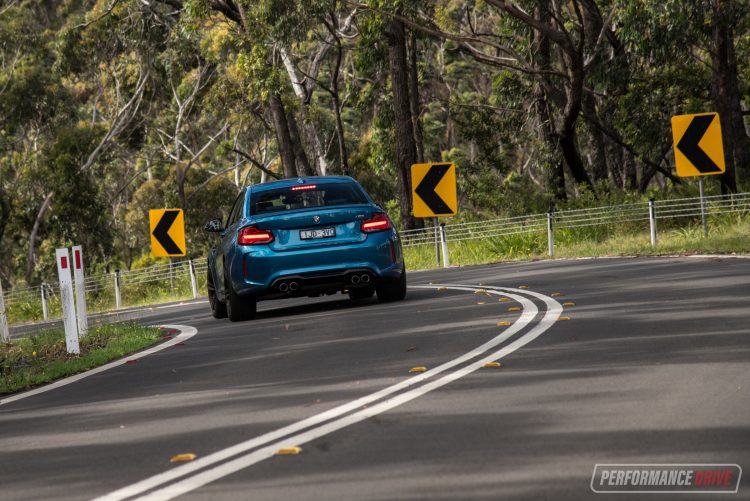 On the other hand, if you're a bit aggressive with the throttle and steering the M2 is one of the easiest cars to kick into a nice, controlled drift. In second or third gear the tail glides outwards with no hesitation or nervousness. And thanks to the quick and precise steering rack, you always know what the wheels are doing and how the tyres are coping. Even after the point adhesion has broken there is still plenty of control and predictability to be had. And grip, actually. The 265/35 Michelin rear tyres might be smoking but the forward thrust is still very present.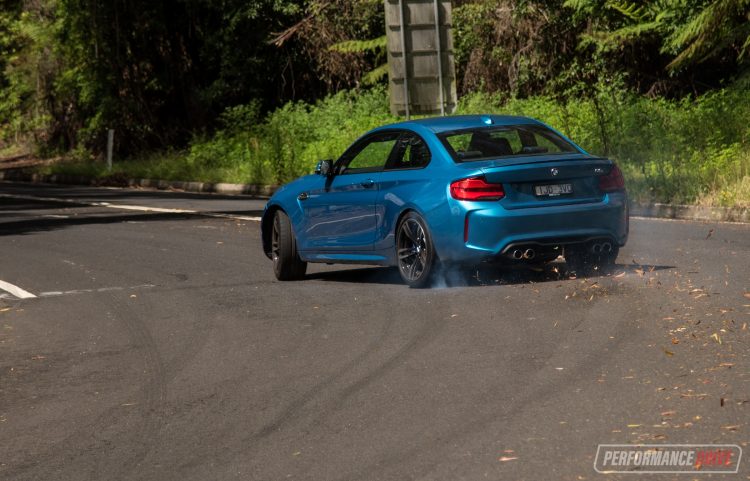 As for the flat-out acceleration. It is thrilling. Using our Vbox Sport we timed a best 0-100km/h in just 4.54 seconds, and the quarter mile in 13.04 seconds. This former time is actually quicker than what we achieved in the M2's bigger brother, the M4. We put this down to the wonderful balance and traction of the M2. While the M4 definitely has more top-end power and speed, crossing the quarter mile in 12.8 seconds at 187km/h against the M2's trap speed of 179km/h, the M2 is a nicer-balanced setup. Put it this way, we think more drivers could achieve a quick lap time in the M2 than in the M4, although a professional driver would no doubt produce a quicker time in the M4.
It's a good thing BMW M has used a dual-clutch auto transmission with the M2 we think. The sheer speed of the gear changes suits the high-tempo driving mood the car always seems to get you in. In Sport Plus mode the changes are seamless, syncing perfectly with the relentless scream and pull of the engine. And then in Comfort mode the change speed is softer for city driving. It is still a dual-clutch gearbox and comes attached with the typical drawbacks. It will roll back slightly on hills and going from reverse to drive for example, but we reckon it is one of the better units we've come across in this field.
As for everyday practicality. The suspension is quite firm, even for a hardcore sports car like this. Comfort mode does help but if you're stepping out of a luxury-focused car the M2 might take some getting used to. Parking and navigating through the city is a breeze thanks to its petite proportions, and fuel economy is very respectable. We averaged around 11L/100km in mixed conditions (with plenty of time on the go-pedal), while the official average of 7.9L/100km is favourable among its nearest competitors.
2018 BMW M2 LCI – THE VIDEO
2018 BMW M2 LCI – THE VERDICT
If you're considering buying a BMW M2, you don't need us to encourage you. Just do it. It is one of the best all-round sports cars we've ever driven. It's fun, exciting, incredibly accomplished and rather practical. About the only downside, and it's not really a downside, is that it doesn't look all that striking against some of the rivals. But, like the rest of the car, the styling is well balanced, with just the right amount of bumps and flexed muscle.
Now with the updated interior and the fantastic new iDrive 6 infotainment system, and the lower entry price thanks to the Pure variant, it is one of the most irresistible driver's cars on the market at the moment.
PROS:
– Best balanced M car we've ever driven
– Singing inline six; good power & soundtrack
– Relatively affordable for the performance
– Practical and easy-living interior
– BMW's new iDrive 6 infotainment

CONS:
– Small brake pedal
– Ride is pretty firm (even for a sports car)
As always, if you're thinking about buying a new car don't forget to click here to speak with our car buying specialists.