The new Renault Megane R.S. 250 Australian GP Edition has just been launched, and has been put to good use already during the opening of the 2012 Australia F1 Grand Prix.
If you're attending this weekend's 2012 Formula 1 Qantas Australian Grand Prix, you'll see the Renault Jet Pack Man floating about. Jet Pack Man you say? Yep, the Renault Jet Pack Man, also known as Nick Macomber.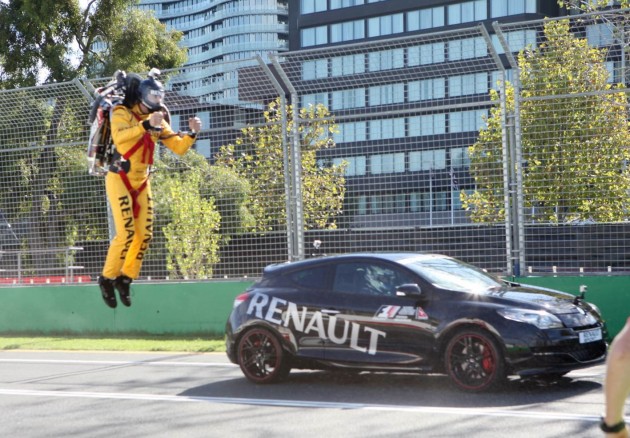 Nick will lead out a pack of Renault Megane RS 250s to the starting grid for the Red Bull Race Off to be held on Saturday 17th and Sunday 18th of March.
Earlier in the week at the Albert Park Grand Prix Circuit, Nick had a 400m race with a Megane RS 250, and lost. It seems hot hatches are too fast for his hot backpack.
The contraption used to propel Nick is fuelled by a combination of hydrogen peroxide and water, and can reach a maximum speed of 100 km/h. It can also cover a standing quarter mile in 23 seconds. So it's no wonder the Megane was much faster than him.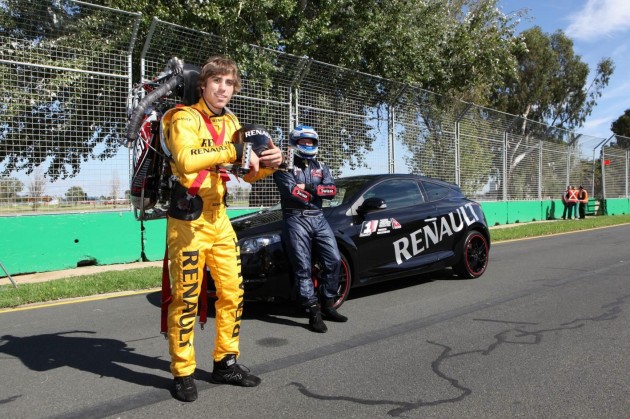 Renault Jet Pack Man will make daily flights from the Action Zone in Albert Park over the four days of the event.
Renault Jet Pack Man, Nick Macombe spoke about the race, saying,
"It was a privilege to race neck-and-neck with the new Renault Megane R.S. 250 today. If Renault can beat my jetpack they will go fast and beat everybody at the Australian Grand Prix this weekend!"
Justin Hocevar, Managing Director of Renault Australia, recently said,
"We are so excited to bring Renault Jet Pack Man to Melbourne as part of the Australian Grand Prix celebrations. He is a wonderful spectacle and I have no doubt will be a very popular attraction over the weekend."
If you see the Renault Jet Pack Man over the weekend, be sure to post a picture of him on our Facebook page. We'd love to see your pics of him in action!