The Nissan 370Z was one of the first cars we reviewed at PerformanceDrive, way back when we launched in 2011. Move along to the present and we've been thrown the keys to a 2018 Nissan 370Z.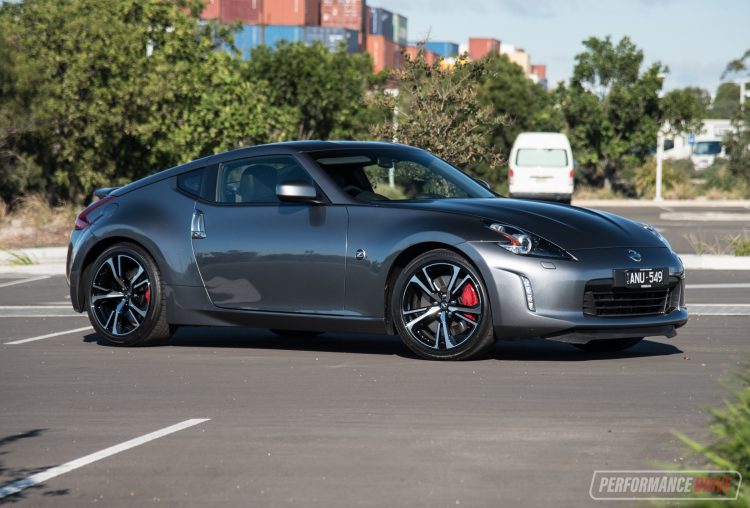 The question we have now is, how is a sports car that launched so long ago still relevant in today's market? For a start, the starting price since it launched in 2009 has come down from $67,990 to $49,990. Dropping almost $20,000 is one way to get buyers interested.
The MY18 update sees the 370Z gain some visual appeal, as well as a new performance clutch for manual models. Power remains the same at 245kW and 363Nm from its 3.7-litre V6, as does the availability of a six-speed manual and seven-speed automatic transmission.
2018 Nissan 370Z – THE SPECS
Engine: 3.7-litre V6
Output: 245kW@7000rpm / 363Nm@5200rpm
Transmission: Six-speed manual
Drive type: Rear-wheel drive, limited-slip diff
Wheels: F: 19×9.0, 245/40  R: 19×10, 275/35
ANCAP: Not tested
Tare weight: 1467kg
Power-to-weight: 5.98:1 (kg:kW)
Official fuel economy: 10.6L/100km
Economy during test: 13.5L/100km
Fuel capacity/Type: 72L/95 RON
Power efficiency: 23.11kW:L/100km
0-60km/h: 3.30 seconds*
0-100km/h: 6.21 seconds*
60-110km/h: 4.12 seconds*
1/8 mile: 9.54 seconds at 131.0km/h*
1/4 mile: 14.41 seconds at 165.2km/h*
Max acceleration: 0.777g
100-0km/h braking: 2.98 seconds at 39.49 metres*
Max deceleration: -1.120g
Decibel at idle: 49*
Peak decibel at 60-100km/h: 86*
Priced from: $49,990
* Figures as tested by PerformanceDrive on the day. Factory claims may be different

2018 Nissan 370Z – THE PACKAGE
If you've recently put off buying a 370Z because it's too similar to the previous year model, you might be tempted by the changes Nissan's made for 2018. The 370Z now features smoked front and rear lights, as well as a smoked finish on exterior door handles. There's also a set of newly designed 19-inch alloy wheels.
Nissan has retired Bordeaux red and replaced it with a new metallic colour called Cherry Red, keeping the available palette choice at eight. Both the 370Z Coupe and 370Z Roadster models are still available, and are priced from $49,990 and $60,990, respectively (auto adds $2500). Nissan says the Coupe model has accounted for 95 per cent of the 4200 domestic sales since the 370Z launched back in 2009.
If you're keen on a manual 370Z, Nissan has switched to a high-performance EXEDY clutch for the MY18 freshen up. The Japanese carmaker says the new clutch is "more responsive" and makes the car more "fun to drive".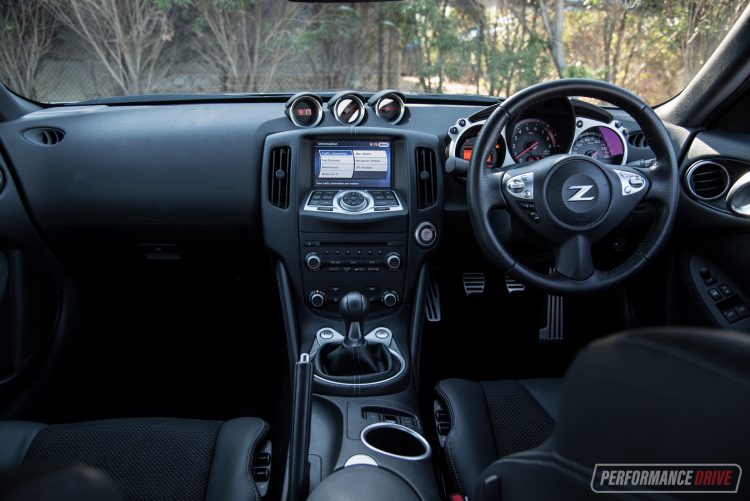 Looking through the images we took way back when we reviewed the 2011 370Z, it's clear that the interior hasn't really been updated all that much. Most of the buttons, if not all of them, are in the same spot. The overall style of the trim is starting to look a little yesteryear, though it's probably fair to say it was slightly ahead of its time when it was released. Age aside, the switchgear and materials used throughout the 370Z's cabin are of good quality and the fit and finish is very tight with no rattles or squeaks.
Despite looking quite fat from the outside, the 370Z is rather limited on the inside. There's two little shelves behind the two seats for a small lunch bag and maybe a pair of boots, and that's about it. The second you pop the boot you'll also notice there's bugger-all room back there due to a pair of rather bulbous strut towers and a thick aluminium strut brace. If track days are your thing, don't stress as you'll easily fit a change of clothes, a race suit, your race helmet, and maybe a pair of gloves in the back. Don't go looking to pack much else.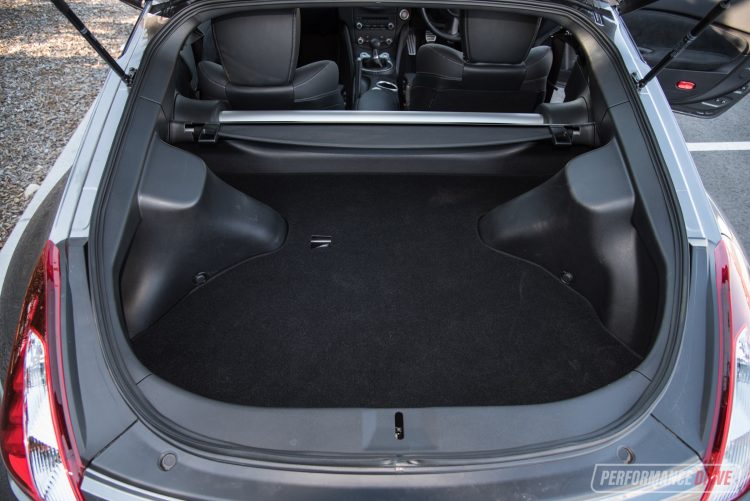 What space the 370Z does have it gives to both front occupants. This reviewer is 193cm tall and of big build, and space is pretty much at the limit – it's definitely a cabin that's suited to shorter, more slender humans. If you're planning to use the 370Z as your daily, you're gonna come to blows with just how little room there is. If you're planning to use the 370Z as a weekend rig then give yourself a pat on the back because that's when it does its best work.
Perhaps there's a lot of chassis work going on, but from the inside it would be a much better place if the roof lining and surrounding trim was 20 per cent less bulky. Vision out the back is what you'd expect in a coupe with such chunky rear pillars – there's next to none. And if you're tall, it's even worse. Get used to really relying on your mirrors.
The three dash-mounted gauges are a nice sporty touch, though having a clock in one of them seems wasteful. Tech-wise, the Nissan 370Z is fitted with satellite navigation with 3D mapping, an ageing seven-inch integrated colour touch-screen, heated leather seats, and Bluetooth connectivity. For the safety smart the 370Z features Nissan's premium braking system, vehicle dynamic control (VDC), anti-lock braking (ABS), electronic brakeforce distribution (EBD), brake assist (BA) and dual front, side and curtain airbags.

2018 Nissan 370Z – THE DRIVE
Power from the V6 is best delivered when its near redline and under full throttle. This is because maximum power comes up at a peaky 7000rpm. If you keep the revs up the 370Z is far from slow, but it's not as quick as you might expect from a 2018 sports car – most modern hatchbacks can shoot from 0-100km/h in under five-seconds nowadays. We managed to record a best 0-100km/h time of 6.21 seconds.
At 3.7 litres the VQ37VHR engine has displacement to lean on. And though peak power is right at the top, quick bursts of acceleration are only a prod of right pedal away irrespective of what gear you're in. Sure, a more modern turbocharged power unit would quicken things up, but there's something about rowing gears in a naturally-aspirated six-cylinder engine that makes it very rewarding. What's not rewarding is the fuel consumption. We recorded 13.5L/100km during combined driving conditions, and the official average is 10.6L/100km..
When you think six-cylinder two-door sports car you think of a sweet soundtrack that tickles your ear drums. Unfortunately for the 370Z it's just a little too quiet in factory spec, both inside and outside the car. Nissan has tried to add some excitement by plumbing fake engine noise through the car's cabin speakers, but it's a bit reminiscent of playing Sony Playstation rather than the raspy sweet noise you expect from such a cool coupe.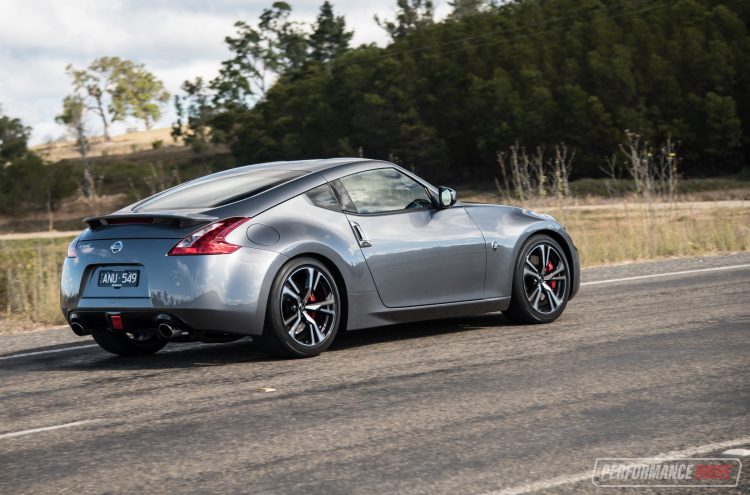 The 370Z feels better at speed – the more you push, the more balanced it feels. The suspension tune, while quite firm, remains forgiving should you hit an unexpected rough patch. Part of the reason the 370Z feels rewarding to manoeuvre is down to the steering being so well weighted and direct, perfect for keeping the car pointed in the right direction when you're sweeping through a twisty mountain road. It's not BMW M sharp, but it's very good.
Front end grip is almost as impressive as the rear. The rear takes quite a bit of right foot to bring it unstuck. If you do break traction, it's better to keep your foot buried and sail it out as the sticky 275-section tyres can be pretty unforgiving if they lose grip and suddenly hook back up.
On our test route the 370Z performed extremely well under braking. Pedal feel prove to be strong and progressive, and doesn't let up or start to feel spongy despite repeated abuse. You start to gain more and more confidence with how late you can brake the more you drive the car.
A cool feature when downshifting is Nissan's synchronised downshift rev-matching system. It's not overly intuitive, as sometimes it can be quite aggressive when all you really wanted was a little rev, but it's certainly helpful if you're busy trying to find the limit of adhesion. If you don't like rev-matching you can turn it off by holding down the S-mode button located to the left of the gear lever.
The six-speed manual transmission (as tested) offers a nice mechanical feel. You get the sense the 370Z is a bit old-school when you press the clutch in; the slight drone of the flywheel becomes quieter when the clutch is engaged. You can also hear the gear linkages move about if you listen carefully enough. All of this adds to the theatrics of what makes the 370Z fun to drive.
It's hard to say if the new EXEDY clutch adds more to the overall experience, but it does feel as though it could take a beating. Which brings us to the realisation that cars like this someday soon probably won't exist. Ask your local new car dealer in 20 years if they have any six-cylinder, six-speed manual, rear-wheel drive sports coupes for sale and they'll probably look at you like you're ready for the mental ward. It's a sobering thought to know cars like the 370Z are still on sale, but for how long is anyone's guess.

2018 Nissan 370Z – THE VIDEO
2018 Nissan 370Z – THE VERDICT
It's hard to find value, or even the will to hand over $50,000, when you're looking at buying a car that's essentially the same car (at its core) as one that was launched back in 2009. But the 370Z is more than that. It's a car that comes with a lot of heritage, harking back to so many Z models before it. This isn't a car that's been slapped together; everything that's on the car is there to make it great to drive.
Despite its age, and we hate to keep harping on about that, the 370Z gives you feels that are hard to get from pretty much anything else in this price bracket. It's a special-looking car that turns heads and offers Japanese sports car brilliance in a segment that has become quite bare. The long-awaited 2019 Toyota Supra will no doubt shake things up when it lands, making the case for the current 370Z's relevance even more difficult to justify.
PROS:
– Great combination of six-cylinder, manual, RWD
– Exterior styling; still looks sharp almost ten years on
– Build quality
– A great Sunday drive companion
– Z car heritage

CONS:
– Fake engine noise plumbed through the speakers can get annoying
– Big 3.7-litre V6 loves a big drink
– The design is almost ten years old
– Old touch-screen system
As always, if you're thinking about buying a new car don't forget to click here to speak with our car buying specialists.