If you like ultra-fat wide-body bodykits you'll love the latest creation from TopCar. The tuning firm has come up with a comprehensive styling upgrade for the new Porsche Macan junior SUV.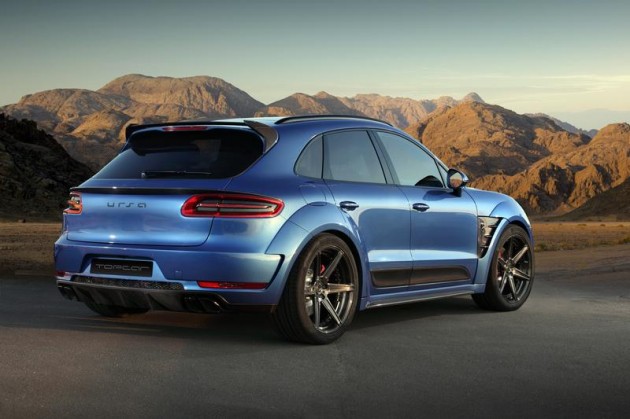 The Macan was only launched in some markets a few months ago, and has just landed in Australia. It hasn't stopped TopCar from getting busy on some design enhancements though.
Called the Porsche Macan Ursa, the kit gives the Macan big muscles that almost makes it look more prominent than its larger Cayenne brother. At the front there's a bespoke front bumper bar with a dominating black grille, a black spoiler lower down, and unique fog light clusters in the corners.
Around the side it's impossible to miss the bulging, heavily pumped wheel arches. These come with neat little vents and blend in to the similarly aggressive side skirts. A set of deeply dished alloy wheels fill the guards.
At the back there's a chunky diffuser cradling the trademark quad-outlet exhausts, black trimmings, and a new carbon fibre spoiler mounted near the roof.
TopCar has made some tweaks to the interior as well so it matches the flamboyant theme of the exterior. The upholstery is in blue, with blue bits and pieces on the dash, slashes of carbon fibre, and some TopCar logos.
It's unknown if TopCar is working on engine enhancements. The German company plans to showcase the complete kit at the 2014 Moscow Motor Show in September.
As for the Macan, all three model variants are on sale in Australia. Prices start at $84,900.