The Subaru Outback has firmly placed itself into our minds when we picture an adventurous family wagon suitable for the bush. In fact, it is one of the pioneers of this very segment. With the MY2015 update comes huge price reductions across the range to add to buyer appeal. Here, we take a look at the Premium 2.0D diesel and 2.5i petrol arrangements.
The Subaru Outback continues to differentiate itself from the rest of the SUV market by possessing more of a wagon stance, rather than the common bulky four-wheel drive appearance. It also gives that competitive difference by using a horizontal boxer engine orientation, and the famous symmetrical all-wheel drive system. Now that the SUV market is truly flourishing though, does the Outback still have an edge to succeed?
In short, yes. Vastly due to price cuts of up to a whopping 17 per cent on some models. Subaru Australia says that several factors prompted the price drop, including the exchange rate, the Japanese Free Trade Agreement, and more efficient manufacturing.
Prices start at $35,490 for the Outback 2.0D manual (down $5000), and go up to $47,990 for the Outback 3.6R (slashed by $10,000). The Premium CVT models tested here are quite close in price, starting at $41,490 for the 2.5i, and $43,490 for the 2.0D diesel. And you get an impressive amount of car for these prices.
2015 Subaru Outback Premium 2.0D  – THE SPECS
Engine: 2.0-litre turbo-diesel four-cylinder
Output: 110kW@3600rpm / 350Nm@1600-2800rpm
Transmission: CVT automatic
Drive type: All-wheel drive
Wheels: F: 18×7.0, 225/60  R: 18×7.0, 225/60
ANCAP: Five stars (scored 35.99 out of 37)
Kerb weight: 1657kg
Power-to-weight: 15:1 (kg:kW)
Official fuel economy: 6.3L/100km
Economy during test: 6.7L/100km
Fuel capacity/Type: 60L/Diesel
Power efficiency: 17.4kW:L/100km
0-100km/h as tested: 9.9 seconds
Priced from: $43,490
2015 Subaru Outback Premium 2.5i – THE SPECS
Engine: 2.5-litre four-cylinder
Output: 129kW@5800rpm / 235Nm@4000rpm
Transmission: CVT automatic
Drive type: All-wheel drive
Wheels: F: 18×7.0, 225/60  R: 18×7.0, 225/60
ANCAP: Five stars (scored 35.99 out of 37)
Kerb weight: 1557kg
Power-to-weight: 12:1 (kg:kW)
Official fuel economy: 7.3L/100km
Economy during test: 8.4L/100km
Fuel capacity/Type: 60L/91 RON
Power efficiency: 17.6kW:L/100km
0-100km/h as tested: 9.5 seconds
Priced from: $41,490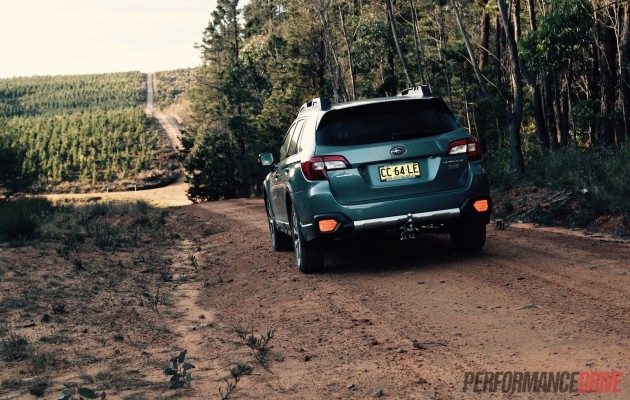 2015 Subaru Outback Premium – THE PACKAGE
The Subaru Outback is sufficiently keeping up with the Jones' when it comes to bang for your buck. There is a comprehensive list of included equipment. Specific to the Premium variants, you get leather-appointed upholstery with heated front seats, gear shift paddles, an electronic tailgate with memory height adjustment, a rear-view camera, sat-nav, collision warning and lane departure warning with EyeSight adaptive cruise control (2.5i only), 18-inch alloy wheels, proximity keyless entry and start/stop button, auto wipers and lights, roof rails with racks that fold out across the roof, and even an electric sunroof comes standard. This list is quite impressive for a vehicle at this price. Some of these features are costly extras among the competition.
The multimedia system is also feature-packed as it includes iPod/USB/Bluetooth connections, voice recognition, and a Pandora radio app that allows you to operate the music streaming system through the screen and not your phone. Though, the six-speaker sound system is substandard. The audio sounds trebly and the radio signal is weak. Even when going under a bridge in the Sydney CBD, the radio reception diminishes.
The touch-screen is a breeze to use as it can be navigated like a mobile phone; pinch, spread and swipe your fingers to zoom and move around. It also has dedicated buttons on the surrounds of the screen to make for easier navigation while driving – one up on many competitors. It is strange that there is only one clock in the interior and it's tiny and buried among the climate setting display.
Subaru's EyeSight system to mitigate collisions works a treat, but it is not included in the diesel variant for some reason. We especially like the way it alerts you when the car in front of you takes off and you don't. Most other cars with these systems don't do this.
One area the Outback is best-in-class in is outward visibility from the cabin. When you're in the driver's seat, you can look all around you and easily check your surrounds and blind spots. Even front-side vision is fantastic. Glass on the front doors extends right to the edge of the A-pillars too.
There are no complaints when it comes to seat comfort either. Front and back, the seats are supportive and soft for the long hauls. And for wider passengers, the bolstering is not too aggressive to cut into the hips/waist. With that, seat positioning has been modified to make you feel like you're up high up on the road, comparable to those bulkier SUVs.
Space is aplenty as well, and perfect for keeping families comfortable. There are now rear air vents in the back row – a big thumbs up – and the second row is easily collapsible when extra storage is required. With the rear seat folded you will notice how impressively long the wagon really is, which is great if space is of importance.
Boot volume, specifically, is decent. Officially it measures 512 litres with back seats up. In comparison, the Mazda CX-5 gives you 503 litres, and the much more expensive Volkswagen Touareg offers 580 litres. The electronic tailgate in the Premium grade is helpful and you can even adjust the height it springs up to if you're a shorter build – how thoughtful.
The overall interior quality is up there with the competition we think. The leather is soft and plastics used feel high in durability and craftsmanship. The LCD screen within instrument cluster is busy, but there is a lot of information and technology presented.
Speaking of information, you can see exactly how many seconds and millilitres of fuel you have saved in each tank of fuel from the start-stop engine feature. Novel. We aren't keen on the fonts used in the dash as they are a little childish and unsophisticated.
The revised Outback continues to look predominantly like a heightened wagon. Not that it's a bad thing. In fact, the overall shape hasn't deviated too far from where it came from in the early 2000s, where it has proven to be an attractive and unique sports wagon. It doesn't portray a futuristic appearance compared to the rest. It goes more for that strong and rugged look so you don't need to be afraid to take it off road.
The roof racks that click out horizontally over the centre of the car adds to the practicality of the vehicle, as do the unpainted protective plastic surrounds of the lower body. Aerodynamics have actually been vastly improved for the latest version to optimise fuel efficiency. Especially innovative is the new active grille shutter; the grille at the front of the car closes off at higher speeds in order to send airflow around rather than being caught up in the engine compartment. A refreshed, sharper look can also be seen in the front and rear lights for the latest model. We especially like the lit-up LED surrounds on the headlights.
2015 Subaru Outback Premium – THE DRIVE
On the road, the Subaru Outback is outstanding when it comes to quietness and dynamics. Cruising at 110km/h, tyre and wind noise is proper luxury-car-like. The ride is soft too, and bumps cause minimal disturbance. It's as though there are two stages to the suspension. The initial dampening seems purposely soft for a comfy ride over road imperfections, and then the second part of travel is made tight and stiff for better handling and stability under tougher demands. But when you're in the soft range of travel, the Outback can feel nervous when steered or shaken. Part of this is down to the very tall, perhaps too off-road-oriented 225/60 tyres mounted to the 18-inch wheels.
Grip is fantastic with the full-time all-wheel drive system on and off road. There is also a hill descent braking system for when it comes to steep and rough terrain. It is able to slow you down to about 4km/h. A limited-slip diff in the centre manages front-to-rear torque distribution to maintain maximum traction. Ground clearance measures at 213mm, which means it won't go full-on off-road bush bashing, but at that height it does put a few supposed SUVs to shame. For the terrains it can clear, the Outback handles with poise and confidence.
If you plan on towing, you might want to take a look at some other options, or at least the diesel variant. Torque output is 350Nm in the diesel, available at 1600rpm, but in the 2.5i it is a measly 235Nm starting at 4000rpm. Braked towing capacity is listed at 1700kg in the diesel, and only 1500kg in the petrol – equivalent to a Volvo V40 hatch.
Engine performance is not the Outback's strongpoint in both the 2.0-litre diesel and 2.5i petrol. Although everyday performance for most drivers is definitely acceptable, when the need arises to put your foot down, you'll find both engines to be rather lethargic. The 2.0D develops 110kW, and the 2.5i produces 129kW. Going up hills in the 2.5i feels like an effort for the engine as the CVT scatters around at higher revs to find the ideal power and torque. Fortunately, using the 'S' sporty driving mode does help. The 2.5i takes off with more urgency and it seems to overtake a bit easier when in S mode.
The diesel is much better climbing the same hills, but punching it up to speed almost gives the same result as feathering the accelerator pedal up to speed. Acceleration from 0-100 km/h is achieved in a lengthy 9.9 seconds in the diesel, and 9.5 seconds in the petrol. For those that want more, Subaru offers the 3.6-litre flat-six that generates 191kW and 350Nm. It also comes with a CVT auto.
Being a boxer engine, you can feel the engine vibrating at idle, whether it is in petrol or diesel spec. The same level of smoothness felt in other engines is not met, but it isn't distracting or uncomfortable in any way. And you get that advantage of that unique boxer rumble when revved. For the enthusiasts, this is a must.
Fuel efficiency is praiseworthy in the diesel variant, with official figures indicating 6.3L/100km for combined driving conditions. Our various driving styles produced an average of 6.7L/100km. In the petrol, the story is slightly different, officially rating at 7.3L/100km, and our tests scoring 8.4L/100km. With the petrol engine not being as efficient, you'll obviously need to hit up the petrol station more often. Official ADR tests indicate a maximum full-tank driving range of 1091km in the 2.0D and 952km in the 2.5i. In the real world, the figure for the 2.5i is hard to attain.
The aforementioned fuel economy has been helped along by the introduction of the CVT transmission. This is the first CVT we've seen paired with a diesel engine, as CVTs so far have not been designed to cope with the extra torque that comes from diesels. That raises a question of longevity for us, but we can be a pessimistic bunch here at PerformanceDrive.
Like with all CVTs, you miss out on that progressively climbing and stepping engine note. You can still hear some subtle artificial gear changes when you're accelerating hard. This is because after 4000rpm, the transmission automatically goes into a auto-like character for improved performance. It is worth noting that we experienced noticeable delays in selecting between 'Drive', 'Reverse', and 'Park' in our tests. This may be down to these vehicles, specifically, possibly needing a service or some other isolated issue.
2015 Subaru Outback Premium 2.0D – THE VIDEO
2015 Subaru Outback Premium 2.5i – THE VIDEO
2015 Subaru Outback Premium – THE VERDICT
The Outback continues to be one of the best all-rounders in this space. It can go off road and provide real getaway experiences, and it will swallow up all of your luggage and tents with its long cabin profile. All Subaru vehicles have a whiff of prestige to them, and the same can be said for the Outback. Build quality is outstanding and you really do get a lot for your money. Which should you go for out of these two? We'd take the 2.0D diesel. It offers excellent economy and it's only marginally down on performance in comparison. In fact, that 350Nm will probably come in handy more often in the real world as opposed to 129kW offered in the 2.5i.
PROS:
– Improved cabin space for new model
– Exceptional value, especially with recent price drop
– Ruggedness and practicality; roof racks and storage compartments
– Great vision from the driver's seat
– Economical diesel

CONS:
– Sound system is substandard and radio reception is weak
– Busy instrument cluster LCD
– Diesel misses out on EyeSight system