Hyundai Australia has announced the 2018 Hyundai i30 range, bringing in some upgrades and changes for the new model year, while the lineup is expanded to offer more variety.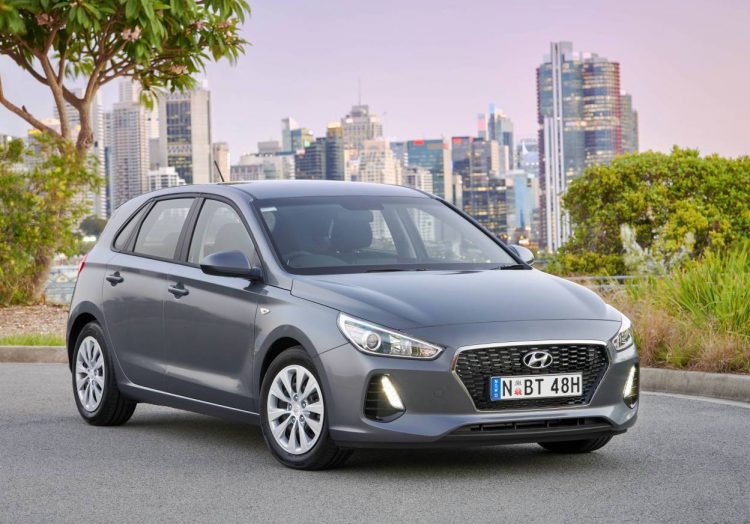 Joining the range is the Elite and Premium with the 2.0 GDi petrol engine. Previously only available with the 1.6-litre turbo-diesel matched to a seven-speed dual-clutch auto, the 2.0L produces 120kW and comes paired with a six-speed torque converter automatic transmission.
Sticking with the premium talk, the SR Premium and the Premium now come with an Infinity seven-speaker high-end stereo system. It uses an external amplifier to boost frequency response and to provide better bass production and distortion-free listening, even at high volume, Hyundai says.
Other equipment changes include a leather-trimmed steering wheel and gear selector for the Active model, while a SmartSense safety pack is now optional on the base Go variant and the Active. It brings together autonomous emergency braking, blind-spot warning, rear cross-traffic alert, and adaptive cruise control.
The SmartSense pack also includes a 4.2-inch TFT instrument cluster display, electronic park brake, driver attention alert, power-folding side mirrors, rear climate vents, and a chrome trimming for the front grille.
The new range is on sale now from the following prices (excluding on-roads). All models come with a five-year/unlimited kilometre warranty, and 12 months roadside assistance, and a lifetime capped-price serving plan (see below for service pricing).
2018 Hyundai i30 Go 2.0 GDi manual – $19,990
2018 Hyundai i30 Go 2.0 GDi 6spd auto – $22,290
2018 Hyundai i30 Go 1.6 CRDi manual – $22,490
2018 Hyundai i30 Go 1.6 CRDi 7spd DCT auto – $24,990
2018 Hyundai i30 Active 2.0 GDi manual – $21,090
2018 Hyundai i30 Active 2.0 GDi 6spd auto – $23,390
2018 Hyundai i30 Active 1.6 CRDi manual – $23,590
2018 Hyundai i30 Active 1.6 CRDi 7spd DCT auto – $26,090
(SmartSense option – $1750 for Go and Active)
2018 Hyundai i30 SR 1.6T manual – $25,990
2018 Hyundai i30 SR 1.6T 7spd DCT auto – $28,990
2018 Hyundai i30 SR Premium 1.6T 7spd DCT auto – $34,490
2018 Hyundai i30 Elite 2.0 GDi 6spd auto – $27,790 (New model)
2018 Hyundai i30 Elite 1.6 CRDi 7spd DCT auto – $30,490
2018 Hyundai i30 Premium 2.0 GDI 6spd auto – $32,790 (New model)
2018 Hyundai i30 Premium 1.6 CRDi 7spd DCT auto – $35,490