Auto Pilot is a phrase we usually only associate with jet planes. You might as well get used to saying it though, as cars will soon feature such technology. Enter the latest Tesla Model S.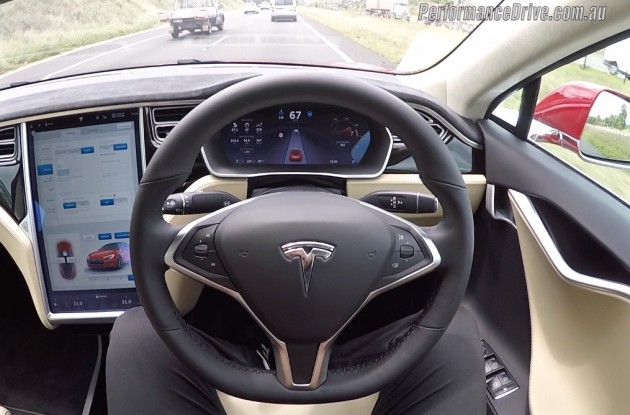 Tesla announced a '7.0' software update for its vehicles last month, introducing one of the industries first auto pilot functions. We've just taken the top P90D for a test drive to try out the amazing technology, and we're left completely blown away.
Auto pilot, as the name suggests, means the car drives all by itself with no input from a driver. It's incredible that such technology is already available right here in Australia. In the Tesla it allows users to cruise along at a wide range of speeds, without needing to steer, brake, or accelerate at all. It's a surreal experience and one that actually takes some guts to fully trust.
As far as we know, the system requires no input from the driver apart from a gentle touch of the steering wheel every minute or so just so the car knows you're still awake. However, we drove for up to six minutes without touching the wheel and the car didn't ask for any input. On other occasions, generally in more dense traffic conditions and when the lines on the road are faded or faint, the car asks for you to place your hands on the wheel for a moment about every one to two minutes.
We will be putting together a more in-depth review of the P90D very soon. Fortunately, the model we drove was also equipped with the Ludicrous Speed pack which provides phenomenal acceleration. You'll have to stay tuned for our 0-100km/h video to see how it performs. In the meantime, check out our quick point-of-view (POV) video demo of the Auto Pilot feature below.