27-year-old artist Naish Chapman has given the world the clearest idea yet of what a HSV based on the next-generation Commodore could look like, with this rendition of an NG HSV GTS-R.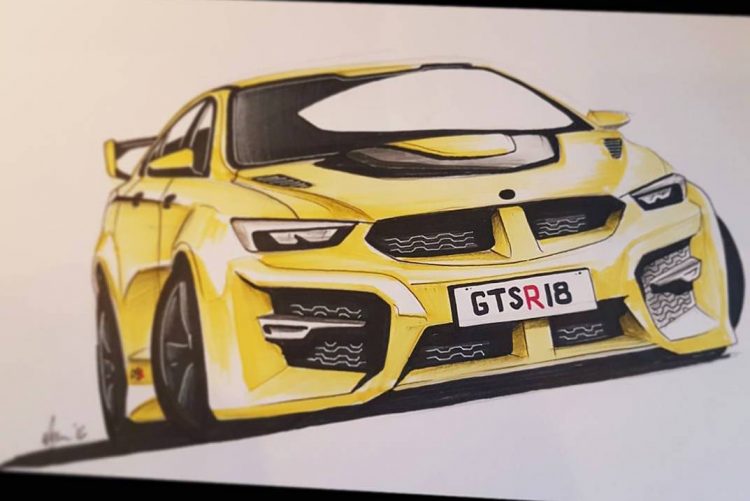 As we saw from photos revealing the 2018 NG Commodore in all its glory today, there are some recognisable elements as Commodore but gone are the large grilles and pumped guards that have given way to a softer and more subtle appearance.
Naish's rendition restores some of the muscularity to the NG, combining traditional HSV styling elements and blending them in with the modern styling of the 2018 car. We can see heavy inspiration from the 1996 HSV GTS-R (aka the Atomic Banana), with screaming yellow paint and dark alloys. A Corvette Z06-esque bonnet piece adds visual drama and sets off the proposal.
The look telegraphs the power of a screaming V8, such as the LS9 destined for the final Zeta-based HSV GTS-R and W1, but with the NG's E2 platform supporting only all-wheel drive and transverse V6 engines, it's unclear what engine in GM's portfolio could deliver on the promise of the car's aggressive looks.
GM does have a history of mounting LS-engines east-west in front-drive fashion, such as the old Pontiac Grand Prix GXP, Buick Lacrosse and Oldsmobile Toronado, but those days seem to be over. Unless GM develops a compact transverse V8 powertrain for the mid-engined Corvette due in two years, this is a long shot.
The most likely solution seems to be a positive displacement supercharged version of the LGX V6 with all-wheel drive, but we are just speculating at this stage. HSV has told PerformanceDrive and other media it is planning to stick around after local production ceases, although at what capacity is yet to be confirmed.
What do you think of Naish's creation, is it enough to entice you back into a HSV showroom post 2018? Naish has also put together a neat depiction of an NG Commodore race car ready for the future V8 Supercars series.
If you like what you see, you'll be blown away by Naish's other creations on his website naish-art.com and his Instagram page NAISH_CHAP.