TeamVodafone Holden driver's Jamie Whincup and Paul Dumbrell have won Bathurst 1000 at Mt Panorama, beating the Bottle-O Ford Falcon of David Reynolds and Dean Canto by just three-tenths of a second.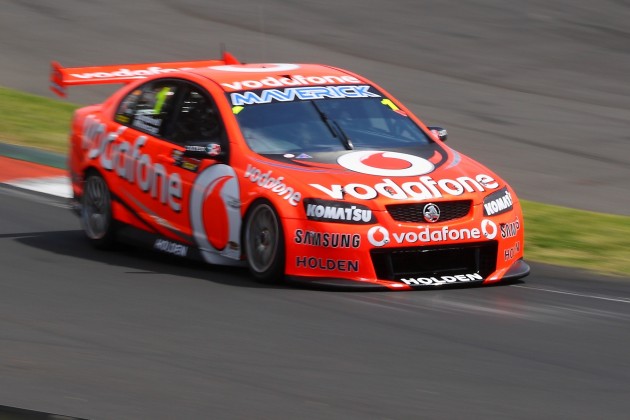 With his tyres and fuel on the brink, the V8 Supercars champion held off the fast-finishing Ford driver while his teammate Craig Lowndes went on a charge late in the race to snare third place for him and Warren Luff from Holden Racing Team's James Courtney.
Tyres were the talking talking point the entire race with several cars experiencing torn rubber, especially the Ford Performance Racing duo of Will Davison and Mark Winterbottom who struggled all day to finish 24th and 15th respectively. Pole-sitter Davison had just about the worst day possible with a drive through penalty before a huge tyre blow out coming down Conrod Straight where fortunately the sand trap pulled him up in time to just tap the wall at the Chase.
Garry Rogers Motorsport Holden driver Michael Caruso had a stellar drive to snare a top five finish while another Holden – Jonathon Webb's Tekno Autosports Commodore – finished sixth.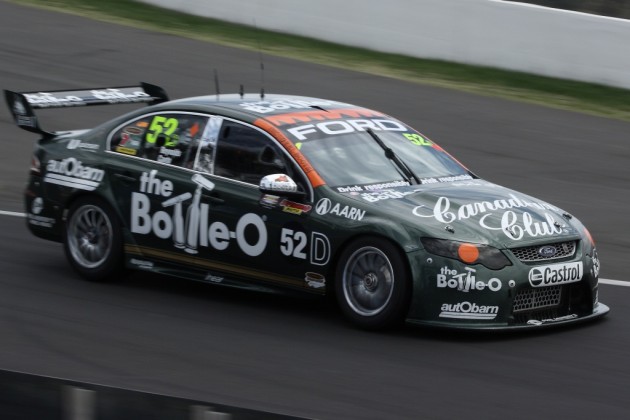 Rounding out the top 10 was Stone Brothers Racing Ford drivers Tim Slade and Lee Holdsworth and Holden drivers Rick Kelly and Russell Ingall.
The tow truck drivers had an easy day at Mt Panorama with just the one major accident to clean up. Steve Owen's Ford Falcon slammed into the tyre barrier at Griffins bend on lap 53 after not bring his brakes up to temperature following a pad change.
The first car out of the race was the Tekno Autosports Holden Commodore of Michael Patrizi and Johnny Reid. With Reid in the driver's seat on lap 19, the Holden shutdown at the top of the mountain, causing a safety car.
207,205 people were at the famous Mt Panorama circut across the four days. That figure smashes the previous record of 193,647 that attended the 2006 Supercheap Auto Bathurst 1000 following the death of the late great Peter Brock.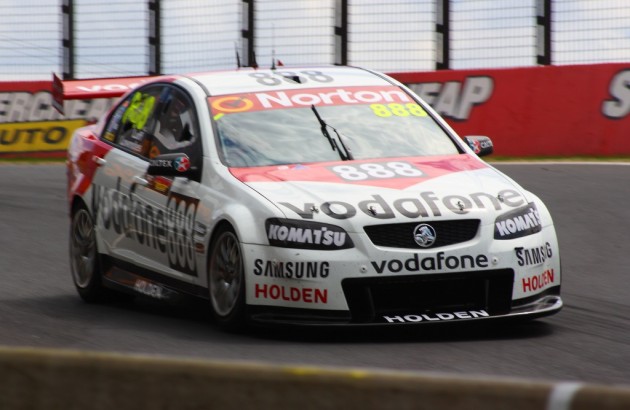 2012 Supercheap Bathurst 1000 final results:
1    TeamVodafone    Paul Dumbrell / Jamie Whincup    (Holden)    161
2    The Bottle-O Racing Team    Dean Canto / David Reynolds    (Ford)    161
3    TeamVodafone    Craig Lowndes / Warren Luff    (Holden)    161
4    Holden Racing Team    Cameron McConville / James Courtney    (Holden)    161
5    Fujitsu Racing GRM    Michael Caruso / Greg Ritter    (Holden)    161
6    Tekno Autosports    Jonathon Webb / Scott McLaughlin    (Holden)    161
7    Lucky 7 Racing    Tim Slade / Andrew Thompson    (Ford)    161
8    Irwin Racing    Lee Holdsworth / Craig Baird    (Ford)    161
9    Supercheap Auto Racing    Russell Ingall / Christian Klein    (Holden)    161
10    Team Norton DJR    Alex Davison / James Moffat    (Ford)    161
11    Orrcon Steel FPR Ford    Steve Richards / Mark Winterbottom    (Ford)    161
12    SP Tools Racing    Luke Youlden / Shane van Gisbergen    (Ford)    161
13    Pepsi Max Crew    Greg Murphy / Owen Kelly    (Holden)    161
14    Wilson Security Racing    Chris Pither / David Wall    (Holden)    161
15    Jack Daniel's Racing    Rick Kelly / David Russell    (Holden)    161
16    Fujitsu Racing GRM    Jack Perkins / Alexandre Premat    (Holden)    161
17    Jim Beam Racing    Steven Johnson / Allan Simonsen    (Ford)    161
18    Jack Daniel's Racing    Todd Kelly / Tim Blanchard    (Holden)    161
19    Fair Dinkum Sheds Racing    Karl Reindler / Daniel Gaunt    (Holden)    161
20    Shannons carsales.com.au    Cameron Waters / Jesse Dixon    (Holden)    158
21    Team BOC    Jason Bright / Andrew Jones    (Holden)    153
22    Jim Beam Racing    Dean Fiore / Matthew Halliday    (Ford)    147
23    Lockwood Racing    Fabian Coulthard / David Besnard    (Holden)    147
24    Trading Post FPR Ford    Will Davison / John McIntyre    (Ford)    143
25    Holden Racing Team    Garth Tander / Nick Percat    (Holden)    139
DNF    Team Hiflex    Tony D'Alberto / Dale Wood    (Ford)    122
DNF    Team iSelect    Taz Douglas / Scott Pye    (Holden)    97
DNF    VIP Petfoods    Paul Morris / Steve Owen    (Ford)    53
DNF    Tekno Autosports    Michael Patrizi / Jonny Reid    (Holden)    19