The HDT VE VK Group A 'Blue Meanie' is a modern interpretation of the original HDT VK Group A muscle car that was built from 1985 to 1986. The VE Blue Meanie is just one of many nostalgic remakes built by HDT.

The VE VK Group A was launched back in 2009 by HDT; an iconic Australian brand that has been brought back to life by one of Peter Brock's closest friends, and now HDT owner, Peter Champion.
The VE VK Group A definitely gets the blood pumping. Just 250 examples will ever be built, making this one very unique Aussie muscle car.
The deep engine note and chunky idle from its 6.0-litre V8 engine, along with its unique styling and custom paintwork give the car serious street appeal.

The build process for a VE Blue Meanie begins with a Holden VE Commodore SS donor car (SSV, or SSV Redline can also be used – Series I or Series II). HDT then tweaks the drivetrain, suspension, exterior and interior, and creates a car that's distinctively different to any other Holden or HSV driving around.
There are loads options to choose from. You can opt to go for the naturally aspirated 350kW package, or if you're daring enough you can have a supercharger kit fitted that produces enough torque to turn the globe.

There's also the option to convert the interior from the conventional five-seat layout to a more serious four-seat guise, which further adds to the VE VK's exclusivity.
No matter what drivetrain combination you select, the flamboyant exterior is always going to be the thing that turns heads. The spotless Formula Blue paintwork and custom-designed VK-style Group A bodykit and decals bring the VE Commodore shape to life, looking lethal and ready to pounce from just about every angle.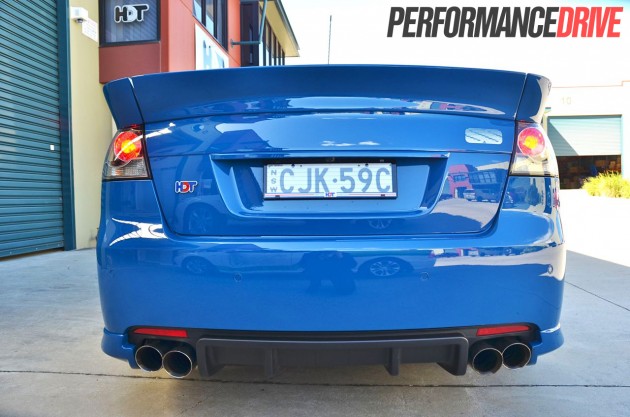 And then there's the 19-inch Aero style wheels, made to resemble the original wheels that featured on the VK Group A almost 30 years ago, albeit a lot larger in diameter and width (this car was fitted with the optional 10-inch wide rear wheels).
The VE Blue Meanie pictured (build number 005) boasts the HDT 350kW Performance Enhancement Package, and in true HDT style it is fitted with a H-pattern six-speed manual gearbox. The car originally began life as a Commodore VE SS Series II.

The VE VK Group A Blue Meanie package includes the following:
Engine:
HDT performance cam
HDT twin three-inch exhaust system with hi-flow cats and 1 7/8-inch headers
HDT OTR including infill panel and fascia
HDT ECU recalibration
Suspension and wheels:
HDT coil over suspension package
Aero look 19-inch alloy wheels
Kumho tyres
Exterior:
Complete colour change (inside and out) of base vehicle including engine bay, painted in HDT Formula Blue paintwork
HDT specific front bumper
HDT grille
HDT three-piece boot spoiler
HDT rear bumper spats
HDT custom VE VK Group A decal package
Optional extras (fitted to VE VK Group A build number 005):
Custom HDT four-seat leather interior
Billet shifter
Carbon fibre-look dash trim
Custom engine cover
Window tint
HDT floor mats
Full set billet caps for engine bay
10-inch wide white Aero wheels for the rear
HDT Ultimate Brake Package
Each car also comes with an individual HDT build number and tag, and HDT Owners Compendium and Platinum Club membership.
All up the HDT VE VK Group A conversion package costs $42,000 (not including the price of a VE Commodore SS). This includes the parts listed above, while the optional extras listed come to a total of $22,700.
VC and VH and VK Group 3 base models start as low as $17,000, however, these models don't come with a complete colour change.
(All prices listed are inclusive of GST.)
We were lucky enough to drive this very example, fitted with the 350kW engine performance package and six-speed manual transmission. We took the VE Blue Meanie for a short blast around the block just outside HDT's NSW office, and let us tell you, all the added equipment that HDT has fitted transforms what is essentially a regular VE SS or SSV into a tarmac-eating weapon. And you can bet that it turns heads like no other Holden on the road.
The coil-over suspension helps conceal the large sedan's weight as you shift the steering wheel from corner to corner, feeling quite agile, and all without compromising ride comfort.

The gear throw is shorter thanks to the billet shifter, and as a result provides a more mechanical feel that purists will love. The optional performance brake package fitted to the car we tested also feels meaty and definitely up to the task of a track day or two.
Traction from the 10-inch optional rear wheels is utterly impressive, leaving you to worry little about driving the car looking through the side window.

As you can hear and see in our video below, the 350kW naturally aspirated V8 accelerates with ease, rocketing you down the road into licence-losing territory quicker than you can say Peter Perfect. Even with its chunky idle and gutsy power curve, it's surprisingly easy to drive around at low speed in traffic.
HDT VE VK GROUP A BLUE MEANIE – ENGINE START UP, SOUND AND 0-100KM/H VIDEO
If you're keen to have your VE SS transformed into a Blue Meanie, head over to HDT's website for more information, or phone 1300 798 405.