Yes, we get it. Diesel sedans aren't as popular as they used to be, especially since SUVs have started taking over the world. However, the 2019 BMW 320d M Sport presents such a compelling package on paper, we thought we'd better take a closer look.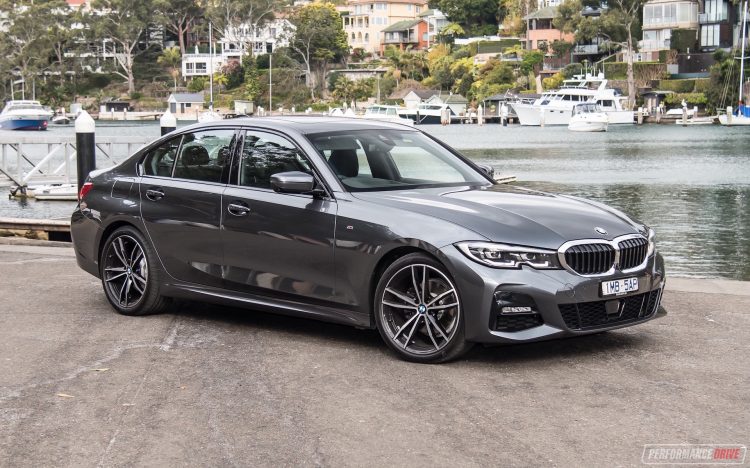 What's the initial appeal? Well, it's almost as quick as the 330i yet it consumes a fraction of the fuel. According to the specs, the 190kW/400Nm 330i does 0-100km/h in a claimed 5.8 seconds and offers an average fuel consumption of 6.4L/100km. This 140kW/400Nm 320d does the sprint in a claimed 6.8 seconds yet it sips just 4.5L/100km on the official combined cycle. That's better fuel economy than a boring automatic 1.0L VW Polo that does 0-100km/h in a claimed 10.8 seconds.
For now, the 320d is the base model in Australia before the 320i arrives very soon. Prices start from $67,900, which is exactly $3000 cheaper than the only other variant currently on sale, the 330i. The M Sport pack is standard, or buyers can select the subtle Luxury Line trim for something more conservative at no cost.
2019 BMW 320d M Sport – THE SPECS
Engine: 2.0-litre turbo-diesel four-cylinder
Output: 140kW@4000rpm / 400Nm@1750-2500rpm
Transmission: Eight-speed auto
Drive type: Rear-wheel drive
Wheels: F: 18×7.5, 225/45  R: 18×8.5, 255/40 (optional 19s as tested)
ANCAP: Five stars
Tare weight: 1430kg
Power-to-weight: 10.21:1 (kg:kW)
Official fuel economy: 4.5L/100km
Economy during test: 5.8L/100km
Fuel capacity/Type: 40L/Diesel
Power efficiency: 31.11kW:L/100km
0-60km/h: 3.15 seconds*
0-100km/h: 6.79 seconds*
60-110km/h: 4.83 seconds*
1/8 mile: 9.72 seconds at 122.2km/h*
1/4 mile: 14.97 seconds at 150.7km/h*
Max acceleration: 0.858g
100-0km/h braking: 2.88 seconds at 36.10 metres*
Max deceleration: -1.286g
Decibel at idle: 44*
Peak decibel at 60-100km/h: 75*
Priced from: $67,900
* Figures as tested by PerformanceDrive on the day. Factory claims may be different

2019 BMW 320d M Sport – THE PACKAGE
The G20-generation 3 Series is based on BMW's latest CLAR platform, which is shared across all rear-drive-based models. It's more rigid than before (between 25-50 per cent, depending on the area) with better weight distribution (50:50 front and rear axle load), and lighter weight in some areas, and larger. The dimensions show the sedan is 76mm longer, 16mm wider, and 6mm taller than the previous model. It also rides on a wheelbase that's 41mm longer, which means more space inside for you and your friends.
We like the fresh dash design that incorporates a neatly integrated 10.25-inch digital infotainment screen, underscored by what's called aluminium Tetragon garnishes in the case of the M Sport. The trim feels like real metal and goes some distance in creating a high-quality look and feel for the cabin atmosphere. Most of the materials that make up the cabin are of premium quality, and the fit and finish is outstanding. Lower door cards and the B-pillar are covered in pretty basic plastic, as per usual in this class.
Seating space is excellent for this segment, especially in the front. It's a great blend of intimacy and airiness. Some vehicles in this market space can feel overly confined and cramped, albeit very driver-focused, while others seem bare and cold. We think the new 3 Series presents the perfect balance between these two extremes. The driving position is very natural, too, with pedal placement and the steering column perfectly aligned.
Rear seat space is reasonable but more than acceptable for this specific class. Climate vents in the back of the console keep everyone thermally comfortable, with multiple charge ports at the ready. The same build quality and attention to detail from the front is carried through to the rear. Even the ambient lighting runs through to highlight the door grab-handles, and the colour of the glow can be changed via the main screen in the front.
As standard the 320d comes with dual-zone climate control in the front and separate temperature control in the back, along with a 10-speaker sound system or optional 16-speaker Harman/Kardon unit, digital radio, sat-nav, and a fully digital 12.3-inch instrument cluster. Safety is also very high, with autonomous emergency braking, rear cross-traffic alert, lane-departure warning, and automated parking all coming as standard. ANCAP recently crash tested the new 3 Series and awarded it the full five stars. It scored an impressive 97 per cent for adult occupant protection, and 87 per cent for child occupant protection.
Despite the fact the 320d is the entry level variant for the moment, we like that BMW does offer a range of high-end options for it. Things like gesture control, laser headlights, extended leather, and a range of BMW Individual paint options are not reserved for the upper-end variants. This is great. You can also pick and choose from the range of M Performance enhancements, or opt for M Sport brakes, adaptive M Sport suspension, and even an M Sport limited-slip differential.
Speaking of the M Sport stuff, the 320d does miss out on the four-piston (front), blue-painted M Sport brakes featured as standard on the 330i M Sport. However, you can option up to them for a not-bad $1077. According to the specs the 320d does come with "sports suspension", although, to have adjustable dampers you'll need to upgrade to the M suspension which is just $846 extra – money worth spending we reckon.
2019 BMW 320d M Sport – THE DRIVE
The 3 Series is often regarded as the benchmark premium mid-size sedan, and it is one of the pioneers of the segment. For the new model BMW has moved the bar once again. Even in 320d form, the handling is so organic and playful, yet extremely confident and sure-footed. Turn in and the front end responds like it's an extension of your arms, doing exactly what you tell it to do. There's no understeer at all, instead it just bites and pivots in like a rollercoaster.
Sure, the steering is now electronically-assisted, but there is plenty of that feel-good connection here. It talks to you and encourages you when you're feeling frisky, but at the same time it isn't busy or overly sensitive when you just want to cruise on the highway. Pair these two traits together and you're left with a superbly sorted premium mid-sizer. However, there's no doubt the ride is set up more towards the sporty side as opposed to sheer comfort. This could deter some buyers. If you're worried about this area we recommend you tick the adaptive suspension option box, because then you have some level of adjustability.
So, is the 320d only for the budget-conscious and not-at-all designed for driving fans? Of course a diesel engine is usually associated with economy and petrol is commonly known as the better performing powertrain. Compared with the 320i though, the official 0-100km/h sprint is just 6.8 seconds in the 320d, versus 7.2 seconds in the 135kW/300Nm 320i. In that sense the 320d is actually very sporty, and in the real world this is definitely faster overall. We clocked 0-100km/h in 6.79 seconds, which is about as quick as some proper hot hatches. BMW has even included launch control in the 320d, allowing you to build the engine revs on the brake and sprint away to a wheel-scampering getaway.
For us, it's the torque that matters most. All 400Nm is available from just 1750rpm. This means you really don't need to rev it to enjoy its potential acceleration. In fact, it can be fun to surge and stream through traffic without looking like you're revving about like a hoon. When you've got time for a spirited drive in the mountains, the low-down torque pulls you instantly from corners, pouncing from bend to bend. Before you know it you're through the winding road and out the other side. The point-to-point performance is effortless in that regard, and thanks to the superb handling, it's also fun.
Compared with the 330i, it is understandably a bit slower. But it isn't far behind. Checking over the specs we see the 320d is actually 3kg lighter than 330i, with a tare weight of 1430kg. We also notice the 320d features a 40L fuel tank compared with 59L in the 330i, which might explain why it's a bit lighter. What we're trying to get at is, there doesn't seem to be any major compromise in going with the diesel. So long as you aren't entirely focused on setting record lap times, the 320d, in the real world, is just as fun and brisk as the 330i.
One of the major benefits of the 320d though is of course fuel economy. The 320d offers an official combined cycle of just 4.5L/100km, as mentioned. This is the lowest of all 3 Series models in Australia except the upcoming 330e hybrid which is rated at just 1.9L/100km. During our test we averaged 5.8L/100km. And, admittedly, we probably spent more time performance testing and conducting professional driving analysis (having fun in the mountains) than observing highway driving economy. We think, after extended use in normal conditions, an owner could see the trip computer drop to around 5.0L/100km with no problem.
As for that small tank, you needn't worry too much about a reduced range. Calculating from the official averages the 320d offers a theoretical range of 889km from a tank, while the 330i and its 6.4L/100km average translates to a range of 922km. Official Australian figures for the 320i are yet to be confirmed (at the time of writing).
2019 BMW 320d M Sport – THE VIDEO
2019 BMW 320d M Sport – THE VERDICT
If the 320d turns you off because it's a diesel, and a base model diesel at that, and you're worried that it will be slow and boring, you really need to take one for a test drive. BMW has worked wonders with this new platform and it is undoubtedly the best-handling and best-packaged 3 Series ever. But with the 320d you get hot hatch levels of acceleration and performance, yet city car or even hybrid levels of economy. There is no major compromise that we can see.
Between this and the 330i, which is priced $3000 north, it would take many sleepless nights for us to make a final decision on which we'd actually buy. However, between this and the upcoming 320i, which is priced $3000 south, there's no contention. Our money would go straight towards a 320d.
PROS:
– New G20 chassis offers unrivalled handling dynamics
– Hardly sounds like a diesel
– Very impressive performance considering it's just a '320d'
– Refined cabin with lots of useable technology
– Fuel economy; official 4.5L/100km, we averaged 5.8

CONS:
– 320d M Sport misses out on M Sport brakes; standard with 330i M Sport
– Tensed ride might be off-putting to some; optional adaptive suspension recommended
As always, if you're thinking about buying a new car don't forget to click here to speak with our car buying specialists.