Possibly the best-sounding V8 we've heard in a long time, and certainly the best-sounding V8 Porsche 911. Meet the Ruf RGT-8 prototype, as previewed in this video.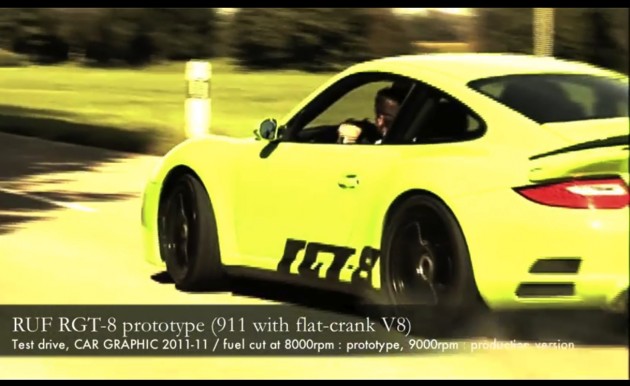 Ruf Automobile is responsible for some very special, and perhaps the most thorough examples of Porsche 911 tuning. The company is a manufacturer in its own right, so it doesn't only fix up customer cars, although it can, it has a showroom of production cars too.
One of the latest of which that will join the lineup in the near future is the Ruf RGT-8. It features a 4.5-litre V8 engine developing 404kW of power at a screaming 8500rpm, and 500Nm available at 5400rpm.
The engine features a 180° flat-plane crank, which helps to allow for a 9000rpm redline. The engine also features dry-sump lubrication, twin throttle bodies and an interesting no-belt air-conditioning pump that is driven directly from the engine.
On the outside, the Ruf RGT-8 comes with bespoke bodywork crafted from inside Ruf, based on the Porsche 911. It comprises of a carbon fibre engine cover and rear spoiler, as well as lightweight aluminium panels.
The wheels are 19 x 9 inches on the front, wrapped in 245/35 ZR 19 tyres, and 19 x 12 inches on the rear, wrapped in 325/30 ZR 19 tyres.
Click play on the video below for some stunning sounds as Ruf test driver Stefan Roser (the man behind the famously awesome Ruf Yellowbird Nurburgring videos) demonstrates the Ruf RGT-8's capabilities.
Production of the Ruf RGT-8 will commence in 2012.