BMW has been spotted once again preparing the new 2018 F90 M5 out on the Nurburgring in Germany. And boy does it look (and sound) powerful.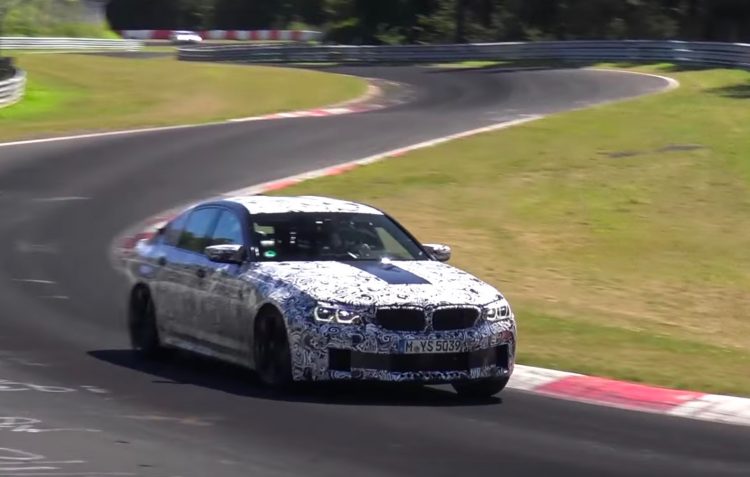 As history tells us, BMW usually introduces the mighty M5 at around the same time as a new generation 5 Series. In this case BMW has been spotted testing the regular G30 5 Series out on the Nurburgring as well, and BMW recently released a shorter teaser video leading up to its unveiling, likely set for the 2017 Geneva auto show in March.
In the latest clip we see the M5 being pushed relatively hard around the notoriously-unforgiving circuit, stretching the rear tyres to near their limits and even beyond on some corners.
According to international reports the next M5 will come with a variation of the current 4.4-litre twin-turbo V8 engine. Power output is tipped to reach the 450kW mark (600hp), with torque potentially growing from the current 680Nm to around 750Nm.
With all of this power (up from the current 423kW output), it's believed BMW M will offer all-wheel drive for the first time, at least as an option. Judging by this prototype and the sneaky powerslides it displays, rear-wheel drive could remain a core layout for the model. Either that or an all-wheel drive that's rear-biased.
Aside from the expected jump in power, the F90 is likely to adopt the CLAR platform and the M version might get more carbon fibre than the regular model. This could see weight drop by around 100kg or more compared with the circa-1850kg current model (depending on variant). Such a weight loss would help in all areas of driving performance and economy.
More details are expected to roll out in the coming months, with BMW probably planning more 5 Series teasers and previews. Click play below for a taste.