Kia has released details of its first ever eight-speed automatic transmission for its front-wheel drive cars, set to debut in the 2017 Cadenza.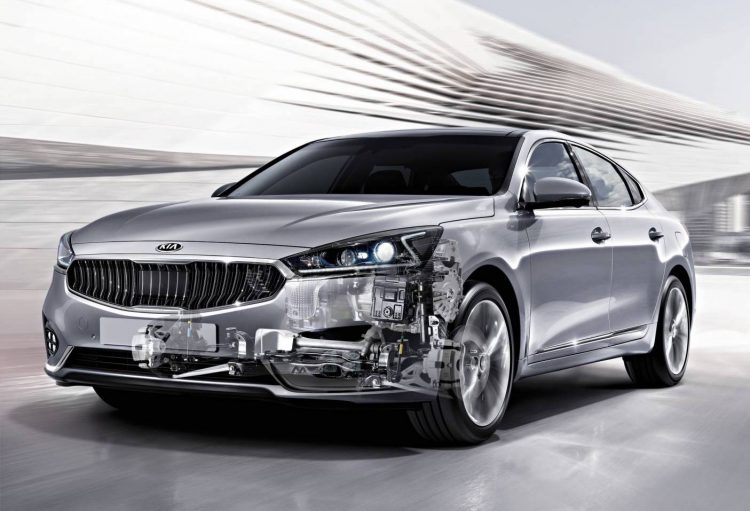 Kia filed a total of 143 new patents in the development of the new transmission, which is said to be 3.5kg lighter, and of similar dimensions than its conventional six-speed auto transmission.
Developed in-house at Kia, the front-wheel-drive transmission joins the already existing eight-speed transmission for its rear-wheel drive lineup (overseas). It boasts the smallest hydraulic oil pump of any transmission in its class, accompanied by a sophisticated direct control valve body, which it said to drastically reduce shift times.
Kia's engineers weren't able to install the transmission in the same longitudinal-fashion as the RWD transmission, due to packaging constrains imposed by the powertrain, suspension and other componentry. Kia overcame this by mounting the transmission transversely.
The ratio between the top and lowest gear has been increased by 34 percent over the six-speed unit, which improves acceleration and fuel economy, and is said to reduce levls of noise, vibration and harshness.
Kia's eight-speed transmission in a front-wheel-drive car will debut on the 2017 Cadenza models powered by the 3.3-litre V6 GDI powertrain. The Korean manufacturer has confirmed the transmission will make its way into "a number of mid-sized and larger front-wheel drive models, and will serve as a stepping stone to the development of future advanced Kia transmissions."