What you are looking at here is the 2017 Toyota C-HR Koba; a small SUV to challenge many long-held stereotypes about Toyota and a taste of the new platform that will eventually re-energise its entire lineup of passenger cars.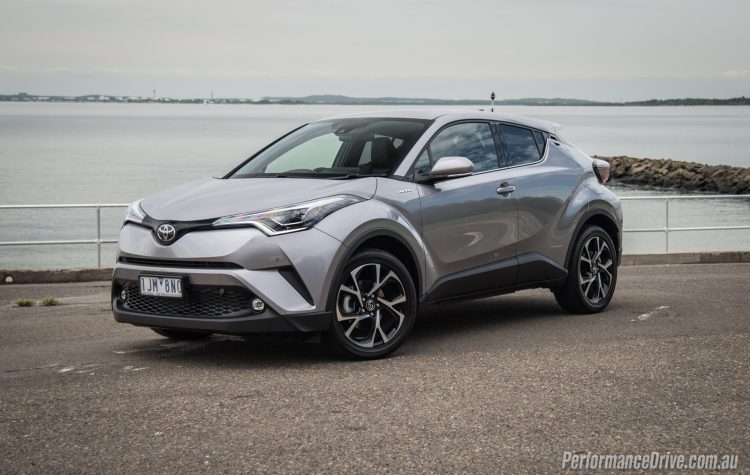 It's hard to believe something this bold, fresh and concept-car-like is brought to you by the Camry and Corolla company. The C-HR invites stares and questions from onlookers, which is the kind of attention you don't normally get in the small SUV segment.
The C-HR, like the fourth-gen Prius, heralds the introduction of the Toyota New Global Architecture (TNGA). It's a modular all-new chassis that aims to redefine perceptions of how a Toyota drives. Prior to this, Toyota had a very tried-and-true, risk-averse approach to its essentially re-skinned new cars.
The questions we want to find the answers to are: 1) Is the distinctive styling matched by the driving experience? 2) Is it practical enough to be a real alternative to the likes of Mazda CX-3 and Mitsubishi ASX? And perhaps most profoundly: 3) has the pursuit of excitement come at the expense of Toyota's traditional values?
Pricing starts from $26,990 for the base manual 2WD, and go all the way up to $35,290 for the Koba AWD CVT as tested here (excludes on-road costs).
2017 Toyota C-HR Koba – THE SPECS
Engine: 1.2-litre turbo four-cylinder
Output: 85kW@5600rpm / 185Nm@1500-4000rpm
Transmission: CVT automatic
Drive type: All-wheel drive
Wheels: F & R: 18×7.0, 225/50
ANCAP: Five stars
Tare weight: 1480kg
Power-to-weight: 17.41:1 (kg:kW)
Official fuel economy: 6.5L/100km
Economy during test: xL/100km
Fuel capacity/Type: 50L/95 RON
Power efficiency: 13.07kW:L/100km
0-60km/h: 5.65 seconds*
0-100km/h: 12.26 seconds*
1/8 mile: 12.26 seconds at 100.0km/h*
1/4 mile: 18.72 seconds at 123.8km/h*
100-0km/h braking: 3.11 seconds at 40.50 metres*
Decibel at idle: 38*
Peak decibel at 60-100km/h: 75*
Priced from: $35,290
* Figures as tested by PerformanceDrive on the day. Factory claims may be different

2017 Toyota C-HR Koba – THE PACKAGE
Although the best-selling Mazda CX-3 is what Toyota no doubt wants to beat in terms of sales, the strongest parallels are with the bug-eyed Nissan Juke. Both have bold styling elements, including a coupe-like appearance and hidden door handles and both compete in the same segment using styling as a key selling point. The C-HR is larger though, at 4360mm long, 1795mm wide and 1565mm high. The C-HR's 2640mm wheelbase is handily longer than the Juke's by 110mm and shades the CX-3 by 70mm.
The coupe-esque roofline is also more pronounced and details such as the rear door handle give it real flair. Other great styling attributes are the C-shaped rear LEDs and the sweeping front indicators that are reminiscent of a high-end Audi. The CNC machined 18-inch alloys of this Koba look the part, too. The appearance can be further enhanced with an optional two-tone roof and some vibrant colour choices such as bronze, yellow or teal. As an added bonus, the mirrors project 'TOYOTA C-HR' onto the pavement at night, no doubt taking a page from Range Rover's book.
Powering all C-HRs in Australia is a 1.2-litre turbo four-cylinder engine that makes 85kW at 5600rpm and 185Nm from 1500rpm-4000rpm. Weight varies between 1395kg and 1480kg depending on the model. You'll notice the power output looks pretty low and that's because Toyota has given this car a low redline for – we suspect – longevity reasons. Of more interest is the 1500rpm peak torque figure, which we'll elaborate on later.
Inside, a new kind of interior for a Toyota awaits you, with a neat, logical layout, clear instrument binnacles bisected by an info screen (and digital speedo) plus soft and tactile materials throughout.
Particular highlights are the high-quality leather used on the steering wheel and seats, piano black dash, origami-style door texture and leaf pattern imprinted into the roof lining. The only letdown is what feels like a legacy infotainment unit, with old graphics, no smartphone mirroring and a dim-witted navigation system that keeps you on your toes.
At least the tuning and volume knobs are where they belong, as are the climate control switches. Fixed guidelines on the reverse camera are a bit of a bummer on a new car with a new platform, it must be said. Audio quality is decent without being exceptional.
The gear lever in particular is a joy to use and feels like Lexus surplus. Combined with an auto-engaging electric park brake, it gives the C-HR a premium feel. The interior is a drastic leap forward from cars like the current RAV4, with some hidden buttons that aren't visible to the driver.
For a vehicle with a sloping roofline, rear seat headroom is better than it has any right to be, with leg and shoulder room also surprisingly decent for this class. The rear seats fold handily flat. A temporary spare tyre in the 377L boot is a mild letdown. Front pews are also quite supportive while being soft, but only the driver's lumbar support is electrically adjustable. The steering column offers a wide range of adjustment giving the C-HR one of the better driving positions in its class.
So far, so good. But how does the C-HR stand up to our comprehensive driving regime?
2017 Toyota C-HR Koba – THE DRIVE
Very well, in many ways. The C-HR is the second vehicle to use Toyota's TNGA platform, after the Prius we drove last year, and it will eventually underpin everything from Yaris to Camry to Corolla.
It is exceptionally strong and well engineered, with all-new double wishbone independent rear suspension, a low centre of gravity as well as a re-think of the steering and front suspension systems – and it shows.
The C-HR does have a soft suspension bias and as a result rides impeccibly over bumps and undulations, and even potholes aren't a big deal. This means there is a tendency for the 1480kg car to roll through the apexes but the inherent balance of the TNGA means it is progressive and well-controlled.
What surprised us most is the steering feel. While not go-kart darty, it is a welcome departure from the lumpiness that you would get in, say, a Corolla, with a magnetic and positive feel from lock to lock. It even provides moderate levels of feedback, making this the most connected-feeling Toyota (86 notwithstanding) in recent history.
Are dynamics up to par with CX-3? Not quite, as that car has a sportier bias and a more confidence-inspiring chassis tune but the C-HR is definitely more luxurious, refined, and comfortable in our opinion. Noise suppression is also commendable and adds to the comfort factor.
The engine is clearly designed for day-to-day usability in the city rather than top-end, and, to be honest, we're thankful for that. Peak torque from 1500rpm makes the C-HR effortless to manoeuvre with power generally on demand when you need it. The CVT is one of the better units we've sampled in this segment, making the most of the engine's torque wave.
The relatively low rpm peak does mean the C-HR is no sports car. We timed a best 0-100km/h of 12.2 seconds. It is breathless at high rpm, with a flat and uneventful note as you try and push it. Nevertheless, it handles cruising and city duties pleasingly with oomph where it counts.
On the freeway, the C-HR remains smooth, hushed and refined with the added bonus of adaptive cruise control at your fingertips.
Fuel economy is quoted at 6.5L/100km on the combined cycle, with our test averaging around the 7.3 mark, even with a lead foot. It does have expensive tastes, however, with a premium-only diet (95 RON minimum). This may explain why the European Corolla (Auris) is available with this engine but ours isn't.
Parking is mostly easy, with good visibility except for the C-pillar, which seems to be the only real trade-off for the wacky styling. Front and rear parking sensors are a godsend here and are well calibrated. Rear cross-traffic alert makes negotiating tricky driveways a cinch.
The C-HR comes with a five-star ANCAP safety rating which is thanks in no small part to its active safety arsenal including forward collision braking. Speaking of brakes, they are decent, with a stopping distance of 40.50 metres from 100km/h and a progressive pedal feel.
2017 Toyota C-HR Koba – THE VIDEO
2017 Toyota C-HR Koba – THE VERDICT
The C-HR is an exciting model for a brand in need of it and a segment of dull me-toos. The concept car looks are backed up by a user-friendly interior, refined chassis and more practicality than you'd expect. It is also super easy to drive with the torquey engine a highlight in city conditions. All of the Toyota attributes of cheap servicing, reliability are sure to still feature since the company would not want to risk a reputation it has spent decade after decade forging through careful evolution.
The C-HR deserves to succeed and we had more people approach us to ask questions than any other mainstream test car since the Citroen C4 Cactus we reviewed last year. One common question put to us was: "Is it better than the CX-3?" A moment of pensive hesitation followed by a cautious nod was often offered in response. We can't wait to see how this chassis reinvigorates other new Toyotas.
PROS:
– Concept car styling with premium LEDs and great colour range
– Interior great to use and look at, everything where it should be
– Great attention to detail
– Surprisingly spacious
– Steering feel; chassis shows promise for future sporting Toyotas
– Low running costs
– Refinement and comfort
– Active and passive safety features
– One of the most exciting Toyotas in a long time?

CONS:
– Styling not to everybody's taste
– Dated infotainment system with flawed sat-nav and fixed guidelines on reverse cam
– Space saver spare
– Thick C-pillar blocks rearward visibility
– Rather heavy for its size
– Engine lacks top end punch; slow 0-100km/h
As always, if you're thinking about buying a new car don't forget to click here to speak with our car buying specialists.