Say hello to the most powerful, most dramatic, and fastest road-going F-Type currently offered in the showroom range. It looks fast, because it is fast. Very fast. With all-wheel drive, Jaguar is billing it as an "all-weather supercar". Do we agree? Read on to find out.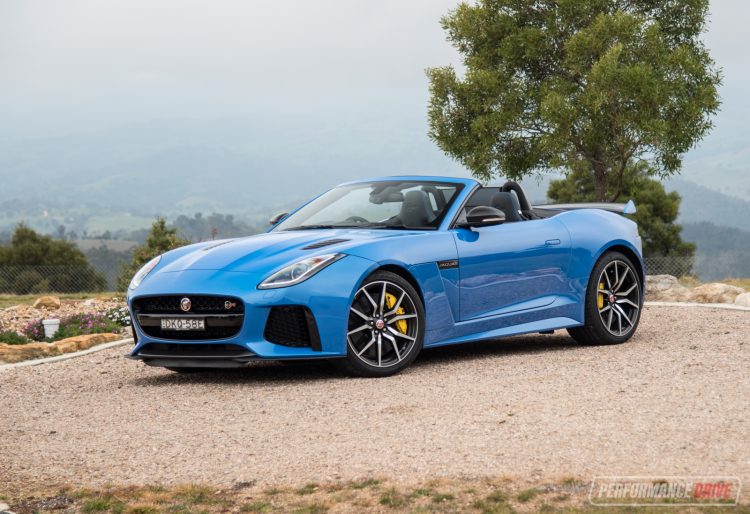 The SVR sits at the peak of the product range in the current F-Type family. It showcases a wild aero kit with front and rear spoilers, not seen on any other F-Type, while the 5.0-litre supercharged V8 engine is massaged to produce a colossal 423kW of power and 700Nm of meaty, tarmac-tugging torque. All of this is channelled through an all-wheel drive system – there's no rear-drive option.
You can take your SVR in suave coupe form or sultry drop-top convertible form, with the latter being the most expensive. Prices start at $290,512 for the coupe, and from $309,212 for the convertible as tested here (all excluding on-roads).
2017 Jaguar F-Type SVR – THE SPECS
Engine: 5.0-litre supercharged V8
Output: 423kW@6500rpm / 700Nm@3500-5000rpm
Transmission: Eight-speed auto
Drive type: All-wheel drive
Wheels: F: 20×9.0, 265/35  R: 20×11, 305/30
ANCAP: Not tested
Tare weight: 1832kg
Power-to-weight: 4.33:1 (kg:kW)
Official fuel economy: 11.3L/100km
Economy during test: 14L/100km
Fuel capacity/Type: 70L/95 RON
Power efficiency: 37.43kW:L/100km
0-60km/h: 2.06 seconds*
0-100km/h: 3.82 seconds*
60-110km/h: 2.41 seconds*
1/8 mile: 7.85 seconds at 1581km/h*
1/4 mile: 11.90 seconds at 197.5km/h*
100-0km/h braking: 2.73 seconds at 34.01 metres*
Decibel at idle: 54*
Peak decibel at 60-100km/h: 95*
Priced from: $309,212
* Figures as tested by PerformanceDrive on the day. Factory claims may be different

2017 Jaguar F-Type SVR – THE PACKAGE
Going for the SVR is a pretty big statement. It not only means you want the meanest version out, it also garners you a garage-load of go-fast components that you can indulge in. You've probably noticed the aero kit, for starters. This comprises of an active rear wing that rises automatically at speeds above 113km/h, along with a re-sculptured front end with bespoke intakes and a lift-mitigating front lip spoiler.
It goes further than the obvious eye-catching details. Engineers were tasked with ensuring the SVR possesses reduced lift and drag compared with the regular F-Type. As such, the front wheel arch liners feature special vents to allow turbulent air to escape, reducing lift at speed. Meanwhile the under-tray on the front end has been crafted to not only aid engine cooling, but also to reduce lift. And at the rear the under-tray is designed to help accelerate airflow from beneath the car, exiting out the back, sucking the car to the ground.
Other componentry includes Jaguar's "Super Performance" braking system with 380mm front and 376mm rear discs. Or, buyers can option for the carbon ceramic setup with 398mm and 380mm discs, respectively. These are fitted to this test car, and even though they do add $20,860 to the bill, they provide extraordinary stopping power and are packaged with 20-inch forged alloy wheels. Further boosting driving confidence is a revised rear suspension configuration with a completely new knuckle arrangement made from lightweight die-cast aluminium. It promises a 37 per cent increase in camber stiffness and 41 per cent increase in toe stiffness, essentially resulting in optimised tyre contact and a more connected steering feel.
The strict two-passenger cabin layout is sculpted much like the exterior, with a curvaceous dash supported by a secure strut that the passenger can hold on to. You get small but snug, hip-hugging bucket seats that are electronically adjustable. We found it easy to find to the perfect driving position, however, if you're tall it might take a little longer. It's an intimate layout, with all controls right in your reach. This means there isn't much room to move about, with headroom and legroom confined leaving, in our opinion, a high sense of driving control and connectedness.
For the SVR you get contrast stitching, matching the exterior paint in this test car's case, along with Alcantara trimming for part of the dash and centre console. The trimming adds a touch of softness to the cabin environment, while the diamond-stitched leather for the seats with bespoke SVR etching complete the package.
Speaking of room, the boot. It's, umm, very small. However, we managed to pack in a weekend's worth of luggage for a quick escape to Majestic Views in the Blue Mountains, so we can confirm the F-Type does offer a level of grand touring ability. Boot space is rated at 207L, which is smaller than most compact-class cars such as the Mazda2 hatch (250L).
2017 Jaguar F-Type SVR – THE DRIVE
Despite looking as scary as the Grim Reaper's scythe, the F-Type SVR is not intimidating to drive. Sure, the seating position is very low with the perched-up dash resulting in a sunken, traditional sports car layout, the actual driving controls are quite light and easy. Jaguar offers a range of driving modes for the driver too, including a docile eco mode which really slackens throttle response and smoothens out the gear changes.
In normal mode the exhaust is in its closed setting and the V8 purrs along like a kitten. Well, maybe a young tiger. The fantastic eight-speed ZF automatic transmission always finds the right gear for the occasion, although, with the engine producing 700Nm from 3500rpm, any gear is often pulled through without any hesitation whatsoever. This means you can trundle around town and just cruise.
If you find yourself out on the highway and need overtake someone, again, you don't necessarily need to open the taps wide. The V8 will gather speed quicker than you anticipate. On the other hand, if you're passing a Toyota Prius or something similar, you can open the throttle wide and the exhaust will automatically open to its loudest setting. This lets out an almighty growl and crackle, loud enough to frighten the hell out of other motorists. It's so abrupt and almost violent, the sound. And the acceleration is just as savage.
Across the regular timed sprints we saw 0-100km/h come up in just 3.82 seconds (just off the official claim of 3.7), with the quarter mile coming up in an eye-opening 11.90 seconds. These real-world figures mean it is snapping right at the heels of a full-blown supercar, including those from Lamborghini and McLaren.
Even though the acceleration is mind-blowing, for us, it's the sheer response from the engine and transmission that gets our hearts racing. In Dynamic mode the throttle is super sensitive, requiring a mere breath of application to influence forward momentum. This means you can dart like a wasp from apex to apex in the corners.
You really need a race track to fully explore the capabilities of the SVR, but out on your favourite mountain road it is both lots of fun and quite serious. This isn't a car that you can just throw around like an MX-5, not in terms of using the throttle anyway. It will pick up speed much quicker than you expect.
On the other hand, grab it by the scruff of the neck and really get under it, and it will respond. It enjoys driving enthusiastically. We've always loved the F-Type's balanced and stiff chassis, and the awesome steering. You're fed lots of communication through the wheel and you can feel the car squirming and fidgeting right under your seat, like you're bolted directly to the platform. And with that excellent driving position, it's pure confidence-inspiring, helping you feel at one with the car.
There's no understeer to report, unless you're way off line and expecting too much from it. And oversteer is really only possibly via momentum, not under power. The clever all-wheel drive system must be working overtime to distribute all of that power and torque, because you can apply lots of it mid-corner and it will not step out. Even tipping it in with a bit of weight shift and then getting on the gas early does not upset the tracking. Instead, the rear wheels follow almost exactly where the front wheels go.
In our view the SVR's forte is sprinting between corners with its intense response and all-paw grip, while high-speed stability through longer sweepers is incredible. It's a true driver's car. It can feel heavy at times, and almost too planted and solid, but about the only real down side is that you can't enjoy smokey, tail-out drifts. For that you'll need to step down to the 405kW F-Type R.
Overall, the driving pleasure and excitement is out of this world. With the roof down and the sound of that epic V8 engine barking loud – almost too loud at times – you're taken to another world of motoring. It's surreal. The fact that it is so sure-footed and stable takes away any nerves that might be taunting you, leaving seriously smile-inducing sensations striking through your body. We do need to give special mention to the optional carbon ceramic brakes, which, for our tests, pulled up the crazy cat from 100km/h in just 34.01 metres.

2017 Jaguar F-Type SVR – THE VIDEO
2017 Jaguar F-Type SVR – THE VERDICT
Jaguar's Special Vehicle Operations department has successfully taken a sexy and modern incarnation of the classic E-Type and turned it into an amazingly quick and sharpened precision instrument suitable for any circuit or mountain road. With all-wheel drive it means it does offer genuine all-weather performance, and it is accessible to a wide range of driver skill levels. And best yet, it still possesses that downright gorgeous body design that attracts praise from all walks of life. What a machine.
PROS:
– Incredibly responsive acceleration
– Jaw-dropping design
– Sure-footed handling, with AWD
– Sublime steering
– Exclusivity

CONS:
– Small boot
– Cabin could be tight for some
– Sometimes too loud?
As always, if you're thinking about buying a new car don't forget to click here to speak with our car buying specialists.
Location: Majestic Views accommodation, Blue Mountains