Ferrari has used the Concours d'Elegance event at Pebble Beach to unveil the drop-top version of its hardcore V8 model. Welcome to the Ferrari 488 Pista Spider.
For those reading about the Pista for the first time, apart from having an unusual name, the 488 Pista is a stripped-out, track-ready version of the 488 GTB. It's lighter weight, more powerful, and features hardcore components that help it set consistently mind-blowing lap times at the track.
This Spider version comes in as Ferrari's 50th drop-top model, and the company says North America is the perfect place to unveil it to the world. North America has long been a major market for high-performance drop-tops, Ferrari says, and this is perhaps one of the highest performance drop-tops currently available.
Propulsion comes from an award-winning 3.9-litre twin-turbo V8 engine. It develops an unbelievable 530kW of power and 770Nm of tarmac-torturing torque. This is sent through a seven-speed dual-clutch auto and into a rear-wheel drive system.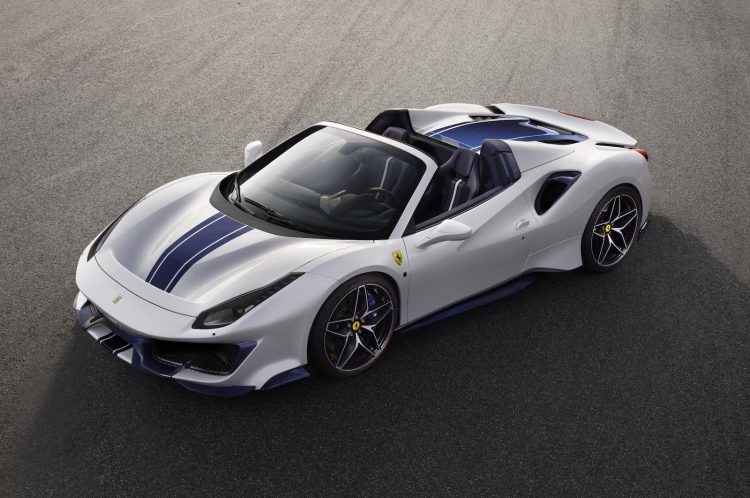 Details of the potential straight-line performance figures haven't been outlined. However, Ferrari says the new Spider offers "razor-sharp" acceleration, "unending" all the way to the redline. As a guide, the coupe version does the 0-100km/h sprint in just 2.85 seconds, with 0-200km/h coming up in 7.6 seconds. That makes it quicker than the Nurburgring record-holding Lamborghini Aventador SVJ (2.8 seconds and 8.6 seconds).
It's not just about engine power, though. As mentioned, the Pista features weight reduction, via a number of carbon fibre parts and removed luxuries. Inside, the carpet is removed and replaced by aluminium foot plates, and a lot of trimming is either Alcantara or carbon fibre. For the exterior there's a carbon aero kit which provides added downforce over the regular 488, with 20-inch diamond-finish wheels or optional one-piece carbon fibre wheels that are 20 per cent lighter.
Also helping with track performance, the 488 Pista Spider comes with a new lateral dynamics control system that Ferrari calls 'Ferrari Dynamic Enhancer' (FDE). According to the company this system "makes on-the-limit driving more intuitive, controllable and predictable."
The new model is set to go on sale later this year. Details regarding an Australian market arrival and prices are yet to be confirmed. As a guide, the 488 Pista coupe retails from AU$569,888 (excluding on-roads) – about $100,000 more than the regular 488 GTB coupe.