Both Honda and Hyundai are on the verge of launching some very spicy super hatches to our market. The 202kW i30 N with input from former BMW M division boss, and the Nurburgring front-drive record-holding Civic Type R are both cars we're very excited about and eager to drive.
In the meantime we've assembled the tamer sports versions for a head-to-head comparison; 2017 i30 SR Premium versus 2017 Civic RS. Are they a suitable entree for the aforementioned main course dishes?
The 150kW/265Nm i30 SR Premium is priced from $33,950 in auto guise, while the 127kW/220Nm Civic RS is from $32,950. Honda doesn't offer a manual in Australia, leaving us with the CVT auto.

2017 Honda Civic RS vs Hyundai i30 SR Premium – The SPECS
| | 2017 Honda Civic RS | Hyundai i30 SR Premium |
| --- | --- | --- |
| Engine | 1.5-litre turbo four-cylinder | 1.6-litre turbo four-cylinder |
| Output | 127kW@5500rpm / 220Nm@1700-5500rpm | 150kW@6000rpm / 265Nm@1500-4500rpm |
| Transmission | CVT automatic | Seven-speed dual-clutch auto |
| Drive type | Front-wheel drive | Front-wheel drive |
| Wheels | F & R: 17×7.0, 215/50 | F & R: 18×7.5, 225/40 |
| ANCAP | Five stars (scored 34.68 out of 37) | Five stars (scored 35.01 out of 37) |
| Tare weight | 1337kg | 1435kg |
| Power-to-weight | 10.52:1 (kg:kW) | 9.56:1 (kg:kW) |
| Official fuel economy | 6.1L/100km | 7.5L/100km |
| Economy during test | 8L/100km | 9L/100km |
| Fuel capacity/type | 47L/91 RON | 50L/91 RON |
| Power efficiency | 20.81kW:L/100km | 20kW:L/100km |
| 0-60km/h | 3.64 seconds* | 3.65 seconds* |
| 0-100km/h | 7.48 seconds* | 7.19 seconds* |
| 60-110km/h | 5.08 seconds* | 4.65 seconds* |
| 1/8 mile | 10.22 seconds at 119.0km/h* | 10.14 seconds at 123.0km/h* |
| 1/4 mile | 15.60 seconds at 148.3km/h* | 15.37 seconds at 152.1km/h* |
| Max acceleration | – | – |
| 100-0km/h braking | 3.06 seconds at 39.94 metres* | 2.89 seconds at 36.91 metres* |
| Max deceleration | – | – |
| Decibel at idle | 40* | 37* |
| Peak decibel at 60-100km/h | 80* | 77* |
| Priced from | $32,290 | $33,950 |
* Figures as tested by PerformanceDrive on the day. Factory claims may be different.
2017 Honda Civic RS vs Hyundai i30 SR Premium – THE PACKAGE
Both vehicles here are all-new for 2017 designs. The Civic hatchback and i30 have both only debuted within the last few months.
The i30 is a conventional, upright hatchback which is fresh, modern and premium while the Honda is a razor-edged and dramatic design, with a concept car-esque front end and a wedgier shape. Detail highlights such as the central exhaust tips and split rear window give it more visual wow-factor than the i30. The pastel blue/grey hue of our test vehicle is very striking and distinctive.
The interior of the i30 is a very modern, up to date design, with excellent materials and ergonomics. Red highlights on the dash, steering wheel, seatbelts and vents are a thoughtful touch. Very comfortable seats feature 10-way electric adjustment for driver, including lumbar that is not available on the Civic.
Dimensions for the Civic are 4515mm long, 1799mm wide, 1421mm tall, on a 2700mm wheelbase. The i30, at 4340/1795/1455 and 2650mm, is shorter, around the same width, taller and has a 50mm shorter wheelbase. Despite this, it's the Civic that has the roomier 'big car' feel, with its angular cockpit design, 3D digital instrument binnacle and more heavily bolstered seats. It's the i30 that has more generous boot space at 395L versus 330 – the sloping roofline eating into the Civic's usable area, with no Magic Seats this time round to redeem itself.
Both have electronic park brakes, reverse cameras, five-star ANCAP safety ratings but the Civic has a nifty side-view camera for left lane changes. The i30 counters with sat-nav and speed camera alerts, plus adaptive cruise control, and a full panoramic sunroof instead of the Civic's regular sunroof. These give it a significant standard equipment advantage that continues into our next category.

2017 Honda Civic RS vs Hyundai i30 SR Premium – Entertainment
Both have colour displays, incorporating Apple CarPlay and Android Auto but the Civic lacks satellite navigation, meaning you will have to rely on the smartphone apps. The capactive touch volume adjustment is not fun to use, with volume flare-up happening at times. The i30's tuning and volume buttons are the right way here and even Honda acknowledges this, reverting to buttons for the new CR-V and Accord models. Honda counters this with a 12-speaker stereo versus Hyundai's six, providing more sound definition and better clarity across the range, but the Hyundai's is still pretty decent.
Using the touch-screen to select a radio station on the move is bewildering in the Honda, with DAB and FM menus combined. You'd better select your presets before you set off. Climate control relies on the touch-screen, meaning you can't just glance and feel like in the Hyundai. Although the Hyundai has more features and is ergonomically sound, the Honda's unit looks better and has superior audio quality, so this round is a tie.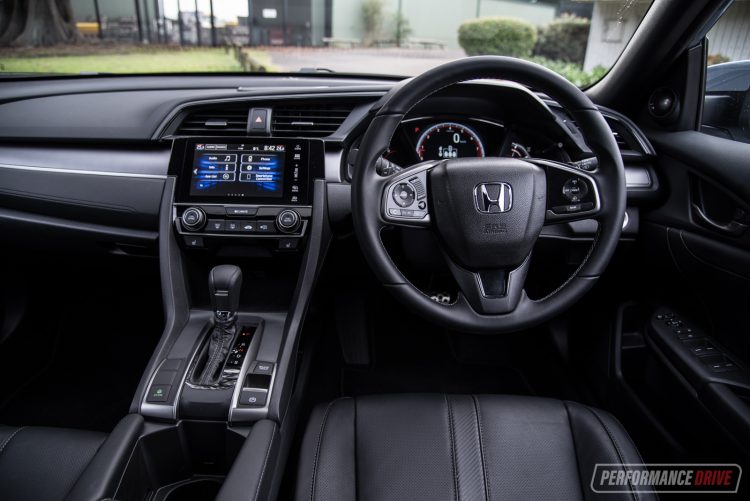 2017 Honda Civic RS vs Hyundai i30 SR Premium – The DRIVE
Although the Civic has a power deficit with 127kW from its 1.5-litre turbo engine versus 150kW from Hyundai's 1.6T, the Honda is the lighter car at 1337kg versus 1436kg. Nevertheless the Hyundai's power advantage as well as the fact it uses a dual-clutch automatic, instead of Honda's CVT, equates to a quicker tested 0-100km/h time of 7.1 seconds versus 7.5.
In the real world, both feel spritely with the Honda's turbo and CVT combo making it feel like a snowmobile. The dual-clutch Hyundai is annoyingly hesitant off the line, but this is followed by a surge in power delivery that can overwhelm the front wheels. The stability control is at the ready to keep this in check, though.
It's the Civic that rides better and feels more insulated, continuing its big car feel. It is superbly balanced and a keen handler with superior steering feel but cedes outright agility to the i30. At the cost of outright agility, the Civic just wins on comfort. Both are very composed in tight and flowing corners alike and are mildly entertaining in their own right. The i30 does have the option of a six-speed manual, which is a sweet-shifting unit with well spaced ratios, while the Civic is stuck with a paddle shift CVT. Both have paddle shifters, with the Hyundai's offering crisp and immediate shifts and more involvement, while the paddles on the Honda are almost pointless.
The i30, thanks in no small part to its Australian tuning program, gets the nod here as the more entertaining driver's car by a slim margin. It is also easier to manoeuvre and place in car parks than the slant-nosed Civic.
The U.S- market Civic Si with a comparable 150kW tune of the same engine and a six-speed manual sounds like a far more entertaining proposition that would shift the outcome, but we'd take the i30 SR for overall driver enjoyment.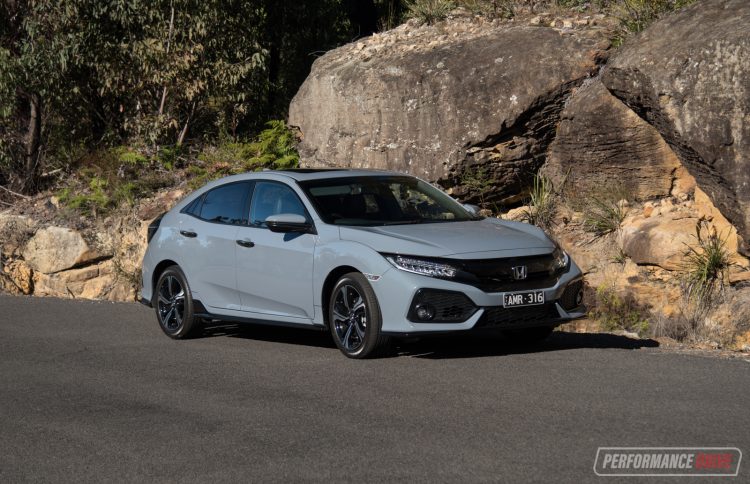 2017 Honda Civic RS vs Hyundai i30 SR Premium – Cost of ownership
The i30 SR's official fuel consumption is rated at 7.5L/100km while Honda quotes a miserly 6.1L/100km for the Civic RS. Real world averages worked out at around 9.0 and 8.0L/100km respectively, meaning the Civic is cheaper to refuel.
Both offer capped-price servicing at 10,000km intervals. Hyundai quotes $269 for each service up to 60,000km at which point the price goes up to $435, before varying up to 100,000kms.
The Civic's capped-price services are uniformly $281 until 100,000km except for 80,000km which is $301. This means up to 50,000km the i30 is cheaper to service at $1345 versus $1405, while up to 100,000 the Civic totals $2839 against the i30's surprisngly pricier $3180.
Hyundai's five year/ unlimited kilometre warranty is one of the industry's best, beating Civic and its three-year/100,000km effort. Roadside assistance is also standard on the Hyundai but optional on the Civic.

2017 Honda Civic RS vs Hyundai i30 SR Premium – Safety
Both are five-star ANCAP vehicles, with the Hyundai scoring marginally better for side impacts and the Honda for frontal. The i30 has a higher overall score of 35.01 out of 37 versus 34.68, but we really are splitting hairs.
On the active safety front, i30's autonomous emergency braking is only available in the higher up Civic VTi-LX. Braking distances from 100km/h are 39.94m in the Civic and a surprisingly short 36.91m in the i30, favouring the i30 in repeated tests.
This is much-of-a-muchness but a very, very slim edge goes to the i30.
2017 Honda Civic RS vs Hyundai i30 SR Premium – THE VIDEO
2017 Honda Civic RS vs Hyundai i30 SR Premium – THE VERDICT
This is one of the closest comparisons we've ever conducted. Both cars are well put together, enjoyable to drive and fought the good fight here. Despite its slightly higher fuel consumption and long-term service costs, the i30 has superior ergonomics, far more standard equipment and more grunt from its engine. It feels more agile than the Civic, despite being heavier, even if its steering feel is not as good.
What lets the Civic down as a sporting hatch is the standard CVT auto, and performance that can't match the i30 SR – which is close to Golf GTI territory – along with some annoying ergonomic issues. It's undeniable, though, that the Civic is more stylish, comfortable and, in some ways premium so it is a matter of taste.
If you can live without its premium trinkets and auto, the $25,990 i30 SR manual is outstanding value for money. As we said earlier, if this was the U.S.-market Si with 150kW and a six-speed manual, the pendulum would swing back in the Honda's favour.
As always, if you're thinking about buying a new car don't forget to click here to speak with our car buying specialists.