The Masters Shopping Trolley is the fastest trolley in the shopping scene, probably. It sports an aggressive bodykit with front and rear spoilers, two steering wheels, and great cargo capacity. It's also completely free, to borrow.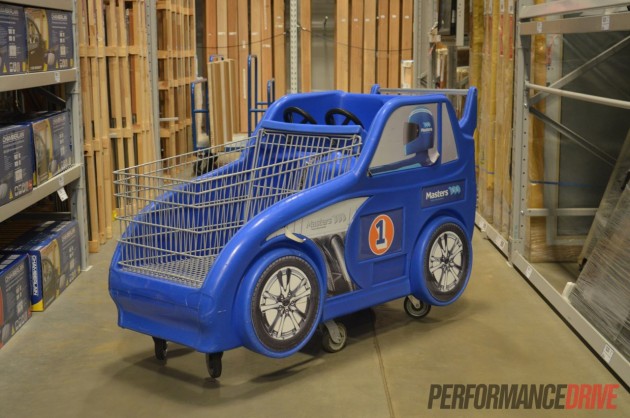 MASTERS SHOPPING TROLLEY – PROS AND CONS
PROS:
Racy looks
Boot space
Exceptional fuel economy with zero emissions – organic engine
Six-outlet flame-spitting exhaust sticker
Great isle maneuverability thanks to extended wheelbase and middle axle
CONS:
Prone to wonky wheel syndrome
Can be difficult to control when fully laden
External ride-on fun on the front is impossible due to the spoiler
MASTERS SHOPPING TROLLEY – OVERVIEW
The Masters item transportation device is the only two-seater sports trolley available, that we're aware of. It features the usual cage-like cargo area in the front which can store up to one week's worth of groceries, while it also offers aerodynamic enhancements and a six-wheel design never before seen in the industry.
Further separating the Masters trolley from the rest is an extended wheelbase with a middle axle system. Although agility is compromised, the trolley handles much more securely, especially at speeds above walking pace.
Although you can't actually purchase the sports trolley from a conventional 'shopping trolley outlet', they are available to use at your local Masters hardware store at no charge.
MASTERS SHOPPING TROLLEY – ACCOMMODATION AND EQUIPMENT
Featuring two seats, occupant capacity is one of this trolley's strong points. Legroom is extremely restricted though and really only suitable for children, or adults who are very eager to try and climb aboard.
The interior decor is rather mono-tone with just one shade of blue used throughout. The build quality seems fairly robust, however, the plastics used, or more precisely, the single plastic dash and panels which wrap all the way down to the front spoiler, is very hard and scratchy.
The twin steering wheels are small sporty items. Unfortunately, there are no steering wheel-mounted controls for any of the in-car functions. In fact, there are no functions, with no air-conditioning and no instrument cluster or even a speedo in sight.
Seat belts are standard fitment and are adjustable. We're not sure they are completely necessary while operating the device indoors.
MASTERS SHOPPING TROLLEY – DESIGN AND SAFETY
Peppered with racing stickers including a number '1' emblem on the sides, the two-seater sports trolley is no doubt a performance piece of shopping equipment. Although the aerodynamic technologies have not been wind-tunnel tested, they sure do look the part.
The rear spoiler is eye-catching and accentuates the energetic nature of the trolley. To improve practicality, the fetching spoiler also doubles as a push handle.
In terms of safety, this particular trolley that we tested showed utter resilience to damage after repeated scuffs with various objects. Australia's ANCAP hasn't specifically crash tested the Masters trolley – or indeed any other trolley – as it is only a trolley.
MASTERS SHOPPING TROLLEY – IN THE ISLE
The Masters trolley has a very firm and rigid ride due to the lack of suspension and hard plastic wheels. This kind of setup is perfect for racing, and eliminates any chance of body roll or tyre flex.
The wheels, while they are great for escalators, provide little to no give when it comes to concrete or lino connections. Again, it proves this trolley has a true racing pedigree at heart.
Unlike more conventional trolleys, the six-wheeled Masters racing trolley isn't able to perform long isle-to-isle sideways drifts. This is due to the swivel-less middle axle. It's more at peace taking the racing lines and holding on throughout the turn.
Using one of the two steering wheels, the Masters trolley is impossible to navigate around a set of isles or floor stacks. The steering feels extremely disconnected. You often find yourself accidentally bumping into shelf skirting boards and sometimes other trolleys. It's also very easy to get yourself into a pickle when trying to undertake a U-turn.
MASTERS SHOPPING TROLLEY – VERDICT
All in all, the Masters sports trolley is a fun piece of equipment and certainly more exciting than any other trolley that we have tested. (We have not tested any other trolleys.)
MASTERS SHOPPING TROLLEY – THE COMPETITORS
Woolworths, Kmart and Coles 'conventional' trolley
With no body panels and no steering wheels to play with, the rivals are nowhere near as engaging or race-ready as the Masters unit. The four-wheel layout is more agile than the six wheels though.
MASTERS SHOPPING TROLLEY – SPECIFICATIONS
MODEL
Masters Shopping Trolley
ENGINE
Living organism – human beings, or well-trained dogs or monkeys
KERB WEIGHT
Approximately 30kg
DRIVETRAIN
Arms and legs
BRAKES
Sports shoes recommended
WHEELS / TYRES
F and R: 10-inch 'mag' wheels with sports tyres stickers
FUEL TYPE
Organic
FUEL CONSUMPTION
Tested average: 1c/15is*
(* Coffee per isles, based on the standard 20-metre isle)
PERFORMANCE
0-100km/h: Entirely dependent on the gradient of a hill
PRICED FROM
Mostly free
WARRANTY
Easily replaceable in the event of a breakdown