Greenpeace has attacked Volkswagen following the recent emissions scandal, taking a creative photo with a VW sign in the background.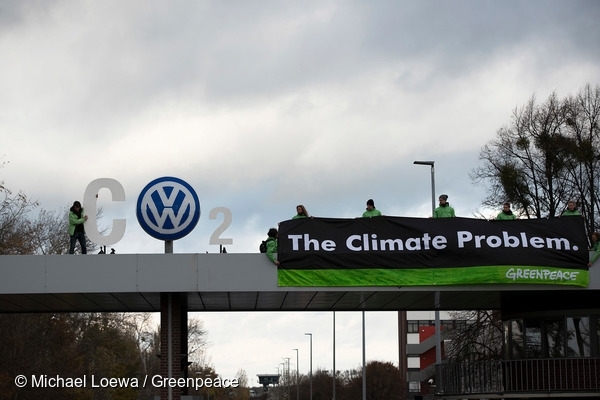 Holding up a giant C and 2 next to the logo of the company, creating "CO2", Greenpeace hung a banner on a bridge saying "The Climate Problem". This was all done in front of Volkswagen's headquarters in Wolfsburg, Germany.
Obviously the emissions scandal has upset quite a lot of people, including Greenpeace activists, with the company misleading millions of customers around the world, as well as employees within the company after it was found to be cheating emissions tests for the past several years.
Greenpeace activists are not only targeting Volkswagen with its campaign though, but also the way governments are 'bowing' to the car industry. In a statement, the organisation said:
"In the lead-up to the UN climate talks in Paris next month, Volkswagen's emissions scandal has now cast an even brighter spotlight on the road transport sector and how governments and regulators need to ensure the industry cleans up its act. This requires a seismic shift in how governments have up until now bowed to the car industry lobby and too often opted to ease regulations rather than improve car testing systems to keep dangerous, polluting cars off our roads."
Greenpeace also wants Volkswagen to reveal the full extent of its emissions. Volkswagen was planning to reduce its fleet emissions to 95g/km by 2020, but now it is unknown precisely what emissions average it is currently at.
So far around 11 million vehicles around the world are known to be affected by the scandal. This will require a massive recall of all vehicles. It was recently found the 3.0 TDI engine also uses illegal components, with some regions, including Australia, yet to find out if local vehicles are affected – that 11 million figure might end up being much higher.