The national VFACTS vehicle sales figures for Australia for June 2015 have been released, and for the first time since 1998, a Hyundai stands at the top of the popularity board.
Starting with the most popular car brands, Toyota is still the front-runner, posting impressive figures compared with the previous month. Toyota sales were also up on June sales from last year, posting around 700 more this year.
As for the top 10, Holden has overtaken Mazda and Hyundai from May to take second place in June. Meanwhile, Honda has moved back up into ninth place, pushing Kia out of the top 10. The top ten brands for June 2015 were as follows:
Toyota – 21,501 (up from 15,928 of May 2015)
Holden – 11,928 (up from 7956)
Mazda – 11,526 (up from 8717)
Hyundai – 11,007 (up from 8269)
Mitsubishi – 9011 (up from 6149)
Ford – 7251 (up from 5994)
Volkswagen – 7103 (up from 5534)
Nissan – 6636 (up from 4467)
Honda – 5311 (up from 3086)
Subaru – 4502 (up from 3776)
In a surprise move, the Hyundai i30 has come out of nowhere to become the best-seller of the month. It recorded a massive 5521 sales, which is a record for any Hyundai vehicle ever in Australia. In fact, the last time a Hyundai vehicle topped the charts was back in 1998.
With the regular Mazda3-Corolla battle, it was the Corolla that just edged out in front in June. Toyota's HiLux managed to sneak in between the two hatches, resulting in second place overall for the month. The top five models in terms of outright sales for June 2015 were as follows:
Hyundai i30 – 5521 (up from 1666)
Toyota HiLux – 4281 (up from 3173)
Toyota Corolla – 4152 (up from 2688)
Mazda3 – 4127 (up from 2876)
Mitsubishi Triton – 3526 (up from 2683)
Part of the reason Toyota topped overall sales was because of the Camry, as usual. During June it reported 2602 sales, far ahead of its May effort of 1464. This may have been helped by the launch of the new model. In second place in the Medium Cars under $60,000 segment, a long way behind, was the Mazda6 with 537 sales, followed by the Subaru Liberty with 438 sales. As you can see, the Camry simply dominates the segment, even if a lot of the sales are likely made up of fleet contributions.
Moving up into the premium-focused Medium Cars over $60,000 category, the Mercedes-Benz C-Class maintains its strong lead. The Lexus IS sedan posted some decent figures, enough to nudge it into fourth place ahead of the Audi A4, while the Mercedes CLA forged past the BMW 3 Series for second place. The top five in this segment were as follows:
Mercedes-Benz C-Class – 890 (up from 703)
Mercedes-Benz CLA-Class – 443 (up from 287)
BMW 3 Series – 367 (down from 423)
Lexus IS – 284 (up from 205)
Audi A4 – 175 (down from 251)
In the larger, cheaper, and mostly home-grown Large Cars under $70,000 segment, the Holden Commodore seems to be holding strong figures. It recorded 2772 sales during June, well up on May's 2217 sales effort. Dwindling behind, as usual, the Ford Falcon posted 531 sales (up from 520). Falcon sales were so low the Toyota Aurion overtook it, reporting 563 sales.
Up in the luxury-focused Large Cars over $70,000 category, it's the Mercedes E-Class that continues to lead the way. Its arch rival, the BMW 5 Series, has turned around and is starting the catch the Merc though. All top five standings remain in the same positions as the previous month. The top five in this segment were as follows:
Mercedes-Benz E-Class – 185 (up from 92 of May)
BMW 5 Series – 90 (up from 51)
Audi A6 – 83 (up from 51)
Jaguar XF – 54 (up from 41)
Mercedes-Benz CLS-Class – 39 (up from 36)
Over into the fun cars now, starting with the Sports Car under $80,000 segment. Holden's new Astra-based Cascada convertible seems to be off to a pretty good start after hitting the market on a couple of months ago. There's no fending off the Toyota 86 though, which posted the highest figure. This was helped by slumping Hyundai Veloster sales. The top five models in the category were as follows:
Toyota 86 – 276 (up from 256)
BMW 2 Series Coupe/Convertible – 167 (up from 162)
Hyundai Veloster – 87 (down from 143)
Audi A3 convertible – 73 (down from 81)
Holden Cascada – 72 (up from 58)
(Subaru WRX – 312 [up from 279] – not officially in this segment)
Further up the food chain, the Sport Cars over $80,000 segment was led by the BMW 4 Series once again. Sales are down on the previous month's efforts though, closing the gap between it and the ageing Mercedes C-Class Coupe. The top five in this category were as follows:
BMW 4 Series Coupe/Convertible – 171 (down from 198)
Mercedes-Benz C-Class Coupe – 122 (down from 131)
Mercedes-Benz E-Class coupe/convertible – 115 (up from 54)
Audi TT – 99 (up from 79)
Audi A5 – 57 (down from 64)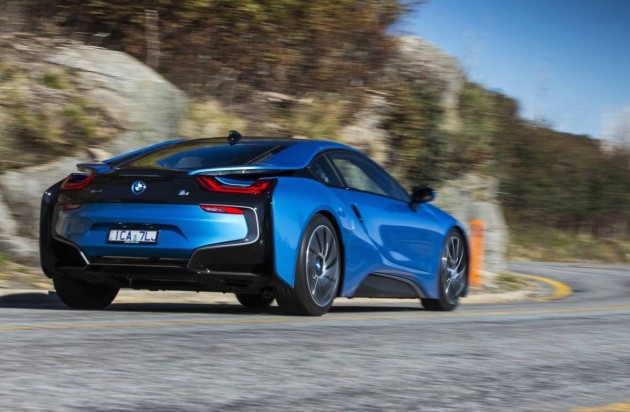 As for the pinup poster Sport Cars over $200,000 class, the Porsche 911 is still the king. BMW shows promise with its highly-advanced i8 hybrid, moving into fourth place for the segment, just fending off the Mercedes S-Class Coupe. The top five in the category during June 2015 were as follows:
Porsche 911 – 33 (down from 38)
Ferrari (models not specified) – 17 (up from 14)
BMW 6 Series – 14 (down from 20)
BMW i8 – 12 (up from 6)
Mercedes-Benz S-Class Coupe – 10 (up from 7)
As for the tradesman favourite, the 4×4 ute class, it was paved by the Mitsubishi Triton once again. It outshone the HiLux, with 2982 sales versus 2862 for the Toyota. Ford followed in third with the Ranger, posting 2647 sales.
In terms of combined Combined 4×2 and 4×4 ute numbers, it's a slightly different story. The Toyota wins out overall, with the Triton in second place, followed by the Ford. The top ten standings remained unchanged from May standings. The top ten 4×2 and 4×4 combined figures for June 2015 were as follows:
Toyota HiLux – 4281 (up from 3173)
Mitsubishi Triton – 3526 (up from 2683)
Ford Ranger – 3372 (up from 2411)
Holden Colorado – 2358 (up from 1580)
Isuzu D-Max – 1904 (up from 1175)
Mazda BT-50 – 1396 (up from 1073)
Nissan Navara – 1280 (up from 824)
Volkswagen Amarok – 1230 (up from 811)
Foton Tunland – 112 (up from 103)
Ssangyong Actyon Sports – 18 (down from 21)
Lastly, the increasingly popular SUV segments. In the heating up compact class, the Hyundai ix35 stands at the top with impressive figures this time around. Honda's new HR-V is creeping up though, shadowing down on the Mitsubishi ASX. In the class above, in the over $40,000 small class, the Lexus NX stormed ahead of all rivals quite easily.
Up a size and it's the Mazda CX-5 that clearly takes the cake. It reported a huge 2512 sales in June, almost enough to overtake the Holden Commodore. This left the Nissan X-Trail and Toyota RAV4 to fight it out. BMW posted big numbers in the luxury class of this size with the X3, blasting the often class-winner out of the water.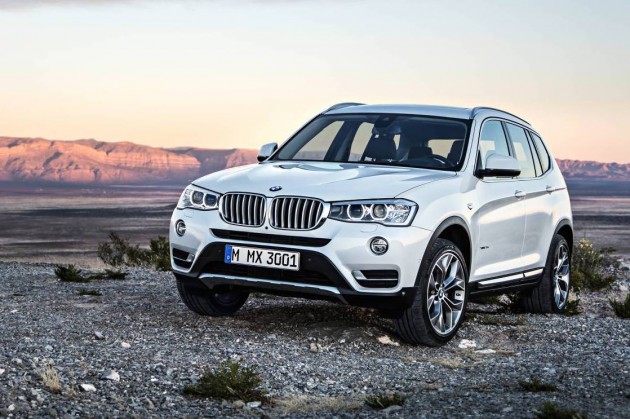 In the bigger segments, the Subaru Outback managed to jump in front of the Jeep Grand Cherokee and popular seven-seat rivals, good enough for third place. Meanwhile, the BMW X5 followed its smaller brother to post impressive figures in its category. In all SUV segments the most popular models during June 2015 were as follows:
SUV Small under $40,000:
Hyundai ix35 – 1723 (up from 1395)
Mitsubishi ASX – 1358 (up from 950)
Honda HR-V – 1300 (up from 910)
SUV Medium under $60,000:
Mazda CX-5 – 2512 (up from 1981)
Nissan X-Trail – 1795 (up from 1317)
Toyota RAV4 – 1749 (up from 1633)
SUV Medium above $60,000:
BMW X3 – 540 (up from 366)
Audi Q5 – 407 (down from 412)
Volvo XC60 – 295 (up from 156)
SUV Large under $70,000:
Toyota Prado – 1723 (up from 1349)
Toyota Kluger – 1556 (up from 1045)
Subaru Outback – 1257 (up from 988)
SUV Large above $70,000:
BMW X5 – 651 (up from 376)
Mercedes-Benz M-Class – 351 (up from 260)
Volkswagen Touareg – 312 (up from 251)
SUV Upper Large under $100,000:
Toyota LandCruiser – 888 (up from 826)
Nissan Patrol – 122 (down from 132)
Total new vehicle sales in Australia in June were up on May's efforts. During June, Australian buyers purchased 125,850 vehicles, compared with 93,327 in May. Sales were up 6.4 per cent compared with June 2014 as well, and year-to-date figures are up 3.3 per cent.
In terms of what fuel type buyers went for in June, hybrid sales really moved up in June, however, petrol power is easily the preferred choice. EVs were more popular than LPG vehicles once again. The figures for private buyers in terms of vehicle fuel type were as follows (passenger, SUV, and light commercial combined):
Petrol – 53,214 (up from 36,362 of May)
Diesel – 17,823 (up from 12,750)
Hybrid – 554 (up from 331)
Electric – 32 (up from 17)
LPG – 25 (up from 13)