It seems like only yesterday the all-new 2015 Mustang was revealed around the globe, including in Sydney. Now, Ford has lifted the lid on the 2016 version. Keen to keep things fresh, the company has released a brand new list of extras for the iconic muscle car.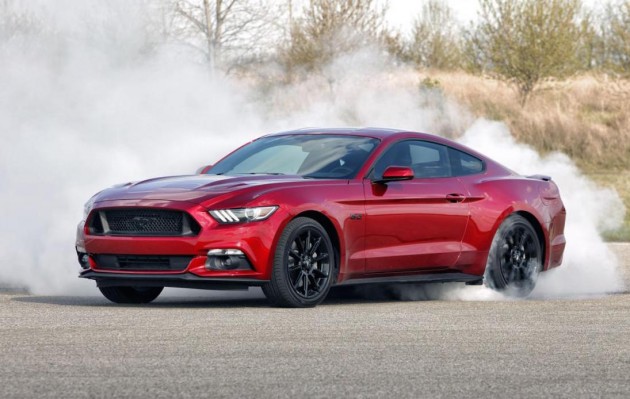 In terms of major changes and updates, the 2016 Mustang remains relatively unchanged from last years introductory model, with no major revisions to the styling, chassis or powertrain.
However, Ford is offering a fairly substantial Performance Package that can be optioned for the new Mustang GT Convertible, which includes a chassis tune, revised suspension, larger radiator, Brembo brakes, and a limited-slip differential.
There is now more personalisation opportunities than ever when it comes to the Mustang too, with several packages like the Pony, California Special, Black Accent and Performance packs.
The Pony pack consists of a new set of 19-inch alloy wheels, a tri-bar Pony logo, chrome around the windows and a very subtle stripe across the side of the car.
The California Special package gives the Mustang a host of new luxuries like 19-inch black-painted wheels, an Ebony leather interior, unique aluminium dashboard, and of course, stripes on the hood and doors.
The Black Accent package continues in much the same manner, but with black highlights in almost every direction. In an ode to its history, Ford is offering the 2016 Mustang with some special touches like indicators in the hood vents, styled from the 1967 Mustang. Melanie Banker, Mustang marketing manager, said,
"Mustang enthusiasts are not shy about telling us what they want. These new hood vent indicators for the GT model are a perfect example of us communicating customer feedback to Mustang engineers and the team responding with an exclusive new feature for owners of the 2016 Mustang GT."
The 2016 Mustang is set to hit US dealerships in the third quarter of this year. Ford Australia is still yet to launch the 2015 version, however, some of these updates may be carried across next year.