This is it, the all-new 2015 Mazda MX-5. It made its international debut simultaneously at events held in Japan, Spain, and the USA.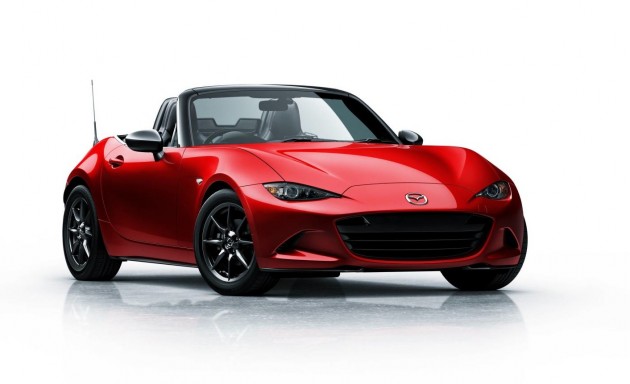 Now in its fourth generation, the MX-5 has lived on to be the most successful open-top sports car in history. It's even in the Guinness Book of Records for such a feat. The latest model was developed not just to be an evolution, but to "innovate in order to preserve".
The design incorporates Mazda's latest KODO 'Soul of Motion' styling language, with a large 'manta-ray-mouth' front grille, squinting headlights, and curvy wheel arches. According to Mazda it has all been created to make the driver and passenger stand out.
From the side you get the classic silhouette of a roadster, with rising wheel arch sections for a sexy look, as well as a low-slung cabin area with a long bonnet.
Mazda has confirmed the new model is more compact than any previous model, ensuring it offers pure driving dynamics and fun. It measures 3915mm in length, 1730mm in width, and 1235mm in height. It's also around 100kg lighter weight than the outgoing model, further reiterating its fun-driving philosophy.
Taking a look at the interior and you'll notice a modern array of features, including a touch-screen interface up top and a fresh dash with circular themes like the outgoing model.
As for the engine? Well, unfortunately Mazda is yet to reveal what powers the new sports car. According to rumours and reports, we could see a 2.0-litre naturally aspirated engine producing around 130kW, or, a smaller, possibly 1.5-litre turbo engine producing slightly less.
More details will be revealed later this year.