Hot hatch fans will rejoice at news Renault has officially launched its new Clio R.S. 200 EDC in Australia. Starting at just $28,790 for the Sport edition and $36,790 for the Cup Trophy at the top end, the Clio is on sale from today.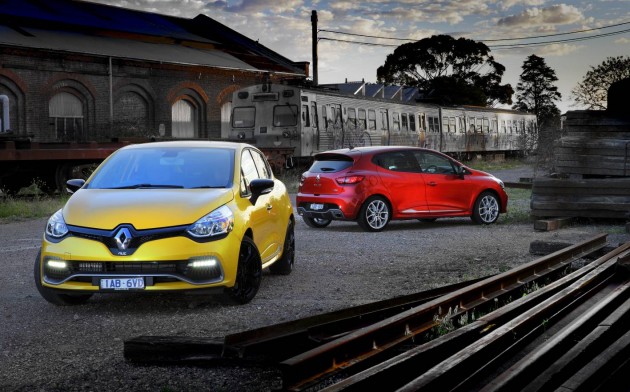 The sporty Clio is powered by a four-cylinder 1.6-litre turbocharged engine which makes 147kW. Backing up the engine is a new six-speed auto transmission with what Renault calls an Efficient Dual Clutch. Maximum torque comes in at 240Nm at 1750rpm.
In terms of speed, the Clio reportedly clocks 0-100km/h in a nimble 6.7 seconds. And it's quite an efficient setup, only using 6.3L/100km. The car's dimensions are 4090mm long and 1732mm wide.
Renault has emphasised speed and performance with the latest Clio iteration, with both the Sport and Cup models featuring a chassis developed by Renault Sport. Both chassis setups also have electronic differentials to optimise grip through the twisty stuff.
The Clio comes in five colour options, including a solid white, metallic grey, red and black and Renault's signature yellow sports hue.
The sports theme is carried on through the Clio's interior with paddle shifters mounted on the steering wheel, a launch control button and a console monitor to keep the driver updated.
Like most cars of its ilk, the Clio has three driving options including normal, race and sport. With the click of a button the Clio will automatically adjust accelerator pedal mapping, stability control intervention, power steering and gear shift speeds, which Renault says can be as quick as 150 milliseconds.
Full prices are as follows (excluding on-road costs):
Renault Clio R.S. 200 EDC Sport: $28,790
Renault Clio R.S. 200 EDC Cup: $31,290
Renault Clio R.S. 200 EDC Sport Trophy: $34,290
Renault Clio R.S. 200 EDC Cup Trophy: $36,790