It's great to see Honda finally focusing some attention on the stripped-out track car layout, with the unveiling of the Honda 2&4 concept at the Frankfurt show.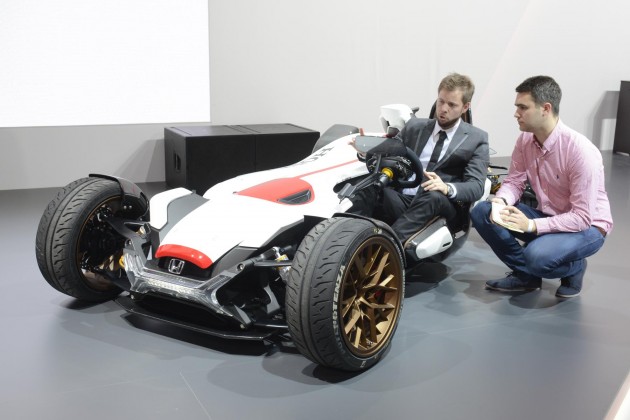 This is where Honda should be. While the Ariel Atoms and KTM X-Bows of the world soak up the enthusiast-focused market, Honda is yet to be seen in the segment. A segment that seems like the natural habitat for the Japanese brand.
The 2&4 concept is inspired by the Honda RA272 of 1965. It features a 999cc four-stroke motorcycle engine that produces an impressive 158kW and 118Nm. Like a motorcycle, the engine is capable of revving to 14,000rpm.
Bolted up to the engine, remarkably, is a six-speed dual-clutch automatic transmission with rear-wheel drive. Performance figures haven't been mentioned, but we can only assume it goes like an absolute rocket, especially with its kerb weight of just 405kg.
Why is it called the 2&4? Honda says the car offers the freedom of a motorcycle and the manoeuvrability of a car, hence two and four wheels. It is described as being suitable for the public roads, however, it is only a concept at this stage.
As for the interior, well, it's all about back-to-basics motoring. The driver's seat is suspended just above the road to give the driver a pure 'connected' experience, while sitting where a dash normally goes is a unique digital readout.
Let's hope something like this enters production some time soon.